Food Republic's Favorite Cookbooks Of 2016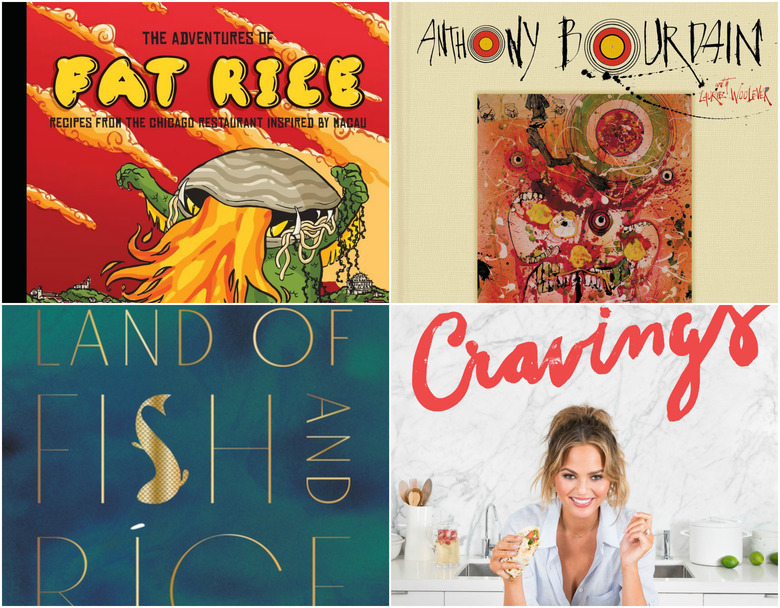 We may receive a commission on purchases made from links.
This was an incredible year for cookbooks of all types. We've been devouring them ravenously and regularly, and the list of favorites just keeps growing. There were remarkable books on singular topics like gingerbread, pie and spirits, and homages to culinary hotbeds like Rome, London, China and Spain. Respected chefs' and authors' authority and depth of knowledge made their tomes instant classics. Plenty of others relished in irreverent risk-taking, pushing the boundaries of cookbooks as entertainment and finding new ways to convey the emotions associated with the beloved craft of cooking and and the joys of eating together.
This year, it took three of us to pick our favorites from the immense stacks of glorious cookbooks that keep us company at Food Republic Headquarters. We've divided our selections into two categories. Classics are must-haves for any serious cookbook library curator who desires authentic, solid and educational recipes. Books We Love are filled with clever and gorgeous writing, mastery of flavor, a grounded, gritty joie de vive and a flourish that sets them apart from the rest.
Pick up any of these volumes as holiday gifts or new additions to your culinary bookshelves. The lucky folks you cook for are in for a treat!
CLASSICS
Uri Scheft
Artisan Books
Breaking Breads, an obvious play on words, isn't just a quick-hit title for a stunning book about a brick-and mortar favorite. In this instance, it is an honest love letter to bread, reflecting a heartfelt reverence for bread-making techniques and the ancient traditions behind them. Uri Scheft, owner of Breads Bakery (NYC) and Lehamim Bakery (Tel Aviv), is a master of weaving the cultures that have crisscrossed the Middle East into the breads and pastries that he creates. Hailing from Israel, Scheft is influenced by the many cultures and traditions that have touched his own life — Danish, Jewish, Moroccan, Russian, Yemenite, to name a few. Scheft's famous chocolate babka (a croissant dough layered delectably with Nutella) is thankfully in this book, but there are also richly illustrated chapters on challah, babka, flatbreads and stuffed breads in both sweet and savory applications. Scheft removes the intimidation factor as he artfully explains the ins and outs of complex braided, woven and layered breads and pastries through simple language and clear, didactic photographs. An instant classic, it belongs in the library of every pastry or bread baker.
Dorie Greenspan
Houghton Mifflin Harcourt
If you've ever needed one cookie book, Dorie's Cookies is the end-all, be-all. Dubbed a "culinary guru" by The New York Times, Dorie Greenspan rounds up the most — dare we say it — a-Dorie-bal collection of brownies, meringues, pinwheels, gingersnaps, thumbprints and more. She even includes a recipe for They-Might-Be-Breakfast-Cookies because yes, it is okay to have a cookie for breakfast. Whether you're looking for a new holiday classic or want to put that pizzelle maker to use, Dorie's Cookies may be the only cookie book you'll ever need.
Mario Batali: Big American Cookbook
Mario Batali with Jim Webster
Grand Central Publishing
Full disclosure: I — Krista Ruane, vice president culinary creative director for FR's parent company, Zero Point Zero Production — worked on this book, art-directing the photography and styling more than 250 recipes. With that bias in mind, what makes this book worthy of this list is not my insider knowledge; it's how deep Big American Cookbook goes and how expansive it is as a reference book for regional American cooking. Like a culinary road trip, this book is a snapshot of America in our time. It's what could be found in roadside eateries, on Grandma's table or in the creased folds of handwritten recipes that have passed through generations. Divided by regions, it's a celebration of the geo-specificity of American cuisine. Batali examines our fare as comprehensively as he has been known to do with Italian or Spanish food via ingredients and cultural influences.
This collection of recipes is not trendy, it is at times expected and, as Batali admits, it represents a mere sampling of what could be thousands of dishes. This lively book is a must-have for fans of American cultural history and Americana in general and anyone who has dreamed of a road trip with Mario Batali.
Fuchsia Dunlop
W.W. Norton
Chinese-cuisine expert Fuchsia Dunlop has written five books on Chinese cooking. In Land of Fish and Rice, Dunlop writes the first Western cookbook on Jiangnan cuisine. Located in the southwest of China, Jiangnan is home to cities like Shanghai and Shaoxing. That being said, you won't find recipes for Peking duck or Cantonese dim sum. Instead Dunlop highlights the region's flavors through steamed green soybeans with ham, spicy stir-fried tofu with pickles, stir-fried cockles with Chinese chives and more. Each recipe is equipped with background information about how and where the dish would be served.
Simple: Effortless Food, Big Flavors
Diana Henry
Mitchell Beazley
A reprise to her classic cookbook, Pure Simple Cooking from 2004, Simple lets us dive again into the exquisite culinary mind of Diana Henry. By focusing once more on simplicity, we can see how much cooking has changed in the past 12 years both in how we cook and in how many more ingredients are readily available. Henry gives a lift to simple dishes that are in our modern dinner rotation, by using an unexpected culinary palette that, like a visit from an old friend, is exciting and familiar at once. This book is filled with the dishes that we want to cook at home, like mashed eggs with anchovy, shallot and parsley served on toast. Shallots, anchovies and parsley are such a simple addition, yet they lift the dish to become so much more, and suddenly it's lunch. Roast eggplants and tomatoes with saffron cream is another. We've probably already got roasting eggplants and tomatoes on our menus, but what joy to top it with a brilliantly yellow saffron sauce made with reduced wine and heavy cream! This is a book we will gift to many and keep happily within reach in our kitchens for inspiration. Weeknights are special again.
Vivian Howard
Little, Brown and Company
Chef and TV host Vivian Howard's friendly, introspective and thoroughly enjoyable PBS series, A Chef's Life, won the 2016 James Beard Award for Outstanding TV Personality. It will presumably make a great addition to her Peabody Award, her Emmy, her slew of culinary accolades and her pile of James Beard Foundation Best Chef Southeast nominations. Howard's first cookbook, Deep Run Roots, is filled with recipes from her Kinston, North Carolina, restaurant, the Chef and the Farmer. More than that, however, it's filled with her extensive knowledge of and stories about ingredients native to North Carolina. Look at Southern food — one of America's most celebrated cultural contributions — from a whole new angle with Howard's friendly, accessible book. Pimento cheese grits, rice-crusted catfish and sprouted hoppin' John are all on our must-cook list.
Naomi Duguid
Artisan Books
From the author of the extensive Burma: Rivers of Flavor comes Taste of Persia, a spice-ridden and extensive instant classic. Naomi Duguid writes this cookbook as more of a travel log, focusing on the unique and different flavors and cultures of Armenia, Azerbaijan, Georgia, Iran and Kurdistan. Photographs of locals and personal essays about train conversations and architecture are layered seamlessly between recipes for Barbari bread, pomegranate ash with meatballs, rose water pudding and more.
Danny Lidgate and Hattie Ellis
Mitchell Beazley
From the famed fifth-generation eponymous butcher shop in London, this book is a welcomed resource on our Food Republic bookshelves. Lidgate's shop is known for prioritizing quality and flavor over anything else, long before it was in fashion. In this comprehensive meat cookbook, Lidgate and Ellis cover the most common aspects of meat cookery, beginning with how to order quality, precise cuts at your butcher shop (step one to better eating) and extending to proper storage and even home butchery tips. The chapters are divided by frequently cooked meats (beef, lamb, pork, chicken, duck and game) and succeed in their aim to create a more confident and inspired consumer. There are insightful descriptions about each cut and how best to cook them accompanied by clear identifying photographs and illustrations. There's even a UK/US glossary of terms in the back of the book (thank you!) to avoid any confusion at the butcher counter. We also love the selection of technique-driven recipes chosen to coax out the maximum flavor from each cut — another great learning tool for the home cook. The dishes are curated classics, both of British and global heritage (think meat pies and dumplings). While impossible to choose a favorite, highlights are roast rabbit with pancetta, coq au vin pie and thyme and rock salt-roasted picanha (beef rump). Buy this book and be bold at the butcher shop.
Mastering The Art of Japanese Home Cooking
Masaharu Morimoto
Ecco Books
You've watched him beat the pants off his Iron Chef competitors for a decade, admired his artful cuisine and hopefully dined at his restaurants all over the world. Morimoto's follow-up to his 2007 best-seller The New Art of Japanese Cooking is packed with essential wisdom on rice cookery, the science of furikake, the importance of bonito and the dexterity-heavy art of the sweet rolled omelet. If there's a classic Japanese home-cooking technique you've been wanting to learn, whether it's perfect tempura or flawlessly folded shumai, this is the book to buy.
Lior Lev Sercarz
Clarkson Potter
This book by the founder of haute spice emporium La Boîte provides a comprehensive look at the origins, harvesting methods and dishes embodied by whole spices and herbs all over the world. One particularly nice touch is including whether or not toasting each spice is advised. Many spices are usually lightly browned in a hot, dry pan before being added to dishes in order to bring out their pungent essential oils. The entries are interspersed with stunning photos of the finished dishes those spices contribute flavor to. With beautiful botanical illustrations of ingredients you may be familiar with (and plenty you've never seen before), this is one educational tome to keep on the shelf.
BOOKS WE LOVE
Domenica Marchetti
Houghton Mifflin Harcourt
We love this book. To anyone of Italian descent, or who has spent time in the motherland, you know the food in this book well. Marchetti covers it all, from the coveted yet obscure mosto cotto (cooked grape must) of Abruzzo, which is made during the grape harvest and used to sweeten cakes and cookies, to home-curing pancetta and guanciale. Appropriately, there's a chapter on "Foods Preserved in oil" (sott'olio) where well-loved baby artichokes in oil and eggplant in oil can be found. The recipes are rich with memories and read authentically, as if you were being taught by your zia or nonna (though thankfully with much more detail!). There are also examples and recipes for how to use what you preserve, giving extended life to the recipes. Marchetti delightfully captures an ancient culture of preservation, curing meats and canning and inspires a new generation to take it on.
Marcus Samuelsson
Rux Martin/Houghton Mifflin Harcourt
We have a special place in our hearts for Red Rooster chef-owner Marcus Samuelsson: He's a cofounder of Food Republic. His latest cookbook is a passionate ode to Harlem, with recipes from Red Rooster and stories about the surrounding neighborhood, its history, and community that will make you wonder why you haven't explored this vibrant part of Manhattan. Chapters are separated by Samuelsson's own stories, tales you may recognize if you have read his best-selling autobiography, Yes Chef. Try your hand at some of the restaurant's most beloved dishes, delicious amalgamations of Swedish, Ethiopian, Latino and soul food that sing on the plate.
Victuals: An Appalachian Journey With Recipes
Ronny Lundi
Clarkson Potter
This cookbook reads like a modern novel — a journey through past and present-day Appalachia, full of vivid, precise imagery. It's the story of the fortitude of a people and their rich tradition of food. Appalachia is a place where saving seeds and grafting trees has always been the way of life. And where in 2011, a study revealed it to be the "most diverse foodshed in North America." On this journey, Lundi tells us of her childhood there, of the food she ate, the people she knows and the husbandry and agricultural traditions they maintain. As Lundi describes, this book is "one part travelogue, one part history, one part recipe," and it's perfect as such. It's one that we'd easily find ourselves reading by the fire or on a porch swing rather than in the kitchen, though we will enjoy it there as well.
The recipes flow with the seasons; there's roasted root vegetable salad with bacon and orange sorghum vinegar for the dual mountain harvests in spring and fall and a tempting apple stack cake from the "Apple-achia" chapter devoted to apples. Lundi also arms us with dishes created for consumption over winter months, like the unique and flavorful Appalachian sour corn, a preparation similar to making sauerkraut, but using sweet corn. This is more than a cookbook; it's a quest for wisdom and truth, and we are all invited for the ride. 
Anthony Bourdain with Laurie Woolever
Ecco Books
This book is a delightful explosion of frank practical knowledge and decadent irreverence. It easily rises to the top of the best books to teach breakfast cookery of what is out there. If you pay attention, you won't screw it up. Bourdain and Woolever bring precision and urgency to the recipes within — dishes everyone ought to know how to cook (according to Bourdain). The tightly curated recipes cover the gamut of dishes already in your food vernacular (like a mortadella and cheese sandwich), with a few so austere (poulet "en vessie") they pique the curiosity of any food-history fanatic (the original is steamed in a pig's bladder). Bobby Fisher's provocative photography propels the conversation further into the delightfully absurd. One of our favorite cookbooks this year, with full disclosure that our parent company, Zero Point Zero, also creates Anthony Bourdain's TV shows.
Chrissy Teigen
Clarkson Potter
Supermodel and all-around amazing human Chrissy Teigen's Cravings is not a model's diet cookbook. It's a refreshing celebration of flavor, fun and indulgence. Teigen is shamelessly bold and full of sass in her approach to this book, which she declares to be a compilation of her favorite kinds of foods to make and eat. And it really works. The cookbook reads like a handbook for every type of food craving and provides a spirited glimpse of life with Teigen and her husband, musician John Legend. The casual, smart chapter titles garner best-friend-level trust with "Salads (For When You Need Them)," "Sh*t on Toast" (finally, someone tells it like it is!), and "Things that Intimidate People but Shouldn't."
There are also more pointed chapters like "Thai Mom" and "Party Time," which gratefully have Teigen's mom's authentic Thai beef salad and jok moo (Thai pork and rice porridge), Frito pie bar and ingenious Hawaiian pizza jalapeño poppers. The recipes are solid, co-tested and cowritten with a Food Republic contributor, Adeena Sussman, and look and taste as "spicy, salty, sticky, crunchy, juicy, oozy" as Teigen promises. The photography, both the lifestyle images and the food images have a daring messiness about them, which contributes to the playfulness in this book. We already can't wait for the second one from the amazing duo.
Stephen Raichlen
Workman
Food writer, recipe developer and cookbook author Steven Raichlen says "smoke is the umami of barbecue," and as far as restaurant trends go, this one is here to stay. Raichlen's most recent barbecue book, Project Smoke, is a collection of 100 recipes for everything from hors d'oeuvres to dessert. If you already have the grill going, there's no reason not to smoke every course of your meal — after all, nothing beats smoked vanilla ice cream on top of warm apple cobbler.
Abraham Conlon, Adrienne Lo and Hugh Amano
Ten Speed Press
Just an hour's ferry ride outside of Hong Kong, you'll find the small island of Macau, where Cantonese and Portuguese influences meld together between casinos and ceramic-lined streets. For those of us Stateside who can't wait to experience the complex flavors of Macau, there's Fat Rice in Chicago and The Adventures of Fat Rice, the proprietors' first cookbook. Jam-packed with recipes from the restaurant itself and essential Macanese dishes such as serradura (Macau's famous sawdust pudding), zhu pa bao (pork chop sandwiches) and po kok gai (Portuguese chicken curry), this book is definitely one that stands out. If these spice-laden recipes weren't reason enough to fall in love with the book, the detailed comic book–style how-to illustrations certainly will be. 
Jessica Koslow
Abrams
Everyone suddenly found out this year that Angelenos eat. And they eat well. Jessica Koslow, the mastermind of thick, beautiful, Instagrammable toasts at Sqirl, shares 100 recipes from her hit restaurant in Everything I Want to Eat, as well as some from her personal repertoire. Yes, there are recipes for toast, but there are also braised duck legs with dill spätzle and sauerkraut, salmon with sorrel pesto, rabbit ballotine with collard bundles of rabbit confit and green garlic broth and more. The book is beautiful, but not painfully so. Photographs of stars who frequent the spot (it is Los Angeles, after all) are laid out next to those of the farms and farmers who help make Sqirl Sqirl.
Poole's: Recipes and Stories From a Modern Diner
Ashley Christensen with Kaitlyn Goalen
Ten Speed Press
Follow chef Ashley Christensen's journey from 18-year-old cook to owner at Raleigh's renowned Poole's Diner. The eponymous cookbook pays homage to her simple, hearty, Southern-focused New American cuisine, and if you're wondering if the restaurant's legendary macaroni au gratin (for which they go through 10,000 pounds of cheese annually) is featured, yes, it is. Whip up all the favorite dishes Poole's chalkboard has ever sported right at home, and put that restaurant on your bucket list. Must-cooks: the oyster stew with twice-fried saltines, creamy pumpkin grits and a wide array of colorful salads.
Cúrate: Authentic Spanish Food From an American Kitchen
Katie Button with Genevieve Ko
Flatiron Books
Let's start at the beginning, with forewords by Spanish culinary legends Ferran Adrià and José Andrés. Then move straight ahead to the hearty, meaty, fish-forward and vegetable-heavy cuisine of Katie Button. The American-born executive chef of Asheville, North Carolina's tapas bar Cúrate compiled a collection of her favorite Spanish recipes for this masterful book that's been praised by food experts all over the world. From vibrant salads and hearty seasonal soups to composed entrées, sandwiches and desserts, Button hits every crucial note of this famed cuisine. Try the cold almond and garlic soup with crab, the watermelon and tomato salad with goat cheese and corn nuts, and ham and cheese–stuffed fried pork chops.