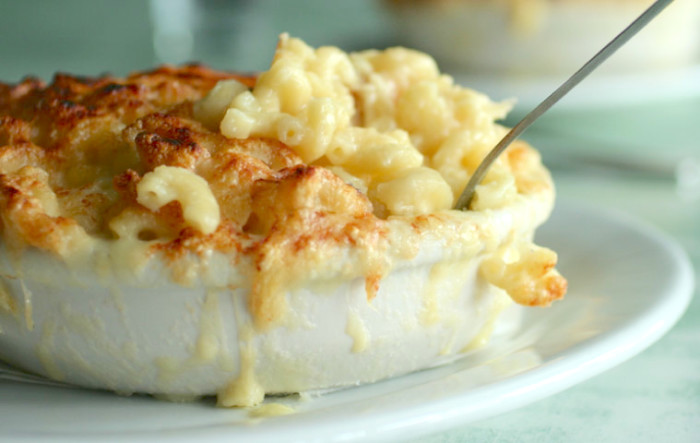 Ashley Christensen is the chef of five Raleigh, North Carolina establishments, including the city's long-standing Poole's Diner. She won the James Beard Award for Best Chef: Southeast in 2014.
Also see: North Carolina: The 2 Female Chefs You Need To Know All About
I love taking simple classic dishes, pulling them apart and really thinking about the details. We've been making this dish the same way since day one, and the first one that we made on day one (as in the first one that a guest ordered) was the first time that we had ever made it. I wanted to make something straightforward and face-meltingly decadent. I also love how you get to experience the cheese in the dish as ooey gooey in the center, and roasty-toasty caramelized and crispy on top.
It is the most popular dish we make at Poole's, for sure. We're on track to sell about 15,000 of them this year. Almost every table orders one.
​It's rich, delicious and deeply comforting. The combination of the three cheeses creates interesting depth celebrating sharpness, brininess and a little bit of cave-aged funkiness. There are so many different versions of mac out there that each of us would consider "conventional" to our homes and formative years, so it's hard to note the differences from each of them. I think this one celebrates the simplest version of this classic dish (cheese, cream, noodles and salt), but with a lot of love and consideration put into each step and the quality of each ingredient.
Ingredients
3

cups

heavy cream

1/2

pound

macaroni, cooked al dente and drained

1

cup

Jarlsberg, shredded and divided

1

cup

Grana Padano, shredded and divided

3

cups

white cheddar, shredded and divided

sea salt, to taste
Directions
Set a rack in the oven about 4 inches from the broiler, and preheat broiler.
In a large sauté pan over medium-high heat, reduce cream by a fourth.
Lower heat to medium.
Stir in the macaroni and 3/4 cup each of the Jarlsberg, Grana Padano and white cheddar.
Stir with a wooden spoon while tossing the contents of the pan in a sauteing motion.
Transfer mixture to a baking dish (see note).
Sprinkle the remaining Jarlsberg, Granda Padano and white cheddar over the top, distributing them evenly.
Place the dish under the broiler. Watch it carefully, as you will need to rotate the dish to create an even crust. This will take from 3 to 5 minutes, depending on the strength of your broiler.
Remove gratin from the oven and season with fresh cracked black pepper. Serve immediately.
Note: If you wish to add any extra ingredients (such as roasted tomatoes or caramelized onions), they should be layered between the pasta and the cheese topping.
Find more mac and cheese on Food Republic: