Sprouted Hoppin' John Salad Recipe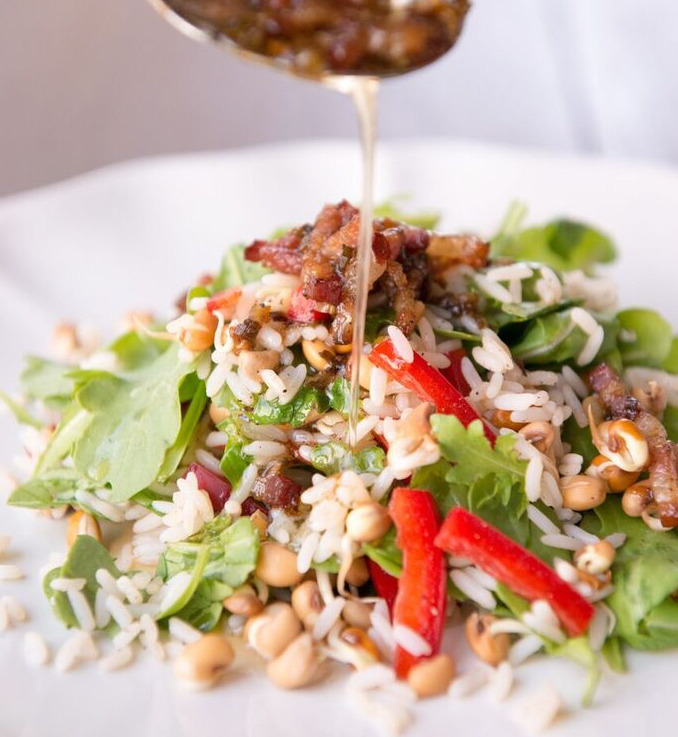 We may receive a commission on purchases made from links.
The new cookbook from award-winning chef and PBS show host Vivian Howard is a deep dive into Southern food. Rather than publishing a few well-known recipes from this region and that, Howard focuses on the ingredients and techniques that have sustained her native North Carolina for generations. Get your hands on this hefty tome and prepare to see the Tar Heel State as never before. If you've never made Hoppin' John, a Southern vegetable staple, try it with sprouted grains for extra nutrients and hot bacon vinaigrette for extra hot bacon.
Sprouted Hoppin' John Salad Recipe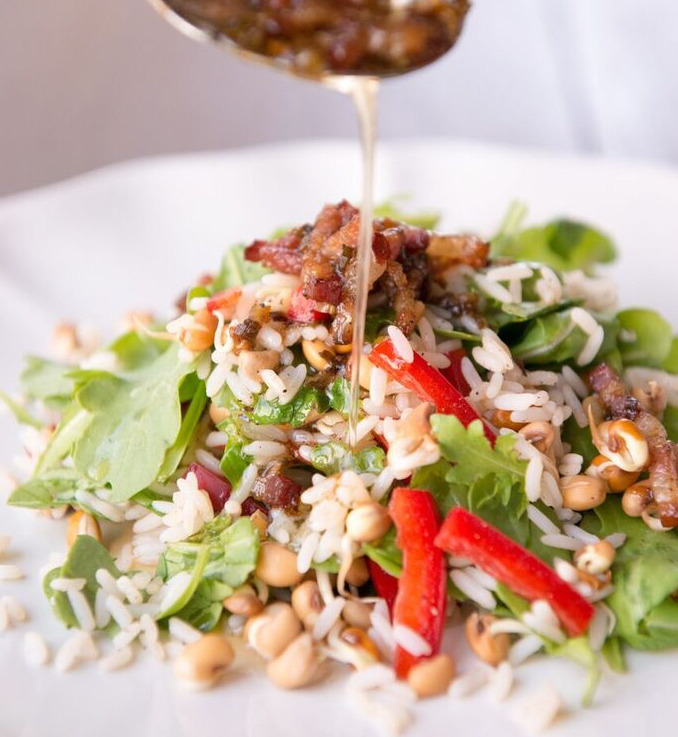 Ingredients
1 cup rice
1 cup field pea sprouts
1 cup baby arugula
1/2 red bell pepper
1/2 teaspoon salt
6 turns of the pepper mill or 1/8 teaspoon black pepper
8 ounces sliced bacon
1/4 cup thinly sliced scallion white part only
1 garlic clove
2 tablespoons sherry vinegar
1 teaspoon lemon juice
1 teaspoon honey
1 teaspoon smooth Dijon mustard
1/4 teaspoon salt
Directions
In a medium bowl, toss the rice, sprouted peas, arugula, red bell pepper, salt, and the black pepper together. Set aside.
In a 10- to 12-inch sauté pan cook the bacon till crisp. Transfer the bacon to a plate. Crumble it up and reserve. Pour off the bacon fat and reserve 2 tablespoons for the dressing.
Add those 2 tablespoons of fat back to the pan. Over medium heat, stir in the scallion and let it sizzle for 10 seconds. Then quickly add the garlic followed by the vinegar, lemon juice, honey, Dijon, and salt. With a wooden spoon scrape all the little bacon bits, or fond, from the bottom of the pan.
Once the dressing begins bubbling furiously, pour it over the salad. Stir it up and serve with the crumbled bacon on top. The arugula will wilt, and that's the point.