65 Recommended Brooklyn Restaurants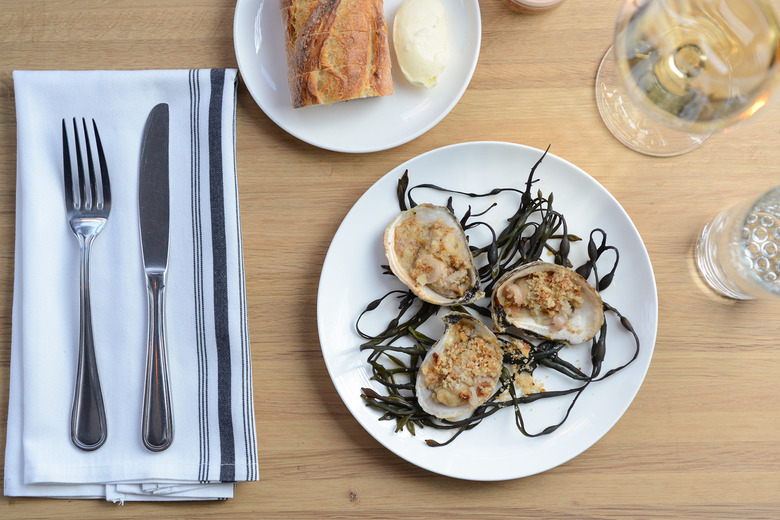 Despite its evolution into a world-famous borough with real estate prices only a surgeon or stock broker could afford, Brooklyn remains mystical and far-flung to many tourists visiting New York City and even, still, to a surprising number of Manhattanites. That means that even as Brooklyn restaurants have created a dining destination to rival any major city in America, you won't have to fight for a table on most nights. Not to say that it's a ghost town: Recently, I've been shut out of a great but packed Mexican cocktail bar (Leyenda), endured an hour-plus line for brisket and ribs (Hometown BBQ), and had to settle for a seat at the sweltering chef's counter of a hot spot that misplaced my reservation but was too slammed to accommodate me at a table (Olmsted).
Brooklyn's restaurant scene is brilliant right now, with long-established restaurants staying on their game to keep up with competition, and a mix of cool-casual spots and more ambitious culinary endeavors from rising-star chefs. There are world-class cocktail bars with almost-secretly good food and tasting menu–only hideaways showcasing New England, vegetarian or Nordic cuisine. The decor, generally speaking, has diversified beyond the mundane Edison-bulb-and-repurposed-wood look. In short, there's never been a better time to explore this sprawling borough. Here, I've curated a list of 65 recommended restaurants — with an emphasis on a full dinner menu — based on my experiences over the past few years and especially in recent weeks, and added some reports from trusted friends who dine out frequently. (Additional reporting by George Embiricos, Pichet Ong and Emily Saladino.) Use it as a cheat sheet for yourselves or for friends visiting from out of town but willing to make the trip to Brooklyn.
1 or 8
Trust the steady hands of chef Kazuo Yoshida and go with a surprisingly affordable omakase selection ($50) at this Williamsburg sushi gem. Don't let the minimalistic, all-white interior fool you — the restaurant is known for sourcing some of the city's freshest (and unconventional) cuts of fish.
66 S. 2nd St.; oneoreightbk.comAl di La
Before Brooklyn was cool, before it was synonymous with elevated farm-to-table dining, Al di La was serving seasonal Italian-inflected salads, pastas and meats — braised rabbit and tripe, for instance — from a modest corner in Park Slope. Not much has changed over the past few decades, aside from the addition of a cozy wine bar next door to handle the overflow from this no-reservations gastronomic mainstay.
248 5th Ave.; 718-783-4565; aldilatrattoria.comAllswell
Finding a decent meal on Williamsburg's Main Street–like Bedford Avenue isn't easy, but for the past five years, Allswell has been a reliable option. Chef-owner Nate Smith, formerly of the Spotted Pig, deftly balances gastropub familiarity with market-driven cooking and serious burger pursuits (as well as a popular brunch). In a neighborhood wracked by change, this spot is emerging as a safe harbor, a place for casual drinks and a bite with friends, or an upgrade to the salad-and-burger routine.
124 Bedford Ave.; 347-799-2743; allswellnyc.comAska
Fredrik Berselius briefly sparked a New Nordic Cuisine craze at an earlier incarnation of Aska, in a makeshift space that seemed too Brooklyn for its own good. After a long search, the Swedish chef has put down roots in an old warehouse in the shadows of the Williamsburg Bridge, serving his ultrarefined tasting menu in the main restaurant and a casual bar and garden menu as well. I've yet to visit the new spot, but I ate at Berselius's earlier versions of Aska and can safely say that he's one of the more artistic-minded chefs in the city, as well as a guy with acute senses of flavor, texture and flow. In short, I'm excited to check out his new digs.
47 S. 5th St.; 929-337-6792; askanyc.com
El Atoradero
New York is a Mexican-food wasteland for the most part, despite a plethora of just-above-mediocre efforts. That changed when El Atoradero came out from hiding in a Bronx bodega and moved to this standalone storefront in Crown Heights. Chef Denisse Lina Chavez serves cuisine rooted in the Pueblo region of Mexico, and while this means you can come here for a laid-back margarita and guac experience, you can also go deeper and order lengua tacos or the house special carnitas or cochinita pibil and experience transportive flavors. A sort of hidden gem in the early going, word has spread enough that the back garden is now filled with diners on warm evenings, and there's talk of a mezcal bar from the same team opening nearby.
708 Washington Ave.; 718-399-8226; eladoraderobrooklyn.comBattersby
Friends and co-chefs Walker Stern and Joseph Ogrodnek worked together at Alain Ducasse, and separately at Blue Hill and Gramercy Tavern, before opening this intimate tasting room in Cobble Hill a few years back. Their shareable, seasonal plates have included curried zucchini, beef daube ravioli, and roast duck with peaches and chanterelles.
255 Smith St.; 718-852-8321; battersbybrooklyn.comBricolage
This Vietnamese restaurant opened with a bit of buzz thanks to the chef-owners' past work at San Francisco's famed Slanted Door. Relocated to Park Slope, couple Edward and Lien Lin fill South Brooklyn's need for tasty Vietnamese food, and as a bonus, they've created a homey atmosphere in the old Brooklyn Fish Camp space — perfect for early-evening family outings or later hangs with dates or friends. The restaurant's Unshaken Beef, a revamp of the Vietnamese shaking beef and spicy lime sauce, is already becoming a borough classic.
162 5th Ave.; 718-230-1835; bricolage.nycButtermilk Channel
Located near the Gowanus in Carroll Gardens, this long-running New American restaurant — named after another local body of water — first came to fame for its high-profile diners (Jay Z and Beyoncé and other celebs could be spotted through the big corner windows), but it's the farm-fresh brunch and consistently excellent dinners (buttermilk fried chicken is an all-star dish) that keep the crowds coming to this no-reservations spot.
524 Court St.; 718-852-8490; buttermilkchannelnyc.comCafe Ghia
Brunch is so good and fun at Cafe Ghia that the restaurant does it all week long. There are many egg options, but one can also get sandwiches, mac and cheese, or a killer grass-fed burger. In a city with a serious shortage of breakfast-driven restaurants, there should be more places like this. With only 25 seats, be prepared to wait on weekends. Deal alert: On weekdays, coffee is free for everyone.
24 Irving Ave.; 718-821-8806; cafeghia.comChef's Table at Brooklyn Fare
The borough's only restaurant with three Michelin stars is the ne plus ultra of Brooklyn fine dining. Locals, chefs and in-the-know out-of-towners jockey for the 18 seats at Cesar Ramirez's Boerum Hill tasting table. Plan to call at least six weeks in advance for a reservation, and steady yourself for the steep prices. Trust us: It's worth it.
200 Schermerhorn St.; 718-243-0050; brooklynfare.comDiner
I'm embarrassed to admit that I'm old enough to have eaten here when it was an actual diner, serving up two eggs, bacon, toast and hash browns for a couple bucks, watery coffee included. In 1999, Andrew Tarlow and friends had the bright idea to keep the rough-hewn feel of the old-school diner and elevate the cuisine, with waitstaff scrawling daily-changing menus on butcher paper and a bar serving up top-notch cocktails from behind the counter. It was a brilliant idea at the time that resonates today, and you kind of wonder whether Williamsburg would have "happened" had this Diner not popped up at the turn of the 21st century.
85 Broadway; 718-486-3077; dinernyc.comDover
Walker Stern and Joseph Ogrodnek followed up the success of Battersby with this spacious, sparsely designed seafood-centric restaurant a few blocks away in Carroll Gardens. Broiled oysters, seasonal ceviches and perfectly prepared fish (thoughtfully available in half portions) are on the menu, as well as roasted meats, craft cocktails and, on weekends, an increasingly popular brunch.
412 Court St.; 347-987-3545; doverbrooklyn.com
Emily
This Clinton Hill pizzeria, like Franny's and Pizza Moto below, is about more than just the pies. There's a beloved burger, for one thing, but there's also a kitchen that knows how to put greenmarket goods to proper use in salads, sides and appetizers. The pizzas here are charmingly divided into reds, pinks, greens and whites (sauce bases), and while they're among the most respected in the borough, they have unusual competition from Emily's sister restaurant in Williamsburg, Emmy Squared, where Detroit-style pizza is the specialty.
919 Fulton St.; 347-844-9588; pizzalovesemily.com
Faro
Husband-and-wife team Kevin and Debbie Adey put so much care into every detail of Faro, and it shows. Most elements are locally made, including the furniture, the plates by Sarah Ritz and, naturally, the ingredients, such as wheat from upstate that's milled in house. Everything on the wheat-heavy menu is a standout, but hard to resist are the bucatini with chicken confit, candele with boar ragu, and dry-aged duck breast with farro. The menu changes frequently, so try to mix and match something familiar with something seasonal.
436 Jefferson St.; 718-381-8201; farobk.comFette Sau
At a time when finding the only good barbecue in New York City involved knowing someone who could tell you how to find this one joint in Queens, Fette Sau (German for "fat pig") opened up in a vacant garage and lot on the fringes of this starting-to-happen 'hood called Williamsburg, serving up exquisite smoked meats to the pre-foodie cognoscenti. That was 2007, and Joe Carroll's regionless ode to BBQ continues to be a draw nearly a decade later, despite a proliferation of worthy contenders for the crown of NYC's best barbecue, with equal emphasis on pork and brisket (as well as specials, like a recent barbecued duck). Fette Sau also forms something of a perfect triangle with Carroll's two other ventures across the street, the well-curated bar Spuyten Duyvil and St. Anselm, which serves some of the city's best steaks.
354 Metropolitan Ave.; 718-963-3404; fettesaubbq.com
Fonda
Roberto Santibañez opened the first location of his reliably tasty Mexican restaurant Fonda on a far-flung part of Park Slope's 7th Avenue after leaving a corporate gig at Rosa Mexicano, and it became an instant neighborhood hit. In a part of the city beset by bad Mexican margarita joints, the Mexican-born chef brought enchiladas in fragrant sauces, jicama salads with a kick, and in a nod to his past gig, delicious fruit-forward frozen margaritas. The original Fonda's success has led to two Manhattan offshoots, while the Brooklyn location remains a favorite date-night spot for young parents or a festive place for a gathering of friends. (Santibañez has also loaned us some of the best Mexican recipes on our site.)
434 7th Ave.; 718-369-3144; fondarestaurant.comFort Defiance
Drinks at Red Hook's Fort Defiance range from classic sazeracs to house cocktails like the Motorcycle Diaries, which Pegu Club expat St. John Frizell created from pisco, amaro and mezcal. Make a day (and night) of it by ordering from the far-better-than-it-needs-to-be kitchen, which serves deviled eggs with fried capers, pâté with bacon-onion jam and pan-seared dorade with sugar snap peas. Fort Defiance is known amongst Red Hook locals as the brunch spot in the 'hood as well.
365 Van Brunt St.; 347-453-6672; fortdefiancebrooklyn.comFrankies Spuntino 457
When the Franks (Castronovo and Falcinelli) started slinging meatballs, inventive pasta dishes and ridiculously good antipasti on a forlorn stretch of Court Street in the mid-aughts, word spread quickly, and soon even celebrities were making the trek to snag a table in the intimate brick-walled space. Eventually, a back garden and private dining space alleviated some of the crowding, but thankfully the food quality endured; as I write this, I'm still digesting last night's cavatelli with spicy sausage in sage-butter sauce, which is, for my money, one of the best dishes in all of New York City. Don't sleep on Frankies' lunch, where delectable sandwiches share the stage.
457 Court St.; 718-403-0033; frankiesspuntino.com/457Franny's
Franny's, co-owned by Francine Stephens and Andrew Feinberg, is a family-friendly neighborhood institution known for thin-crust pizzas made with fresh-from-the-Greenmarket ingredients. If you've never eaten at the original location or at this more spacious upgrade, you've experienced a bit of Franny's elsewhere, as every chef and restaurateur who has started a pizza-driven seasonal restaurant has stopped in for "research." As with most things, though, you're better off going to the source, and Franny's remains one of the best casual restaurants in any borough, while the clam pizza is a city standard.
348 Flatbush Ave.; 718-230-0221; frannysbrooklyn.comFreek's Mill
This newcomer features a bright, welcoming decor, with a lively front bar section and another dining room with an open kitchen. Not what I expected, given the location in the gritty Gowanus section. Instead of another dark Brooklyn spot with decent food and almost-too-cool-for-school service, a gregarious waiter brought our table perfectly executed Negronis and Palomas — followed by natural wines from the Loire and upstate New York — while the kitchen dazzled with wood-fired oysters, pastas and meats. In short, the epitome of the new Brooklyn dining scene, where clichés have given way to surpassed expectations, and where the entire experience is thoughtfully curated.
285 Nevins St.; 718-852-3000; freeksmill.comFrench Louie
Despite an impressive pedigree — it's owned by the Buttermilk Channel team — this 50-seat spot remains something of an insider's secret. In warm weather, sample the excellent French-American menu (think rabbit pappardelle, flounder Grenobloise and goat cheese pot de crème) in the tree-lined rear garden; in colder temperatures, belly up to the bar for mussels and a first-rate French wine list. 320 Atlantic Ave.; 718-935-1200; frenchlouienyc.com
Ganso Ramen
Originally just Ganso, this ramen shop and Japanese comfort food joint is part of a growing group that highlights owner Harris Salat's mastery of Japanese cuisine. At this cozy space, new executive chef Anna Barrios-Horiike's ramen menu veers from traditional to Brooklyn-themed, and there's a killer beer list that includes Japanese and American craft beers. Major props for being one of the new-school restaurants that understands the shifting demographics of the area: The restaurant offers tips on ordering for kids and even boasts of a changing table in the restroom. Set on a side street off the Fulton Mall, Ganso offers the sort of Tokyo-like experience you might crave in a ramen joint.
25 Bond St.; 718-403-0900; gansonyc.comThe Good Fork
Fresh off its 10th anniversary this summer, the Good Fork remains a go-to date spot with a serious Red Hook vibe. Chef-owner Sohui Kim mixes and matches cuisines, drawing off her Korean heritage but also serving up a top-notch pork chop and burger. I recently had a fish special inflected with Asian spices that provided a thrilling jolt. Comfort food is also on the menu, with items like a stuffed poblano pepper or a special pasta dish adding to the eclectic array.
391 Van Brunt St.; 718-643-6636; goodfork.comGrand Army
OK, so this is really a bar, and while one of its partners is Mile End's Noah Bernamoff, the emphasis is squarely on boundary-pushing cocktails envisioned by Damon Boelte and his expert team. Still, with so few quality places to dine in downtown Brooklyn, I'm including Grand Army because the growing menu of seafood options here is transforming it into an appetizing place to eat for those who like to slurp oysters and make a meal of small plates like brandade croquettes and heirloom tomato salad.
336 State St.; 718-422-7867; grandarmybar.com
A Visit To Hometown Bar-B-Que In Red Hook, Brooklyn from Food Republic on Vimeo
Hometown Bar-B-Que
Brooklyn native and former bodyguard Billy Durney opened this Red Hook barbecue joint a couple years back, with a laid-back vibe worthy of a Hill Country outpost. There are no waiters here; just enter and get in line and order at the counter, where they'll slice your brisket, plate your cornbread or count out sausage links as you watch. The Texas brisket, Caribbean-style jerk baby back ribs and house-made sausages make fast friends in the expansive space, which has a charmingly earnest, all-American honky-tonk aesthetic. It has gotten insanely popular — hey, it's probably the best barbecue in all of New York City — so expect long, long waits at peak times.
454 Van Brunt St.; 347-294-4644; hometownbarbque.comInsa
Brooklyn had largely evaded the Korean barbecue invasion until the Good Fork's Sohui Kim opened up this sprawling restaurant, karaoke spot and bar in the Gowanus neighborhood. The spacious dining room is a welcome respite from most claustrophobia-inducing Manhattan Koreatown options, and for those who don't want to gorge on beef, Kim has packed the menu with classic dishes like bibambap, japchae and other options that lean vegetarian. Plus, after you finish your meal, you can head to the private rooms to belt out "Sweet Child O' Mine" with your friends.
328 Douglass St.; 718-855-2620; insabrooklyn.comKing Noodle
This seems like the ultimate hipster restaurant: psychedelic decor, loud electro-pop music, and past menus that were all over the map. Now, with a focus on Southeast Asian noodles and a street-food theme, one can opt for laksa or nasi lemak with lamb and sambal. Spam fried rice, mapo chili tofu–smothered fries and the fabulous tiki cocktails remain — and of course the dizzying array of lights so perfect for selfie moments.
1045 Flushing Ave.; 718-456-6543; kingnoodlebk.comLa Vara
Generally speaking, when you hear the word "tapas" associated with a Brooklyn restaurant, you should be suspicious. Not so here, where husband-and-wife team Eder Montero and Alexandra Rajj have created a Barcelona-style restaurant in a quiet part of Cobble Hill. Pretty much any classic Spanish tapas (or Basque pinxtos) dish makes an appearance, from patatas bravas to migas, and you really can't go wrong, but ask the knowledgeable waitstaff to help navigate and, while they're at it, recommend an elegant Spanish wine to accompany your meal.
268 Clinton St.; 718-422-0065; lavarany.comLe Fond
In Polish Greenpoint, it's a lot easier to find pierogi than it is the French specialty poule au pot. Or at least it was, until Jake Eberle enlisted his dad to make over an old Polish restaurant into an airy Parisian-style bistro. Tucked away in the back of this handsome space is a full kitchen, where the young chef puts classic French cooking skills to use, making note-perfect cassoulets, duck confit and even a burger and frites.
106 Norman Ave.; 718-389-6895; lefondbk.comLe Garage
Stepping into Le Garage can be a transporting experience, whether it's because of the music, the hospitality of owners Catherine and Rachel Allswang, or the aroma of the food. The mother-daughter team own and operate many restaurants in Paris, including La Laiterie. Here in Bushwick, many neo–French bistro classics can be found on the menu; I went with the mother's suggestion of their specialties: foie gras torchon, radishes with sesame salt, pork shoulder braised in milk and, to finish, a lemon mille-feuille, which came deconstructed.
157 Suydam St.; 347-295-1700; legaragebrooklyn.comLilia
Missy Robbins has an instant hit on her hands with her new restaurant in Williamsburg. Located in a former auto body shop that's been given a minimalist design makeover, Lilia features a menu of irresistible pastas, grilled meats and seafood. One of the standout dishes is grilled clams with Calabrian chili and breadcrumbs, a spicy spin on a beloved Italian-American shellfish dish infused with smoke from the crackling fire. The flavor-packed clams are among the reasons why Lilia has attracted a stylish and vibrant crowd since the doors opened — even before the raves, including a three-star review from Pete Wells in The New York Times, came pouring in.
567 Union Ave.; 718-576-3095; lilianewyork.comLittleneck
A New England–style seafood shack might seem out of place in Gowanus, but this inspired little restaurant has crab rolls, clam chowder and a killer weekend brunch, all of which has made it a must-visit in the 'hood.
288 3rd Ave.; 718-522-1921; littleneckbrooklyn.comLlama Inn
Located just a stone's throw from Lilia is Llama Inn, an homage to Peruvian small plates. Chef Erik Ramirez — formerly of Eleven Madison Park — churns out impressive takes on traditional skewers (anticucho) and ceviche, as well as what might be the finest lomo saltado (beef stir-fry made with everything but the kitchen sink, including fries) in New York City. Floor-to-ceiling windows make for ample natural lighting.
50 Withers St.; 718-387-3434; llamainnnyc.comLong Island Bar
This place qualifies as one that I would have left off the list to save it from being discovered, but alas, it's too late; it's revered by groups of friends, cocktail-savvy parents on a night out and ambitious first-date arrangers. A dive-y old diner on a remote end of Atlantic Avenue, Long Island Bar got new life in 2013, when owners Joel Tompkins and Toby Cecchini — the latter a respected bartender and inventor of the cosmopolitan cocktail — buffed the interior and quietly set up shop. Now the place is packed every night, and with good reason: Cecchini and his handpicked bar staff turn out some of the best cocktails in the city, and the sneakily great kitchen, helmed by Gabriel Martinez — a vet of Chicago's Alinea and Austin's Uchi — keeps getting better. There are killer fries (served with ketchup and mayo, smartly), a perfectly satisfying double-patty burger (or single-patty option called the Ladies' Burger) and more chef-y fare like grilled trout and a delicious carrot salad. It all goes down great with a French 75.
110 Atlantic Ave.; 718-625-8908; thelongislandbar.comLucali
The backstory is becoming legendary: Mark Iacono takes up pizza-making on a whim and quickly becomes a master. Ten years on, his Lucali on mostly restaurantless Henry Street in Carroll Gardens commands two-hour waits at almost all times, despite a BYOB and cash-only policy. The wait is in part because once inside the dimly lit and ultra-romantic joint, lingering over a couple of bottles of wine while enjoying coal-fired thin crust pizza and knee-buckling calzones is about as good as life gets.
575 Henry St.; 718-858-4086; no websiteLuksus
Daniel Burns runs the open kitchen in this tiny, hidden backroom restaurant in Greenpoint, accessible through a door inside the haute craft beer bar Tørst. The $125 tasting menu is best accompanied by the $55 beer pairing menu, and while that may seem extravagant, consider that you'll get your mind and palate tested and that, if all goes well, you'll leave satisfied, as Burns puts his modernist techniques to work on well-curated ingredients. Oh, and while you probably won't recognize any of the paired ales and lagers, you'll learn more about craft beer during dinner than you could reading a book.
615 Manhattan Ave.; 718-389-6034; luksusnyc.comMaison Premiere
Bivalves and beautiful people dominate this elegant oyster and absinthe bar in South Williamsburg. Grab a spot at the massive marble bar during the hangover-crushing brunch or $1 oyster happy hour — and take in the scene with a glass of house stout or one of 25-plus absinthes available by the glass. 198 Bedford Ave.; 347-335-0446; maisonpremiere.com
Maite
Maite is a labor of love for both partner Kano Mitchell and chef Ella Schmidt. The Basque-inspired menu with Colombian influences features many dishes I could easily have every day, such as empanadas, duck egg with arepa and manteca colora, maltagliati with rabbit ragu, lamb chop with quince jam, and burrata on toast with squid ink. Chef Schmidt was formerly pastry chef at popular Italian spots Al di La and Il Buco. As such, she is skilled in both pasta and of course desserts. For something different, try the dulce de leche with Straciatella cheese and granola and panela.
159 Central Ave.; 718-366-3090; maitebushwick.comMarlow & Sons
Farm-to-table before such hyphenates existed, this South Williamsburg mainstay started as an offshoot of Diner next door. It has since spawned a gourmet grocer, Marlow & Daughters, less than a block away. Menus change daily, and include seasonal plates like Arctic char with snap peas and short rib fettuccine with asparagus.
81 Broadway; 718-384-1441; marlowandsons.comMile End Delicatessen
It's tiny, with just a few booths and a small counter. It's probably best known for its breakfast or weekend brunch, or for those smoked meat sandwiches at lunch. But Mile End's flagship, an ode to Montreal cuisine, is an awesome casual dinner spot, where you can share poutine, down a beer and have a smoked meat burger, or a duck grilled cheese, or a falafel, or anything, really. It's all delicious.
97 Hoyt St.; 718-852-7510; mileenddeli.comModern Love
We've yet to make it to this just-opened vegan restaurant by prodigal Brooklyn daughter and beloved cookbook author Isa Chandra Moskowitz, but we'd vouch for what we're sure will be the best vegan food in New York City. Moskowitz has done time in Portland, Oregon, and Omaha, Nebraska, where she opened the first Modern Love, and always intended to come home and serve up her thoughtfully devised meat-free dishes — which avoid the dreaded meat substitutes — for committed vegans. Consider this a tip-off: Once words gets out about this place, which just opened last week, it's sure to be packed.
317 Union Ave.; 929-298-0626; modernlovebrooklyn.comMontana's Trail House
If you're into all things Americana, including a country-heavy playlist and a lumberjack-chic design scheme (salvaged wood, axes and taxidermy), you might like Montana's Trail House instantly. Beyond that, the food, which is oddly described as "Appalachian comfort food," is solid — think fried chicken, kale salad, pot pie, and brisket — and in expected Bushwick fashion, designed to go with serious handcrafted cocktails. 455 Troutman St.; 917-966-1666; montanastrailhouse.com
Nightingale 9
Chef Robert Newton opened this modern Vietnamese spot on leafy Smith Street to pay homage to one of his favorite cuisines, but also to play around with it. The sleek interiors and clever use of Southeast Asian and Southern American ingredients (try the crispy quail with fresh cherries and lychee) are inspired and will leave you wondering how Newton, a Southerner, could create such flavorful Asian spins in Brooklyn. For those wanting to experience Newton closer to his heritage, head to Wilma Jean down the street, a hip, casual spot with noteworthy burgers and fried chicken. 329 Smith St.; 347-689-4699; nightingale9.com
No. 7 Restaurant
Before he became a well-known sandwich impersario, chef Tyler Kord opened this neighborhood restaurant in Fort Greene. With a long, welcoming bar and a cozy back dining room that featured quirky dishes like fried broccoli alongside reliably prepared entrées, the restaurant found a loyal following that expanded throughout Brooklyn. Kord's No. 7 sub shops eventually became a hit at several city kiosks and storefronts, and while the addition of a broccoli taco and a few sandwiches to the original location's menu have crept in, this is still a great date restaurant or a place to catch up with old friends.
7 Greene Ave.; 718-522-6370, no7restaurant.comOkiway
With Japanese imports being the hottest NYC commodities at the moment, I'm quite surprised we haven't seen a proper okonomiyaki joint in the city. While recently opened Okiway may seem more like an izakaya with some of its typical offerings, the Osaka-style pancakes here are excellent, with some traditional selections and localized combos such as pulled pork BBQ and "Mexican" with guacamole and chorizo. As you like it, but always the okiway with Kewpie!
1006 Flushing Ave.; 718-417-1091; okiwaynyc.comOkonomi
Ramen master Yuji Haraguchi's tiny Williamsburg spot serves a set menu of ichiju sansai, which is traditional breakfast fare like miso soup, roasted fish with sake kasu marinade and brown rice with bonito flake okaka — all for a mere $12 to $15. Opening hours are limited, but at night, it transforms into Yuji Ramen, serving seafood-based ramen during the week, and a ramen omakase on Saturday and Sunday nights.
150 Ainslie St.; 718-302-0598; okonomibk.com
Olmsted
OK, so yeah, Greg Baxtrom has a résumé that includes time spent cooking at Grant Achatz's groundbreaking Alinea in Chicago, and his partner is a farmer, Ian Rothman, who grows herbs and greens in raised beds in a backyard where you can sip drinks and snack on green bean frites and charcuterie pretzel puffs, and the Times' Pete Wells gave it his biggest rave of '16, and it all sounds a bit like a Portlandia sketch transplanted to Prospect Heights. And yet there's something special going on here, with a tiny open kitchen artfully plating creative expressions of seasonal ingredients, in a room with a very academic vibe. Which is to say that you leave Olmsted impressed, satisfied, and feeling like you maybe just pulled one over on Manhattanites who'd pay twice as much for a similar experience.
659 Vanderbilt Ave.; 718-552-2610; olmstednyc.comPeter Luger Steak House
What? You're reading this and you've never been to the most iconic steakhouse in all of New York City? Grab a wad of cash — it's old school like that — and head to Williamsburg immediately for one of the best steaks you'll have in your life. Yes, the waiters can be rude or difficult or oddly charming, depending on your luck, but the meat here is the draw, and it never fails to satisfy. Bonus points if you order the thick-cut bacon as an app.
178 Broadway; 718-387-7400; peterluger.comThe Pines
The decor is rustic, but the menu is sophisticated at one of the area's most acclaimed and avant-garde fine-ish dining restaurants. The all-natural wine list is one of only two in this part of BK (the other is at June, across the Gowanus on Court Street; the Four Horsemen in Williamsburg is a few miles north), and the backyard occasionally features DJs and more affordable eats.
284 3rd Ave.; 718-596-6560; thepinesbk.comPizza Moto
"Have you been to Pizza Moto yet?" People have asked me this like a dozen times, and while I live near this less-than-well-placed location amid tire shops and gas stations under the Brooklyn-Queens Expressway, I hadn't trekked over yet to try the highly touted pies. What I found when I finally went was something more than just another pizza truck to brick-and-mortar success story; inside the homey space, which feels a bit like an old Italian uncle's brownstone basement, there's a menu of inventive salads and sides (patatas bravas?) to complement the cleverly devised wood-fired pizzas (try the picante with pepperoni and green garlic or the Eggs in Hell, with bacon and soft-cooked egg). As Michelin might say, given not only its proximity to flat fixers but its high-quality food and drink, Pizza Moto is worth the detour.
338 Hamilton Ave.; 718-834-6686; pizzamoto.comPok Pok NY
Andy Ricker's phenomenally successful Portland, Oregon, import continues to thrive in its Brooklyn location (and in Los Angeles as well). The expanded capacity and smoother service at its second home since opening a few years back better accommodate the hungry masses on the south Brooklyn waterfront — and the fragrant Chiang Mai sausage and fish-sauce chicken wings remain insanely addictive, among the many other Thai specialties the Pok Pok kitchen turns out.
117 Columbia St.; 718-923-9322; pokpokny.comPrime Meats
Down the block (and sharing a courtyard) with older brother Frankies is the German steakhouse offshoot Prime Meats, with an A-list cocktail program and a crowd-pleasing menu of steaks, sausages and German/Austrian specialties. Its dark, airy dining room is the area's best for a group dinner or a candlelit night of romance and great food and drink.
465 Court St.; 718-254-0327; frankspm.comReynard
The Wythe Hotel's restaurant is a clean, well-lighted place with an emphasis on wood-fired meats, seafood and veggies. Everything is well made and sharply presented, as you'd expect from an Andrew Tarlow restaurant (Diner, Marlow, Roman's).
80 Wythe Ave.; 718-460-8004; reynardnyc.comRoberta's
In 2008, Carlos Mirarchi did for Bushwick what Magnus Nilsson is now doing in northern Sweden — he transformed an out-of-the-way destination into an epicurean mecca. Hungry pilgrims head to Roberta's, housed in a complex of banged-up structures, to eat wood-fired pizzas topped with greens from the rooftop garden, hear sessions from the on-site Heritage Radio, or go all-out at adjoining tasting-room restaurant Blanca.
261 Moore St.; 718-417-1118; robertaspizza.comRoman's
Everyone looks good at Roman's, a candlelit spot in Fort Greene. The Italian-inspired menu changes daily, and amiable staffers ask if you're enjoying your pappardelle with mushrooms like they really, truly care. (And you know what? You are. It's really, truly good.) In the summer months, alfresco tables bring the restaurant's breezy dolce vita to a bustling stretch of DeKalb.
243 DeKalb Ave.; 718-622-5300; romansnyc.comRunner & Stone
What happens when an experienced chef teams up with an accomplished baker? A multifaceted, well-designed spot where you can nosh on a baguette with your morning coffee or turn up at dinner for house-made pastas and seasonal salads.
285 3rd Ave.; 718-576-3360; runnerandstone.comSauvage
It's perhaps not surprising that the team behind Maison Premiere, Brooklyn's sexiest wine bar/oyster spot, should come out swinging with their first full-fledged restaurant. After all, chef and partner Lisa Giffen is no slouch: Her culinary talents go way beyond maintaining a raw bar. Still, the combination of Deco-tinged design, world-class cocktails and dishes like strip steak with potato dauphine or pig head confit for two make this one of the borough's top contenders for best new restaurant of the year.
905 Lorimer St.; 718-486-6816; sauvageny.comSemilla
An 18-seat communal table. An $85 set menu with vegetables as the focus. A chef, José Ramírez-Ruiz, who's spent time in the kitchens of Per Se and Isa (when Estela's Ignacio Mattos was in charge). It all adds up to one of the toughest reservations, and one of the most consistently hyped restaurants, in Brooklyn.
160 Havemeyer St., No. 5; 718-782-3474; semillabk.comSt. Anselm
Hunger is a liability at this Williamsburg steakhouse, where the wait for a table can extend to Spielbergian lengths. Plan to spend at least an hour or two at the accompanying bar, Spuyten Duyvil, building your appetite for superlative proteins like the butcher's (hanger) steak with garlic butter, heartbreakingly tender lamb saddle with minted butter, and a mammoth, bourbon-brined pork chop.
355 Metropolitan Ave.; 718-384-5054; stanselm.netStone Park
After a dozen years, this central Park Slope restaurant remains a reliably delicious dinner spot; the childless may wish to avoid its popular brunch, where families crowd the sidewalk in hopes of snagging a table. But past bedtime, this corner place gives way to a romantic, neighborhood-y vibe that makes it an excellent setting to enjoy well-made cocktails, tasty pasta courses, and outstanding meat and seafood dishes. There's also an affordable (currently $36) three-course "market menu" on offer that showcases the kitchen's skills.
324 5th Ave.; 718-369-0082; stoneparkcafe.comSyndicated
Fancier movie theaters with reclined seats that serve food are popping up all over the country now. At Syndicate, the only cinema in Bushwick, there is also a restaurant with a menu beyond finger foods. Much of chef Bret Macris's cooking is seasonal, hearty American fare, like buttermilk fried chicken, salads, popcorn tuna with maitake, and apple bread pudding with bourbon maple glaze. This could be a one-stop date night — with dinner and a movie.
40 Bogart St.; 718-386-3399; syndicatedbk.com
Take Root
Elise Kornack's tasting-menu-only stunner in Carroll Gardens is still a tough reservation. Not only because Take Root has but 12 seats and is open Thursday through Saturday only, but because the art-student-turned-chef's memorable courses utilize market ingredients in dishes that veer in influence between her New England roots and her crafty imagination.
187 Sackett St.; 347-227-7116; take-root.comTalde
Sleepy Park Slope comes alive at Dale Talde's energetic Asian-American restaurant. Pretzel-coated pork-and-chive dumplings, Korean fried chicken, and oyster-and-bacon pad thai keep things swinging during dinner service, and the breakfast ramen, made with buttered-toast broth and honey-glazed bacon, makes for a bright-eyed brunch.
369 7th Ave.; 347-916-0031; taldebrooklyn.comThrees Brewing
More than any other place on this list, Threes embodies the DIY spirit of Gowanus. The place seemingly went up overnight, and in a couple of years has become a hub for thirsty craft beer fans who also flock here for dinners from what was a rotating, pop-up-like kitchen featuring top Brooklyn talent. As of recently, there's a meat-centric menu (albeit with plenty of seasonal vegetable dishes) created by the whole-animal butchers behind the Meat Hook.
333 Douglass St.; 718-522-2110; threesbrewing.comWestlight
We've yet to make the trip up to Andrew Carmellini's just-opened 22nd-floor rooftop bar and restaurant at the new William Vale in Williamsburg, but early reports are that the views, the drinks and the elevated bar-food menu are a tremendous addition to the borough's restaurant scene. Considering that every restaurant in Carmellini's growing empire elicits buzz and then delivers, it's a good bet that Westlight will be his next hit.
111 N. 12th St.; 718-307-7100; westlightnyc.com