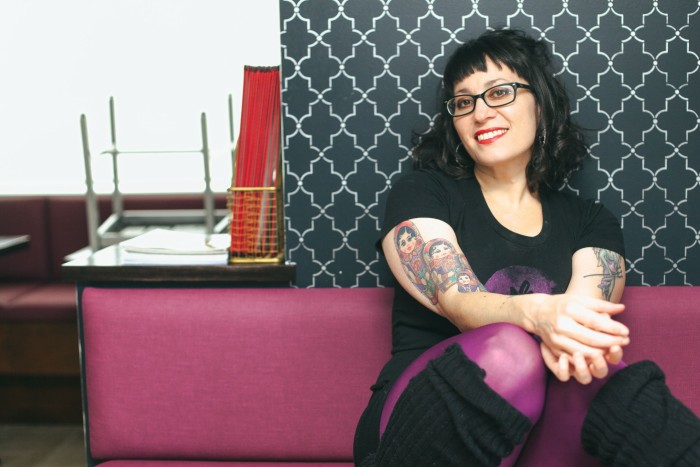 Isa Chandra Moskowitz first came to my attention when I was asked to interview her as part of a Breville video series a few years back. Not being vegan myself, I was in the dark about a woman who is without a doubt the coolest vegan chef on the planet. Her cookbooks, like 2013's brilliant Isa Does It and Vegan With a Vengeance, which just got the 10th anniversary reissue treatment, keep seitan and fake meat mostly on the sidelines in favor of seriously great recipes that just happen to be meat- and dairy-free.
She's also an ace Instagrammer, and it's on the social media platform that she announced earlier this week that she will open a second location of her popular Modern Love restaurant in Williamsburg, Brooklyn, in early 2016. The first Modern Love is in her adopted hometown of Omaha, Nebraska, while the second brings the native Brooklynite back to her original hometown. I dropped her a line to get the early scoop on what will surely be one of the big restaurant openings in NYC in the first part of 2016.
Why NYC for the second location of Modern Love?
Since I was born and raised here, my desire to have a restaurant, and to cook, really, is rooted here. Growing up in Brooklyn, I would always draw restaurant layouts and plans, and it's fun as an adult to make that a reality. Of course, in my teenage plans, everyone was sitting on beanbags and pillows. But I think we'll go with chairs.
Why now?
My friends Sara and Erica, who own the vegan shoe store Moo Shoes, have had this little corner of Williamsburg in their family for a while. When it came time to develop it, it was only natural that they wanted a vegan restaurant there. We actually talked about it years ago, before my Omaha location ever opened. But the timing started to seem right, and everything just came together.
As much attention as vegan cuisine has received, it's still fairly tough to find good vegan restaurants. How has Omaha reacted so far, and how do you envision NYC reacting?
Omaha has been so welcoming. I wouldn't have been able to do a restaurant in Brooklyn had it not been for all the support Modern Love Omaha received. We are the number one restaurant on Yelp there (overall, not just for veg stuff), and most of our customers are not even vegetarian; they just love the food. In fact, the Omaha Steaks dude was in there the other night and loved it. I really do think that if the food is awesome, then people will embrace us. And of course it will be. I think that diners appreciate that we are using real from-scratch ingredients and not cutting corners by serving "fake" cheese or stunt meat from a package. We even use local beans at our spot in Omaha. It's just more fun to take vegan cuisine seriously.
Last question: It was so cool that you got Kelley Deal to do the theme song for your Breville videos a while back. How'd you do that? And what role does music play in your restaurants?
I actually met Kelley when she was touring through Omaha, and I made her brunch. We've since become best friends. Well, maybe she doesn't think we're best friends, but that's what I tell people. There is always music of every stripe blasting out of the kitchen. It keeps us going! And actually Modern Love was named from the Yeah Yeah Yeahs song "Modern Romance," because it came on when I was getting really frustrated at my lack of a name. It was shortened to "Modern Love," and of course that's a great David Bowie song. But it also makes sense: classic food with a modern twist, made with love.
Want to hear the theme song and see Moskowitz in action? Check out the video below: