How Chef Lisa Giffen Built A Producer-Focused Menu At Sauvage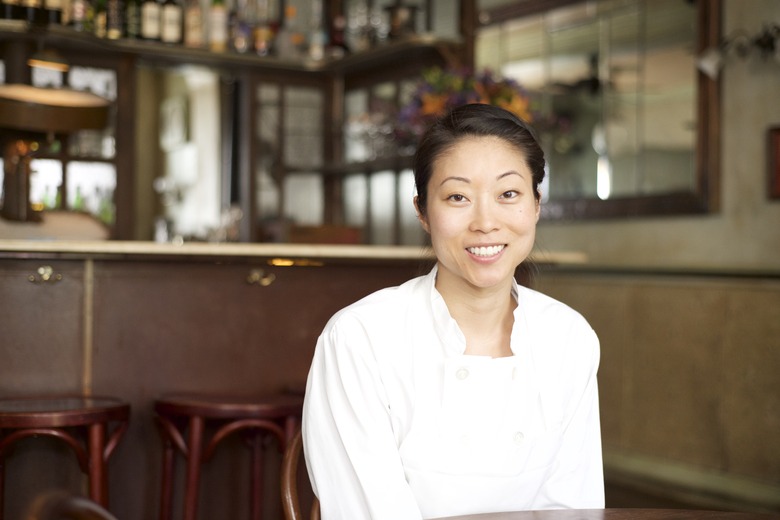 Chef Lisa Giffen was looking for a change of pace, so she ventured to Brooklyn.
Lisa Giffen emerges from the kitchen and walks straight up to me, hand outstretched, bearing a bright green snap pea. I meet her gaze and take it from her as she buzzes across the room to hand another pea to one of the managers. We are at Sauvage, a small new restaurant in Greenpoint, Brooklyn. It is a bright, sunny afternoon in early June, just a week after the restaurant has opened, and the kitchen is prepping for service. Later that evening, an orange glow will emanate from the restaurant as it fills with a crowd of people who may have reserved tables weeks in advance, or equally as likely, strolled in from the street.
"Isn't it sweet?" the pea-bearing chef asks me. Giffen is 33, and her makeup-less face at once reads seriousness and eagerness. Immediately, I feel relaxed in her presence. She continues on about the snap pea as I gnaw on it: "They're from California; the ones in New York haven't sprung yet." She shrugs unapologetically. After all, Giffen seems to be saying, the ultimate question is whether it's good, not where it came from — right?
Sauvage is the logical next step restaurant from the team behind Maison Premiere, a 2016 James Beard Foundation Best Bar Program award winner and a longtime favorite for New Yorkers in search of romantic atmosphere, the freshest oysters around and artful craft cocktails. In 2013, Giffen left a job at Alain Ducasse's midtown fine-dining effort Adour to come on at Maison Premiere and develop a more robust dinner menu. She had gotten to know the chef there, Jared Stafford-Hill, when the two of them began taking weekend trips to the shore town of Avalon, New Jersey — to cook in casual restaurants. "We never saw the beach," laughs Giffen. I confirm: You took up part-time work, on your days off, because you felt like it? (Not the first time I've encountered the workaholic nature of cooks, but still.) Giffen explains that she and Stafford-Hill were just looking for a change of pace. When Stafford-Hill offered her the job at Maison, she realized she had a choice: "I could continue in the world of Ducasse, or I could try something different — like Brooklyn." Maison Premiere had previously only had (very good) raw bar offerings, but Giffen made it a dinner venue for the first time. Now the chef has joined head bartender Will Elliott in moving to Sauvage, where she finally has the luxury of creating a menu that reflects her own passion and ambition.
For Giffen, who cut her teeth as a stage at Blue Hill in Manhattan and learned classical French cooking in the kitchens at Daniel and the now-closed Adour, Sauvage represents an opportunity to exploit the producer relationships she has developed over the years and take them to new heights. "Sauvage" means "wild," but it's not a word to be taken at face value here — meaning it's not all about foraged foods, although that's certainly part of the program. To explain, Giffen gestures to the bespoke embossing along the walls, the swan-like chandeliers, all made by hand per the design vision of partner Joshua Boissy. A line of ferns and tropical plants graces one wall in the semi-open kitchen, as well as the dining room. "Even the interior space, it's an homage to natural things — wood, leather. Same thing with the food — we're bringing in heritage porks and chickens, whole uneviscerated squabs.... It's using sourcing as a benchmark." Giffen cites the classic French approach to animals, in which everything is usable, as an inspiration here. "In the Ducasse kitchen, it was buy whole, and then a lot of sauce work," and nothing went to waste. This is applied at Sauvage, as well; the menu is meant to highlight producers, from the kitchen to the geeky bottles at the bar to the biodynamic, natural — yet approachable and affordable — wine selection.
The producer-driven approach reveals itself pretty seamlessly at Sauvage, and in fact, the way Giffen talks about the Old Spot heritage breed of pork she's serving as a porterhouse reminded me of hearing a sommelier talk about some obscure almost-extinct grape variety in the South of France. "Heritage breeds have unique flavors" that are distinct from the pork most of us probably eat, Giffen tells me. These breeds are often dying out, which means that eating heritage breeds is actually a form of saving them. Old Spot pigs are "orchard pigs—they have very floppy ears," she says, gesturing with her hands and cracking a grin. "The farmers would put them in the orchards to eat all the rotten fruits, so their ears didn't have to be up and alert; they didn't need to worry about predators." Why this breed of heritage pork, rather than others? "I have a great relationship with Patrick Martins of Heritage Meats," she explains. Giffen chooses these breeds, and all the ingredients she works with, ultimately for their taste. The heritage chicken she's using is a rich, turkey-flavored breed called Plymouth Rock, from Kansas; she serves it in a savory yet light pot au feu, the classic French one-pot dish. "At one time, Plymouth Rock was the most raised chicken in America," she says, but at some point, size was prioritized over flavor, and it fell out of favor.
For all Giffen's intellectualism, and her fine-dining pedigree, her food is unpretentious. She wants all her dishes to pass the "Dad test." In other words: Would Dad like it? "My dad's not a food person; he doesn't understand what a morel is," she laughs.
The menu at Sauvage has a strong emphasis on vegetables — on trend with New York's "vegetable-forward" movement, which has made it almost commonplace to have entire sections on a menu devoted to the freshest greens, oranges and reds. And presentation is taken seriously; until the light goes down, the food is irresistibly Instagrammable, dotted with tiny flowers and carefully plated. The cocktails, as well, resemble the grandiose creations that brought people from near and far to the bar at Maison Premiere; at Sauvage, though, they are particularly food-friendly — high in acid, low in alcohol, tending toward dry. There is a special connection between the drinks program and the food menu at Sauvage. Giffen finds that the wines, chosen by partner Krystof Zizka, "have that wild funk, wild yeast flavor that really pair well" with the "nuanced, layered" flavors of her food. She looks to bartender Elliott for inspiration as well, such as the unique Calvados du Pays d'Auge that he showed her, and which she now uses in a sauce for hake.
For such a design-forward restaurant, and such an ambitious chef, the atmosphere at Sauvage is still casual. After all, the food is supposed to pass that "dad test."
Sauvage905 Lorimer St.Brooklyn, NY 11222718-486-6816sauvageny.com