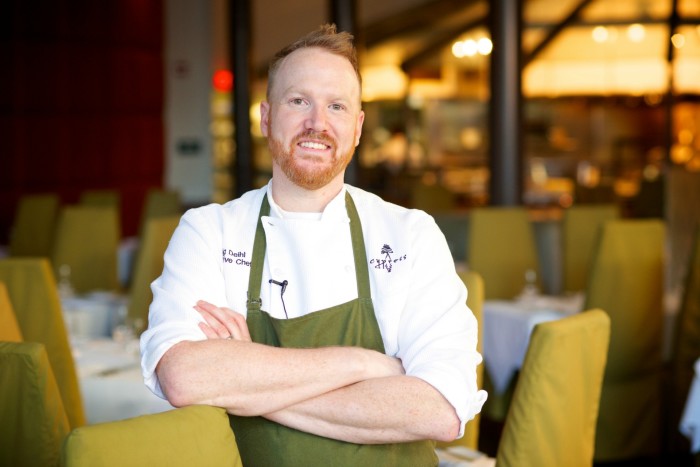 Craig Deihl didn't set out to become a master of charcuterie. His interest in cured meats was born more out of necessity than anything. "I was starting up my own restaurant at Cypress, and I needed to save money," says Deihl, referring to the now-acclaimed restaurant he opened in Charleston, South Carolina, back in 2001. "I was confident enough to break down a whole animal, but I wanted to get better at butchery. As I bought more pigs, I needed to find more ways to use the leftover bits and pieces."
The delicacies he would make from those scraps — things like Korean-spiced coppa and pork pâté studded with country ham — would ultimately become his calling card, even though Deihl and his chef de cuisine, Bob Cook, were really just learning as they went along. "We started to research on how better to use these parts," explains Deihl. "I knew about the techniques, but I didn't know how to do it. Some of our recipes took two years to get nailed down, and there was a huge learning curve."
From the very beginning, Deihl found a farmer who was willing to sell him whole animals, one to two hogs every couple of weeks. "I really wanted access to better meat for the center of the plate, and we saved money on the per-pound price versus just paying the prices for primal cuts." Since diners didn't always order pork chops in the exact same ratio as they consumed the salumis and sausages that Diehl was creating with the rest of the pig, the chef came up with the brilliant idea to start up Artisan Meat Share as a sort of CSA for charcuterie products. Members would receive periodic seasonal deliveries of whatever products Deihl and Cook whipped up to fully utilize the extra meat leftover after butchering.
As the program grew, Deihl refined his ordering process. "Over time, we saw certain products sell better than others, so we don't always need to buy the whole pig. The farmer doesn't have to kill another animal just for us, so we buy the extra primals and pig heads after the farmer parts them out. We know what we need. We need meat. We don't always need another whole animal."
Eventually, Artisan Meat Share evolved from a CSA program to more of a bricks-and-mortar European butcher shop model, with a location in the Upper King Street neighborhood of Charleston, a bit of a schlep from the trendier restaurants that tourists frequent but still convenient to locals. Initially, the cases were filled with exotic cured meats that Deihl and Cook produced out of the large cure room at Cypress, where they aim to turn the meat inventory four times per year.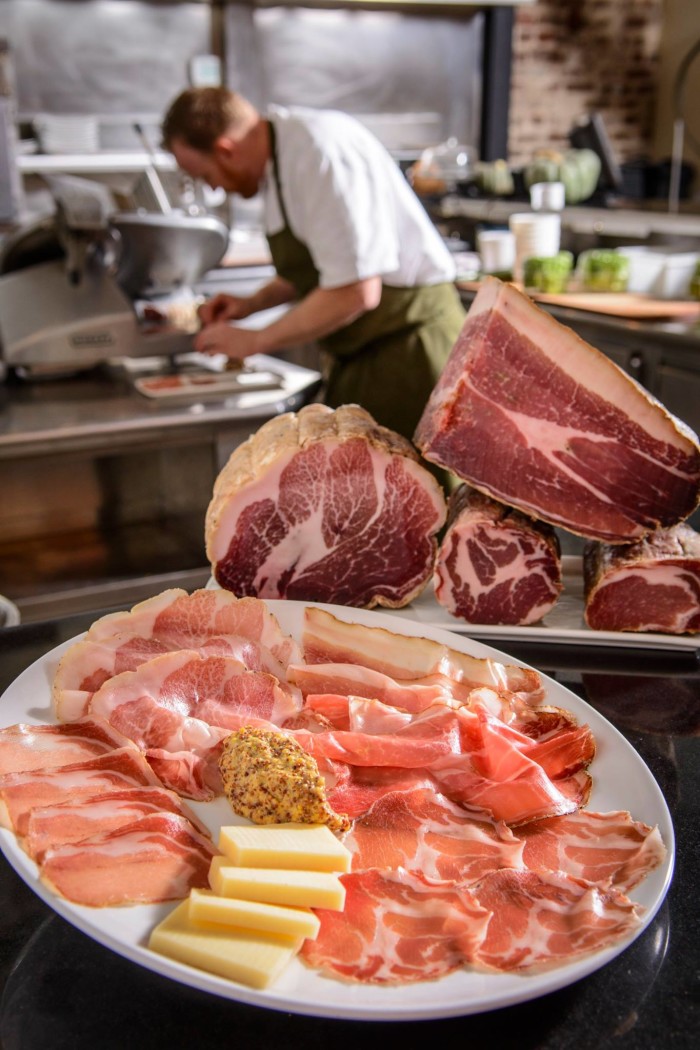 While the salumi drew attention, it didn't move in the volume that Diehl needed to keep his pork orders in equilibrium with the needs of his restaurant kitchen. The chef pivoted quickly. "At that point, we shifted gears from salumis to sandwiches, emphasizing more cooked meats like bologna and mortadella. Smoked knuckle sandwiches became popular, and we started to save the pig skins to make pork rinds. This all allowed us to use more pigs more quickly."
The equilibrium eventually tipped again in the other direction. "Our volume has caught up to where we're buying some pigs for charcuterie instead of just depending on our own leftovers. Artisan Meat Share is now the gateway to the charcuterie at Cypress. Customers ask, 'Why are these sandwiches so great?' Then we can tell them to come try the real deal at the restaurant."
Deihl still treats all of his scrap with respect and seeks out ways to extract the flavor from every piece of the animal while also saving the kitchen money whenever possible. The chain trimmed off the loin after cutting fillets goes into the burger grind. The silverskin that usually ends up in the butcher's trash can is instead liquefied into a gelatin for beef stock at Cypress. "It makes for a beefier and richer stock with a delightful mouthfeel," he explains. "We call it beef butter, and we brush it on every steak that goes out of the kitchen."
Deihl does strive to operate as sustainable a kitchen as possible, but it's not his only priority. "Sustainability can be done in a lot more ways than just buying whole animals," he says. "It doesn't stop when the farmer delivers to the restaurant. But the whole operation has to be successful to stay sustainable. We have to continue to make great products, or we won't be able to attract people. We just focus on making really good food, and they will come."
That beef butter probably doesn't hurt, either.
Artisan Meat Share, 33 Spring St., Charleston, SC 29403; 843-641-7299; artisanmeatsharecharleston.com
Cypress, 167 E. Bay St., Charleston, SC 29401; 843-727-0111; cypresscharleston.com
Presented by