The best charcuterie I've ever eaten, hands down, was in the culinary mecca of Charleston, South Carolina, at Cypress, where executive chef and James Beard nominee Craig Deihl lovingly creates spiced-up takes on classics. Think coppa rubbed with Korean red pepper powder, and pork pâté studded with country ham and porcini mushrooms. If you want to go even more in-depth than his charcuterie platter, take a peek at his Instagram, one of our favorite carnivorous feeds. But in the meantime, here's the breakdown of what you will typically find: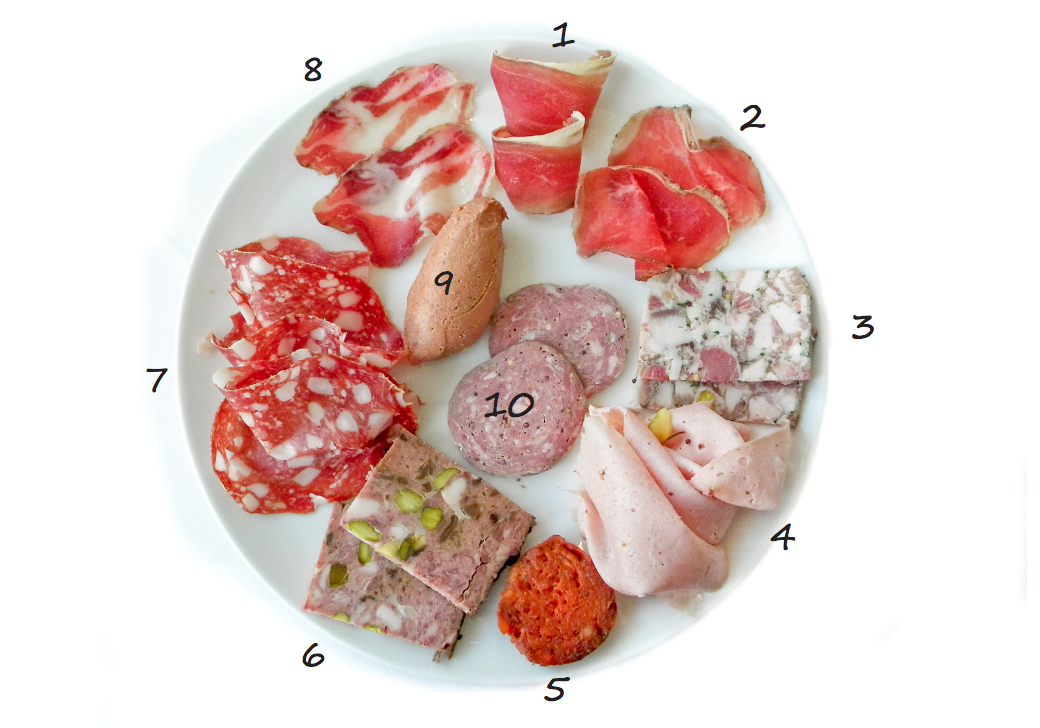 1. Lamb prosciutto | Border Springs Farm leg of lamb cured with salt, black pepper and red wine. Hung to age for six months.
2. Bresaola | Certified Angus Beef prime strip loin rubbed with sea salt, juniper, bay leaf, black pepper, garlic and thyme. Hung to age for six months.
3. Head cheese| Pig's head, feet, jowls and tongue, all cured separately. The gelatin is made with mustard seeds, bay leaf, garlic, thyme, sage, clove, mace and allspice.
4. Mortadella | Emulsified pork sausage with embedded chunks of fatback, seasoned with peppercorns, pistachios, cinnamon, coriander, mace, clove, milk powder and garlic.
5. 'Nduja | Spreadable, fermented, smoked and cured salami that is 85 percent fatty pork and 15 percent hot-pepper powder.
6. Pork pâté| Ground pork and liver mixed with eggs, cream and aromatics, seasoned with coriander, mace, cloves, cinnamon and nutmeg and studded with country ham, pistachios and porcini mushrooms.
7. Three-beast | Ground beef, lamb and pork salami cured with garlic, red wine, black pepper and diced lardo. Hung and cured for 14 months in a pig's bladder.
8. Coppa | Whole pork collar rubbed with smoked Spanish paprika, Korean pepper powder, crushed red pepper, black pepper and cayenne, wrapped in caul fat and hung for six months.
9. Spicy smoked liverwurst | One hundred percent beef, finely ground and spiced with crushed red pepper, Korean pepper powder, cayenne pepper, black pepper, white pepper and Nebbiolo wine. It's removed from the casings and served in quenelles.
10. Summer sausage | A 50 percent beef and 50 percent pork sausage, fermented to create a tangy flavor, spiced with black pepper, smoked paprika, mace, garlic, juniper, caraway, mustard and marjoram.
Prepare for our recipe something tasty and spend a great evening in the Austrian online gambling house casino bonus.
Cypress
167 East Bay Street
Charleston, SC  29401
843-727-0111
More Plate Deconstruction on Food Republic: