The news that acclaimed British steak house Hawksmoor would be setting up shop in the Richard Rogers–designed 3 World Trade Center in Manhattan in 2017 provoked greater reaction in London than New York. For us Brits, perhaps this was about recognition — that the export of a beloved home-grown brand and exemplar of everything good about dining in the U.K. (and by U.K., we mean London) would bring about acknowledgment of the city's maturation as a legitimate food town.
I know what you're thinking. We've exported our fair share of recognizable chefs and personalities, like Saints Fergus and April Bloomfield (you're welcome) but also Gordon Ramsay (sorry). Hell, we've flogged Jason Atherton's restaurants from Singapore to Madison Square Park. But ask the average Londoner where they'd go for a splurge, and many of them — blissfully bereft of gastronomic neuroses — would answer Hawksmoor. This is a serious steak restaurant and one of the first in the capital that hit the sweet spot between atmosphere, food, drinks and service.
The first Hawksmoor was born when childhood friends Huw Gott and Will Beckett stumbled upon a clapped-out Turkish restaurant in Spitalfields, near London's financial district, and decided to use its open pit charcoal oven to cook their steaks. It has since expanded to five properties in London and one in Manchester, and it's estimated that the Manhattan outpost will cost them more in rent than all of their U.K. restaurants put together, and that the vast 14,000-square-foot WTC space will have to turn over a cool $20 million for it to be deemed a success in the pair's eyes.
Meanwhile, in New York, many have been none the wiser. You know the food in London has become edible and occasionally delicious, and you're no longer left with the grim prospect of having to eat breakfast multiple times a day when you visit. You know that Hawksmoor is meant to be a great steak house, but often that's about it. Why is it good? In a town that knows steak better than anyone, what's it going to add? And how do the Brits do steak, anyway?
The pair have already speculated that they'll be going with grain-fed cattle instead of the grass-fed British breeds that they made their reputation on in London, which would seem to be a more obvious selling point. "It would be presumptuous to say that we'll be providing something that New York is lacking," Beckett tells Food Republic. "Most of all we're hoping to be one more great restaurant in New York City." He continues, "We're not going to come to New York and open a quintessentially British steak house – we want to do a steak restaurant that feels right for New York, that celebrates and serves incredible American produce."
It's also worth noting that the owners and executive chef Richard Turner — a longtime collaborator with the late Josh Ozersky at Meatopia — are aces at sourcing produce, with the ethically reared meat providing their beef coming from butcher the Ginger Pig in North Yorkshire. "I'd expect steak restaurants to have close relationships with farmers, to care deeply about finding the best meat possible and about the welfare of the animals it comes from," Beckett explains. There will also be British touches on the menu — a killer Sunday roast lunch, for example, or a delicious clam and trotter dish — but all meat will be sourced from American producers. As for the space, architects Macauley Sinclair have been charged with imbuing the cavernous space with the restaurant's signature warmth and unstuffy, convivial ambience.
As someone occasionally known to consume Ozerskian quantities of red meat, I've been heartened by the blossoming of London's steak houses from imitators to establishments that stand comparison with the world's — and New York's — best. The city's diversity is its trump card: Besides Hawksmoor, there's everything from USDA, Wagyu and Argentinian beef to legit Kobe served at a counter at a fancy West End hotel (Engawa). There's democratic steak (single-option favorite Flat Iron and Relais de Venise), casual steak (anything by chef Mark Hix) and exotic steak (life-changingly tender Fassone beef from Piedmont at Macellaio, or Lurra's Rubia Gallega). We're even inundated with our own imports — the Big Apple has already sent STK and Smith and Wollensky our way, and Wolfgang Puck has his eye-bleedingly expensive CUT at the swanky Dorchester Hotel.
Hawksmoor has been a huge contributor to the re-establishment of London's newfound excellence when it comes to dry-aged beef, but it's only part of the deep and wide-ranging array of restaurants that offer such bovine delights. Read on for a look at where to get the best cuts in this city of rosbifs, and how a Brit import plans to add value to a town that has its cut named after it.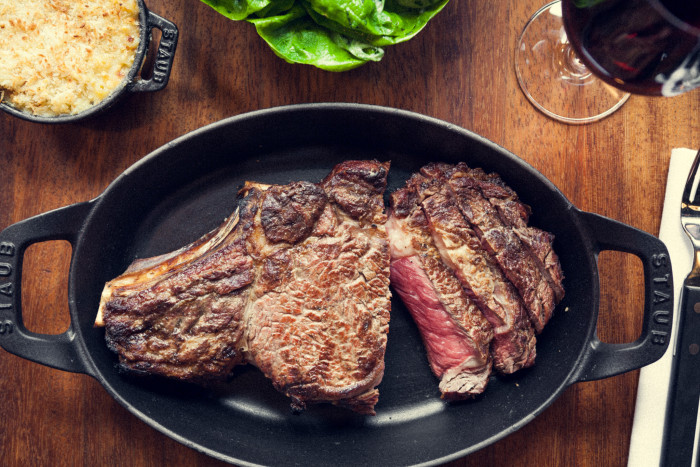 Hawksmoor
Before Hawksmoor, the London steak-restaurant scene was a mix of novelty, imitation and nostalgia. The legendary Joe Allen, where London industry luminaries like Jeremy King and Russell Norman cut their teeth, had seen the crowds of its '80s heyday evaporate despite a respectable meat pedigree, and with the odd exception — flashy newcomers like Gaucho and Sophie's — the market was dominated by depressing franchises hawking flavorless gristle.
As mentioned, the collaboration between Beckett and Gott has spawned numerous restaurants, including a swish Piccadilly venue specializing in seafood and a slick operation experimenting with Southeast Asian flavors for a moneyed Knightsbridge crowd. Most locals though, vacillate between the Spitalfields original and the larger, beautiful dining room in the Seven Dials, replete with refurbished Victorian features and reclaimed materials.
Unlike newer rivals, like Goodman (with whom it shares a friendly rivalry amongst the city's bloggers and steak nerds), the company's strength to the average punter lies in its simplicity and accessibility. When I settle down to dinner with a friend, myriad Londoners gathering for very different occasions are present — birthday dinners, casual catch-ups between friends and lovers, and workmates knocking back a few of the bar's killer cocktails. All of the Ginger Pig–sourced beef — in terms of provenance, perhaps London's answer to Pat LaFrieda — comes from owner Tim Wilson's herd of Longhorn cattle in Yorkshire.
Its simple preparation on a charcoal grill allows the flavors to shine; a beautiful char on a porterhouse gives way to a wonderfully flavorful piece of meat, aided by triple-cooked chips (fries) that make French fries a distant memory. Starters lean toward the British — creamy Brixham crab on toast, or delicate potted beef and bacon with Yorkshire pudding — while extras like bone marrow or fried eggs are what any self-respecting carnivore would wish to order. Multiple locations, London; thehawksmoor.com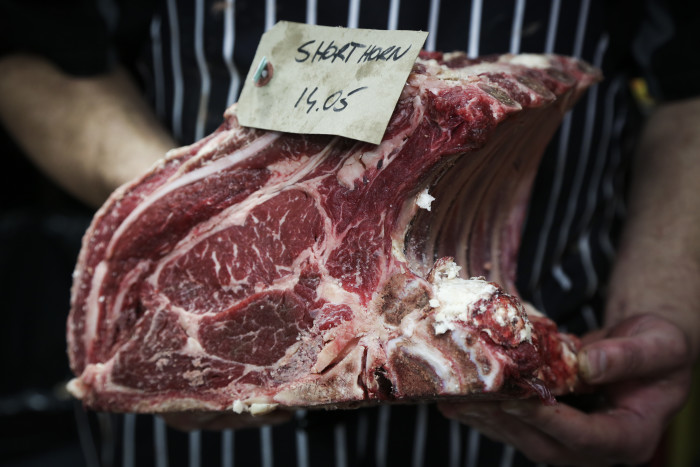 Goodman
While London was riding a bovine high from the fumes emanating from the home-grown Hawksmoor's success, a Russian operation opening a U.S.-inspired steak house in the upmarket Mayfair neighborhood felt like an audacious move. Luckily, the move has paid off, and Londoners can now boast two world-class steak houses, and Goodman has expanded to include the London expense-account triangle of the Canary Wharf and City financial districts.
Founded and owned by former Moscow stockbroker Mikhail Zelman at a time when the British meat market was relatively poor, Goodman brought in meats from prime markets — ridiculously well-marbled Australian and Japanese Wagyu, as well as corn-fed Nebraska USDA — and dry-aged them on site before slicing them with a petrifyingly large blade. They're then slapped onto a searing hot Spanish Josper grill with only a little vegetable oil and kosher salt as seasoning to produce perfectly charred meat.
"I think what really sets us apart from other steak houses is the time spent on getting the quality right," explains Phil Campbell, head chef at the restaurant's Mayfair restaurant. "As an example, we dry-age all our U.K. beef on site. That means the beef comes in fresh from slaughter, which allows us to inspect every piece and make sure the quality is where we want it. To this day, if we're not satisfied with a piece of beef, it gets returned to the supplier. That means a tremendous amount of time and effort is put into quality control."
While the number of steak houses has rapidly increased since the days of Hawksmoor and Goodman's arrivals, it's generally agreed among food nerd and bloggers that the two are still the best in the city, and while arguments can be made for each, they've both prospered. Indeed, Zelman went on to launch the ridiculously popular Burger & Lobster chain (it's rumored that the chain is the world's largest buyer of Canadian lobster, and it already boasts a Manhattan location) as well as offshoots like Beast (a steak- and king crab–only specialist) and the neo-steak house Zelman Meats. Multiple locations, London; goodmanrestaurants.com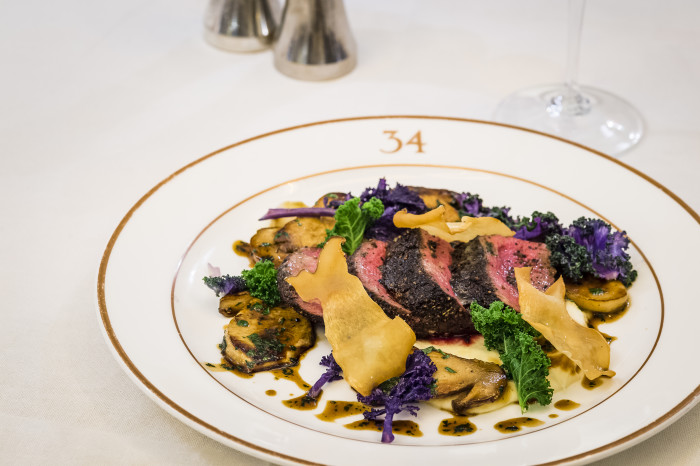 34
It's difficult to imagine a dining landscape in London that hasn't benefited from the influence of Richard Caring and his Caprice Holdings group. His well-appointed restaurants — including the iconic Ivy, Le Caprice, J Sheekey and Cecconi's — are most associated with being the haunts of celebrities and the well-to-do. If you've seen Kate Moss or Lara Stone being snapped leaving a London fashion week party, chances are they were leaving one of Caring's places.
The food itself plays a major role in a restaurant master class that includes sumptuous interiors — the architect Martin Brudnizki is a longtime collaborator — as well as unparalleled service. While comfort food and unchallenging crowd-pleasers feature heavily on the menus of places like the Ivy and Scott's, catering to a wide and often fussy audience, the group isn't averse to specialization, either. Thus, 34, which opened in 2011 off Mayfair's exclusive Grosvenor Square, is a welcome addition to Caprice Holdings' stellar lineup, and its Argentine charcoal parilla grills up an enviable selection of Australian Wagyu and Scottish dry-aged and grass-fed beef, as well as the obligatory USDA imports.
"I personally love a 32-day-aged rib eye Scottish or British rare breed," says head chef Harvey Ayliffe. "The British one, I must admit, can be a little inconsistent, but when it's good, it's incredible." While the restaurant — with its luxurious leather banquettes, sexy lighting and downtempo atmosphere — is much more of a chic restaurant that happens to cook excellent meat and fish than an out-and-out steak house, its steaks play ball with the best of London.
In particular, its New York striploin from Nebraska's Creekstone farm is a winner. The quality of the meat is hard to dispute, with a gorgeous, crusted exterior kissed by the heat of burning coals and cooked to a lusty, pink medium-rare. The bone-in rib eye, too, farmed in Scotland's Bridge of Allan, is a wonderful specimen and cut on site, the dry aging evident in a massive hit of beef flavor with subtle hints of its grass-fed provenance.
The starters and accompaniments — as well as the many main dishes on the menu — are also crushingly competent. In particular, a slaw and Marie Rose sauce (a British concoction of mayo, Worcestershire sauce, lemon and tomatoes ) accompanying a juicy shrimp cocktail was an unexpected delight.
This being Britain, game is on the menu whenever it's in season. And under the watchful eye of Caring, you're never far from reminders of luxury — 34's private dining room is named for British artist and former enfant terrible Tracey Emin and is filled with her artworks. (She, in return, made a doggy bag for the restaurant.) 34 Grosvenor Square, London W1K 2HD; +44 20 3350 3434; 34-restaurant.co.uk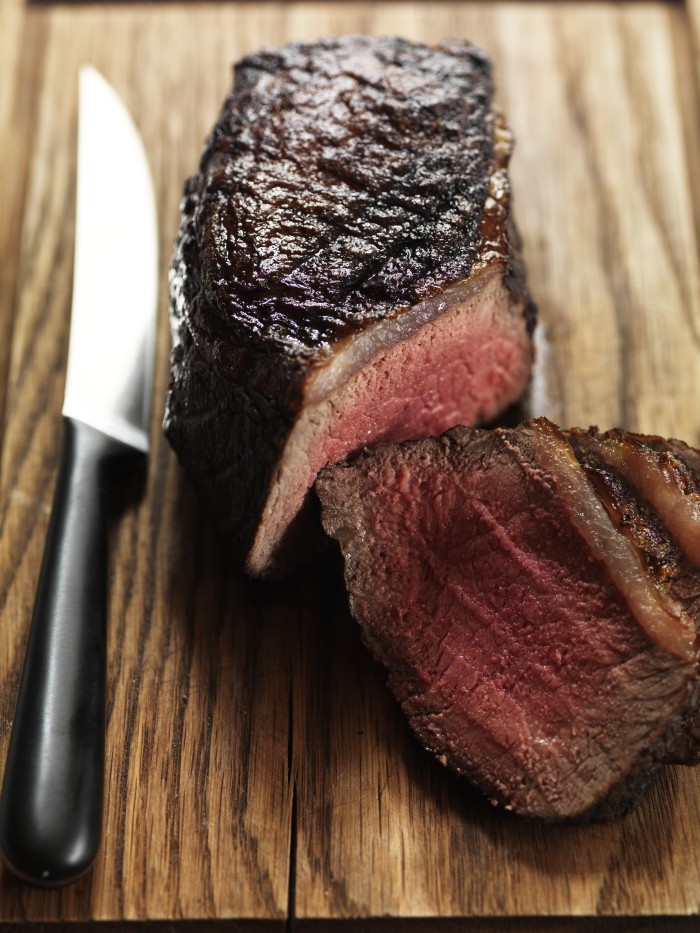 Tramshed
In London, people will forever grumble about small-plates and no-reservations restaurants, but oddly, the ultra-specialist restaurant has been enthusiastically embraced: Places like Flat Iron (serving only flat iron steaks with a smattering of sides for a pittance) and Blacklock have become widely admired, and with the vast clientele that London provides, it isn't hard to see why they've prospered — there's always going to be a group of people lusting for crowd-pleasers on any given night.
One of the first of these was Mark Hix's Tramshed, which, when it opened back in 2012, focused only on two items — roast chicken and steak — in a dramatic space in trendy Shoreditch (think Silver Lake) replete with high ceilings and a statement piece by the chef patron's artist friend Damien Hirst. Granted, a cow preserved in formaldehyde may not be most people's first choice of visual accompaniment when they think of dinner, but along with other artworks from Hix's friends, it adds to the restaurant's air of relaxed cool.
Tramshed's menu has expanded from the original two choices to a choice of bovine-or-bird appetizers (Hix's luxurious take on popcorn chicken or Yorkshire pudding with whipped chicken livers) and a wider choice of meats for entrées. The barn-raised Indian Rock chickens that the restaurant sources are served ceremoniously, roasted whole with their claws pointing skyward. No less macho are the steaks, cut from meat dry-aged in a Himalayan salt chamber and cooked and served simply.
The meat, from Hereford, Shorthorn and Aberdeen Angus breeds depending on availability, is a carnivore's delight; a rib eye bleeds emphatically when sliced, and the hit of salt, beefy umami and luxurious fat from the careful marbling attests to the quality of the sourcing. Sides nod to steak house staples, with a casual, pubby twist — crisp onion rings are sprinkled with salt and a dash of vinegar, while a salad of crunchy lettuce hearts with Tewkesbury mustard is improved no end by the liberal addition of Cashel blue cheese and hazelnuts.
Hix, the Caprice Group's former executive chef, is known in the U.K. for his relaxed, clubby restaurants that boast a grown-up vibe while proffering relaxed, unfussy British cooking. In contrast to the European theatrics of the likes of Marco Pierre-White, Hix's style is precise yet relaxed and a go-to for Brit comfort classics — and though in some ways a place like Tramshed is novel in concept, a few minutes into your meal, you'll find the comfort of familiarity meeting this novelty at a sweet spot, as its maker intended. 32 Rivington St., London EC2A 3LX; +44 20 7749 0478; hixrestaurants.co.uk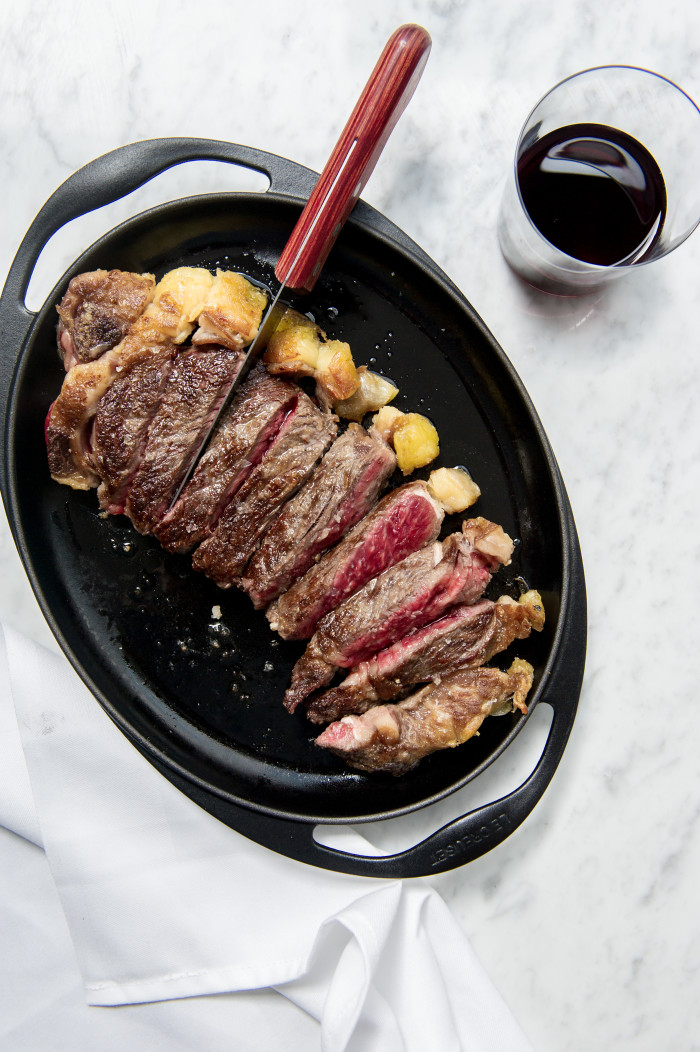 Lurra
Lurra, in London's upmarket Marylebone neighbourhood, isn't outwardly the kind of place you'd expect to find excellent beef. It's discreet street entrance and pristine design — a minimal white-and-blonde color palette with designer Danish furniture — is antithetical to the swagger of a Peter Luger or Goodman. Even further from the stereotype is the food, which for the most part is heavily influenced by modern Basque cooking — which makes sense when you realize Lurra's sister restaurant, Donostia, is one of London's foremost examples of the style.
Clued-in Londoners come here for the excellent fish and meat, however, grilled beautifully in the Basque erretegia style made world famous by the likes of Asador Etxebarri. The choice is yours between a whole turbot grilled expertly on a charcoal and wood grill, or the pièce de résistance, a formidable slab of prime rib from a Galician Rubia Gallega cow.
The old cow has become something of a cult menu item in London over the last few years and is symbolic of London's ability to embrace global trends — chef Tomos Parry stuck it on his menu at the impossible-to-book Kitty Fisher's, while Spanish importers Brindisa have featured retired dairy cows under the pseudonym "Cider House Beef." The cattle that Lurra source their beef from is slaughtered at 14 years, and this age, along with the cows' diet of lush grass, is what imparts great depth of flavor to the meat, according to chef Damian Surowiec: "We like to serve anything from a rib as it has the highest concentration of fat and marbling, which gives the meat a lot of flavor. As for aging, we dry-age this meat ourselves — on the bone, in our cold room in North London for 60 days."
As with the decor, the steak's preparation is minimal — the meat is cooked to a succulent medium-rare on the restaurant's Robata grill over oak charcoal and vine shoots before being brought on a hot serving dish with a bold scattering of sea salt. And while creamed spinach and steak fries are fine, dishes like zucchini flower with cod brandade and gently blistered Gernika peppers with a simple sprinkle of salt are a welcome breath of fresh air. 9 Seymour Pl., London W1H 5BA; +44 20 7724 4545; lurra.co.uk