Mark Hix: Locavore, Under A Neon Glow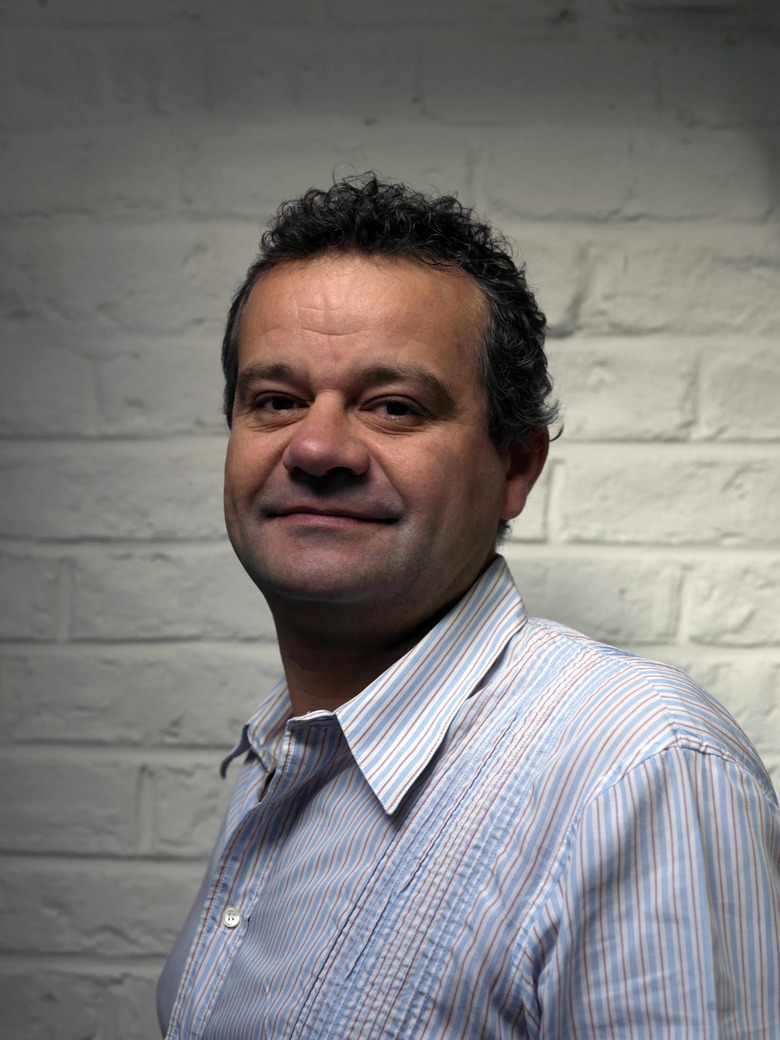 Walk into HIX restaurant in London's Soho neighborhood and the last impression you'll get is "farm-to-table." Waitresses walk around in skin-tight short dresses with strategically placed cut-outs near the hip. Cuts of raw meat are showcased à table. Well-dressed, and even better coiffed, Londoners sidle along the dining room perimeter on their way to the underground hotspot Mark's Bar.
And yet, the menu touts prawns pulled from nearby waters, beef raised on farms in the English countryside—all manner of vegetation, meat, cheeses and other dairy that traveled only a short distance to arrive in this buzzing boîte. The man behind it all, Mark Hix, is a chef, restaurateur, art collector, journalist and maybe even a — gulp — visionary. Though when we sit down to chat outside his latest venture, HIX Belgravia inside the Belgraves Hotel in one of London's poshest neighborhoods, he comes off as a regular bloke. Albeit one with a growing restaurant empire, noteworthy thoughts about the upcoming summer Olympics in London, and (possibly) his sights set on New York City.
What's your opinion as someone whose been entrenched for years doing this thing, is it just perception that food has gotten better in London?
People tell me that, yeah. London and New York are gastronomic capitols of the universe. They're very similar. Both cities have got lots of different styles of cuisines from different countries. You can eat good Lebanese food in London, in New York as well. Good Chinese, Indian. As far as it being an international food city I think that the quality level is very high here compared to what it used to be 20 years ago. We've got quite a lot going on.
What about the emphasis on ingredients and sourcing. Have you seen that as a trend in London?
Well the thing is, I think it should be something natural that people do, sourcing good ingredients, finding new producers and encouraging producers. It's not like picking up the phone to a supermarket and asking them to deliver. More and more chefs are playing on local produce, which to be honest is getting pretty cliché. If you know about food you're cooking seasonally anyway. You're not using strawberries in December.
But you're very mindful of your seafood...
Sustainability is key, something everyone needs to be on top of.
Are you involved in any sustainable seafood organizations?
I'm involved in Fish2Fork, a fairly new organization that rates restaurants and also work with them to understand why we shouldn't be eating certain species at certain times of the year. So I think it needs to be a part of that seasonal thing.
One of the things people have been noting here at HIX Belgravia is that you're not necessarily sticking to British products.
I've opened the menu up a bit so it's a bit more international. You can get pasta and risotto. My other restaurants are purely using British products.
Is that because you want to support British farmers?
Yeah, because there are some great producers out there. We've got fantastic cheese makers. You see a lot of our cheeses over in New York from a company called Neal's Yard Dairy. And yeah, we've got great chicken producers and duck and genuine growers and producers that are suiting the market. You don't need to import stuff from all over the world. (See: Mark's recipe for Roast Chicken With Garlic Sauce.)
For your next project, you're doing one of your biggest restaurants yet, right?
Yes, it's called the Tram Shed. A big old restaurant, 150 seats, with only two main courses, chicken and steak. Whole chicken to share between two or three people and a special beef from Ireland which you can order by 250 grams multiples.
What's the concept behind that?
I just wanted to do something a bit different, a bit raw. New, but also something affordable. Chicken for three people is 24 quid. It's a kinda accessible concept to everyone. Or you can go the other way and order 400-gram sirloins and big wine and spend more money.
As a restauranteur in London spreading out a lot, is it something you planned on or were at one point you one restaurant guy.
I was a one restaurant guy, but opportunities come up. A building comes up and you think "this will work for such and such." It's evolved like that. I've never had a game plan to open one restaurant a year or two restaurants a year. It's happened kinda naturally.
Would you ever see yourself doing something outside of London?
Possibly. I have looked at New York. We looked at a couple of restaurants with Michael Callahan and the guys at Kittichai. So yeah, we have looked it. New York would be the obvious place. We'll see how it goes.
Let's talk about the cocktail programs you've developed. Mark's Bar here in Soho has a lot of buzz.
It's in the basement and it's become a hot spot in Soho. I've never done bars before that. The building was a failed Japanese concept and I walked in and saw the building. Restaurant upstairs and bar downstairs. The bar took off, so it's become the hot spot in Soho. I brought Nick Strangeway on board and we created some classic cocktails, nothing fancy, something that matches the food I do. [Read Nick Strangeway Has Bartender Fatigue.] Using seasonal ingredients, so we make the most of say rhubarb when it's in season, or we use cherries and preserve them and use them for infusions. Or quince. So they're kinda quirky but not fancy cocktails based on British ingredients. There's no coconut or pineapple. And we use as many British spirits as possible. Cider brandy, gin, British vodka and whiskey.
How do you choose the art for your restaurants?
I work the artist and commission them to put stuff in the restaurants. [Here at HIX Belgravia] the neon Mark's Bar sign is by Tim Noble and Sue Webster. The big sculpture is by Gary Webb. I work with the artists and do exchanges for dinners. They supply the art, I supply the food.
Let's talk about the summer Olympics and how that will affect your restaurants.
We don't even know, in London, what's going to happen. They're closing a lot of roads down, so a lot of people won't bother coming to London. All our deliveries will be messed up. Suppliers will have to go at the middle of the night. So our produce will have to come when we're closed, we're going to have to employ someone to work through the night.
Has the government been forthright with you about what's going to happen?
It changes weekly. Whatever happens it's going to cause quite a bit of disruption.
For restaurant locations and more, check out the Hix website.
---
Read stories about the British cocktail scene from our recent series Getting Pissed In London.