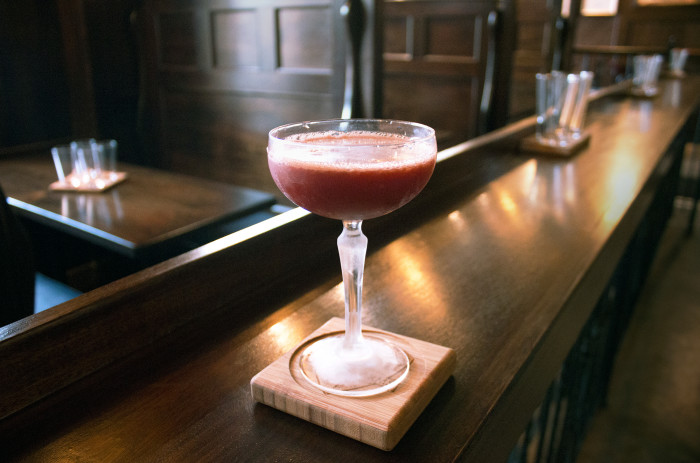 The healing effects of bitters and tonics have long been known to aid digestion. But in cocktails, they are usually used in scant amounts to add depth and seasoning. Defying convention and logic, a rogue subset of cocktails based on an ounce-plus of bitters does exist and enjoys a healthy fandom among drinkers. At the recently opened "modern cocktail pub" Suffolk Arms on New York City's Lower East Side, you'd be remiss to overlook one such drink: barman Giuseppe Gonzalez's Trinidad Sour, boasting a solid 1 1/2 ounces of Angostura bitters balanced with house-made orgeat, rye whiskey and lemon.
The provenance of the daring dose of bitters found in the crimson-hued Trinidad Sour likely dates back to both the malaria-repelling Angostura Fizz documented in Charles Baker's The Gentleman's Companion and, more directly, Valentino Bolognese's competition-winning Trinidad Especial, which Giuseppe adapted to feature rye and lemon while at Brooklyn's Clover Club in 2009. "What I found most intriguing is that it's one of the few recipes where the amount of spirit is almost the same as the amount of sweetener," notes Giuseppe, adding, "The real drink requires a house-made orgeat." Thankfully, both Small Hands and Blair Reynolds make excellent commercial versions today.
Though the Trinidad Sour may be one of the more well-known drinks Giuseppe has created, Suffolk Arms' menu also showcases his popular Infante, Negroni Swizzle and Bee Keeper cocktails — all credited to bartender friends he has learned from over the years — as well as a dozen or so vodka-based classics that challenge the spirit's naysayers. As complex and contrarian as the man himself, Giuseppe's Trinidad Sour is a modern classic that lives up to the hype, in addition to being a good excuse to burn through any Angostura bottles that have been on the shelf far too long. Enjoy.
Trinidad Sour
Servings: 1 cocktail
Ingredients
1½ ounces Angostura bitters
1½ ounces orgeat
½ ounce Old Overholt Rye Whiskey
¾ ounce fresh lemon juice
Directions:
Combine ingredients into a shaker tin and add ice.
Shake vigorously for 10 seconds and strain into a chilled coupe.
No garnish needed.
Prep time: 2 minutes
Difficulty: Easy