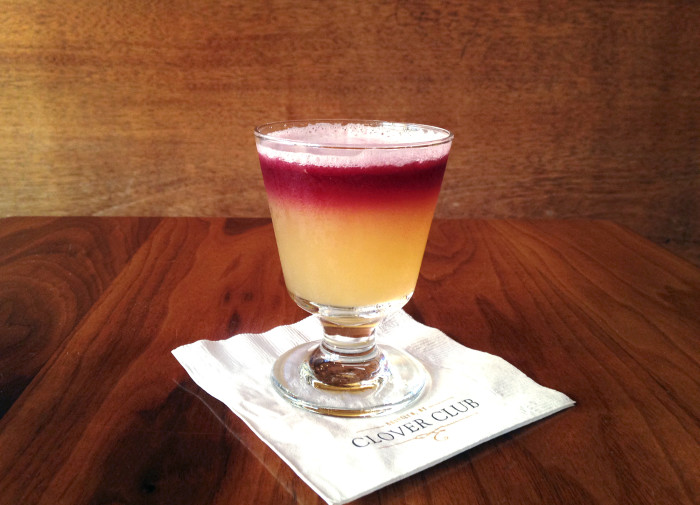 Despite the thousands of original concoctions created by bartenders each year, sometimes it's good to revisit an oft-overlooked classic. Back in the late 1800s, the enormously popular sour and its marriage of spirit, citrus and sugar was well established, but even then bartenders were eager to experiment with their own variations. One of the easiest ways to spice up the whiskey sour was to simply pour a float of red wine over the top, creating what we know today as the New York sour.
Though it's a widely known drink, few make the New York sour better than Brooklyn's Clover Club. Head bartender Tom Macy prefers his with a sharper rye whiskey over bourbon, allowing the spirit to shine through. For the float, they use a medium-bodied Cabernet Sauvignon/Carménère blend from Chile, which cascades over the amber sour to add a garnet hue; it's perfect for fall in its appearance, as well as in its dry finish and complexity. Egg whites are optional and in this case, excluded.
Beyond making a great cocktail, Macy is part of a growing facet of bartenders who believe that while it's important to frequent your local watering hole, drinkers should also learn how to make these classics for themselves. In the case of the sour, crafting any well-balanced drink can be a deceptively simple task, but with a few tries, anyone can get the hang of it. From there, mastering the New York sour is only a bar spoon away. Enjoy.
Whiskey Sour
Servings: 1 cocktail
Ingredients:
2 ounces rye or bourbon whiskey
¾ ounce lemon juice
¾ ounce simple syrup
1 small egg white (optional, but recommended)
Directions:
Combine liquids into one shaker can and egg white into the other. Combine and shake briefly without ice to emulsify.
Add ice and shake again for 10 seconds. Garnish with a dash of Angostura bitters.
New York Sour
Servings: 1 cocktail
Ingredients
2 ounces Wild Turkey 101 Rye
3/4 ounce fresh lemon juice
3/4 ounce simple syrup
1/4 ounce orange juice (optional)
1/2 ounce red wine
Directions:
Combine all ingredients (except wine) to shaker. Shake with ice for 10 seconds.
Strain into a chilled coupe glass and use the back side of a bar spoon to float ½ ounce red wine over the top. No garnish.
Prep Time: 3 minutes
Difficulty: Easy