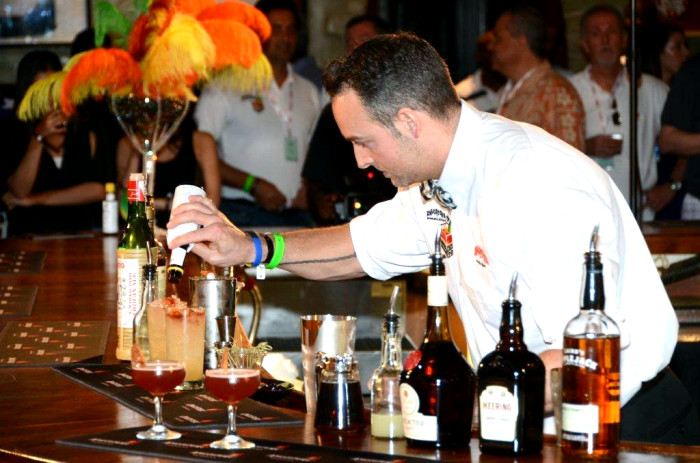 Most business travelers would likely say the main benefit of taking a red-eye flight is simultaneously knocking out a night's sleep and the trek, thus maximizing efficiency and minimizing lost work time. Being that I'm in the business of drinking for a living, however, I look at a red-eye as a sterling opportunity to get a really big head start on my business trip duties.
Piarco International Airport in Trinidad is a long way from the Imbiber's West Coast headquarters, and by the time I arrived there, after nearly 10 hours in Complimentary Booze Class, I was in prime form. I'm talking Rat Pack on New Years Eve-level blotto.
"What do you mean I'm cut off, you thug? I've only just gotten here," I barked at the bartender, a portly dreadlocked fellow named Dmitri who kept yammering on about the open container laws in Port of Spain. This, of course, struck me as quite rude and irrelevant until it dawned on me that I was in the backseat of a taxicab and not in the world's smallest, hottest and most malodorous rum bar.
So I apologized to Dmitri, we split the rest of my mojito, and away we went. The 2012 Angostura Global Cocktail Challenge was underway, and this professional spirits scribe was raring to get to work. And after a 14-hour power nap, that's precisely what I did.
The Global Cocktail Challenge pitted 15 bartenders from around the world against each other in a battle for $10,000, plus a sweet yearlong gig serving as Angostura's global ambassador. Each competitor was given seven minutes to prepare two original Angostura rum and bitters-based cocktails for a panel of judges that included legendary barman Tony Abou-Ganim (pronounced "ah-boo-gan-um," unless you're intoxicated, in which case just call him Tony).
This is probably a good time to point out that Tony was also one of 16 celebrated mixologists who contributed an original drink recipe to my critically acclaimed book, Living Loaded, which is being made into a television pilot at Fox starring, among others, Donald Sutherland. Yes, DONALD FUCKING SUTHERLAND! The legend himself! And you haven't yet bought a copy of Living Loaded… why, exactly? Do you think you're better than Donald Sutherland or something? Really? Cuz if you do think that, then maybe you ought to watch this.
So where were we? Ah, yes…
After a marathon competition that lasted nearly six hours, David Delaney Jr. of the Niche Hospitality Group in Worcester, MA, was crowned winner. Delaney was so damn thrilled over his triumphant victory that he hardly seemed to mind me slobbering all over him while conducting this interview for my podcast. He was also kind enough to share one of his winning recipes:
Five Island Fizz
1 ½ oz. Angostura 5-year Gold Rum
¾ oz. Velvet Falernum
½ oz. fresh squeezed lime juice
¼ oz. Luxardo Maraschino Liqueur
1 ½ oz. Barrits Ginger Beer
5 dashes Angostura aromatic bitters
Add rum, falernum, lime and maraschino to mixing tin. Add ice, shake briefly and strain into a 12-ounce Collins glass. Add ginger beer, fill with crushed ice and dash bitters to float on top. Garnish with a lime wheel wrapped around a cherry.
Oh, lordy, that Five Island Fizz is one hell of a tasty drink. But then, I'm a sucker for anything made with Velvet Falernum, a slightly alcoholic sugar cane based liqueur used for flavoring exotic rum drinks. Come to think of it, Velvet Falernum would be a great name for one of the slightly alcoholic pimps featured in my next book, tentatively titled Living Loaded 2: Electric Boogaloo. I'm dedicating it to everyone who believes in the beat. And if you don't get what I'm saying, then maybe you ought to watch this.
All right then. I'm off to shoot this pilot of mine with DONALD FUCKING SUTHERLAND, who, in addition to being one of the greatest actors of all-time, can also do this.
See you in a few weeks. Drink well. Stay righteous. Mahalo!
---
Follow Dan on Twitter and Facebook, and hear him on The Imbiber Show podcast.