Grandma Pizza Has Gone Bicoastal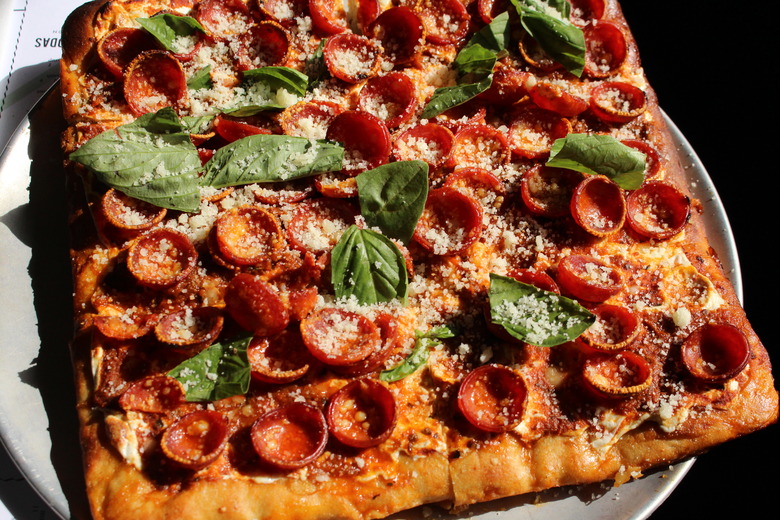 We're big fans of grandma-style pizza here at Food Republic. The square-shaped pies that came from Long Island have become a staple of New York City pizzerias as well — even inspiring a saucy line of promotional bath linens at one of our favorite spots, GG's in Manhattan's East Village.
Now, it seems, this regional style of pizza-making is catching on nationally, too.
All this week, pizza partisans from around the world have gathered in Las Vegas for the International Pizza Expo — sometimes referred to as the Olympics or Super Bowl of pizza. The annual event spotlights the latest in pizza-making technology, as well as some of the most skilled pizza makers around, some of whom treat their craft like sport. There are contests for tossing dough and even folding pizza boxes.
Keynote speaker Tony Gemignani, author of The Pizza Bible, spoke with ABC TV's Good Morning America about some of the hottest trends in the industry, now a $40 billion business worldwide. Gemignani touched on the chef-driven pizza trend as well as the weird squid-ink pizza phenomenon in Japan.
The growing popularity of the grandma style outside of its regional trappings is another significant development, according to Gemignani: "Grandma-style pizzas really originated on Long Island, and it's gone across to the [New York City] boroughs. But now, grandma's gone all the way to the West Coast, even to California. So grandma pizza is hot right now."
Here's the clip: