The Perfect Holiday Gift For Pizza Lovers Is Here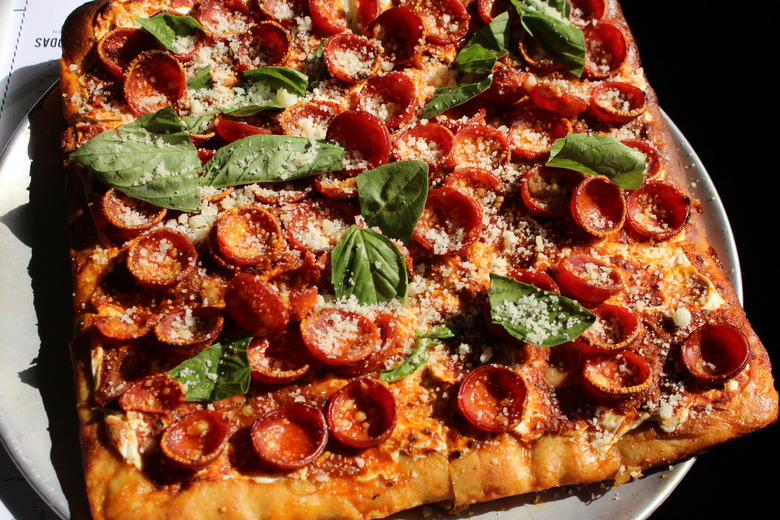 With this limited-edition towel, you can bring GG's legendary Grandma Pie with you wherever you go. (Photo: Jessic
We may receive a commission on purchases made from links.
Unlike hundreds of pizzas I've tucked into during my life, I remember my first grandma pie at GG's in New York City like it was yesterday. My good pal, chef and badass pie cookbook author Millicent Souris helped her good pal and badass chef Bobby Hellen open the warm and perpetually lively Italian-driven nook tucked away on 5th Street in Alphabet City.
I had read plenty of glowing reviews of GG's and its reputed grandma pie, but it wasn't until I sunk my teeth into a slice that I finally understood how magical it was. Yes, magical. For starters, there's the pleasantly thick double-baked crust that strikes a perfect balance of crunch and chew. The sauce (easily my favorite component of the pie) isn't served raw but is stewed with fresh herbs from the backyard garden. The result is deeply rich in color, texture and taste. Then it's topped with Brooklyn-made mozzarella, basil leaves and suction cup–like pepperoni. (Humble brag: Hellen revealed the source of those addictive little "peps," but I've been sworn to secrecy.) Finally, a layer of pecorino is grated over the just-baked pie in a way that resembles freshly fallen snow.
In short: It's a pie that haunts me wherever I go. Even though I get to travel frequently and eat and drink lots of incredible things for work, I find myself daydreaming about GG's grandma pie often. Maybe a lot more than I care to admit.
Good thing, then, that I can now bring my favorite pizza with me wherever I go, namely in the form of this eye-catching towel. This limited-edition beauty, priced at $40, is generously sized, made with soft and absorbent Turkish cotton and features the realer-than-real photography of Jessica Che. And with the holidays right around the corner, I can't think of a better prezzie (hint, hint) for your favorite pizza lover(s). Just imagine being able to snuggle with your favorite pie on the couch. Or draping it around you post-shower. But above all, and in the wise words of Hellen: "Wanting to lie on a slice of grandma pie at the beach is obvious, right?" Right.