Making The Classic Bramble Cocktail: Gin, Lemon And Blackberry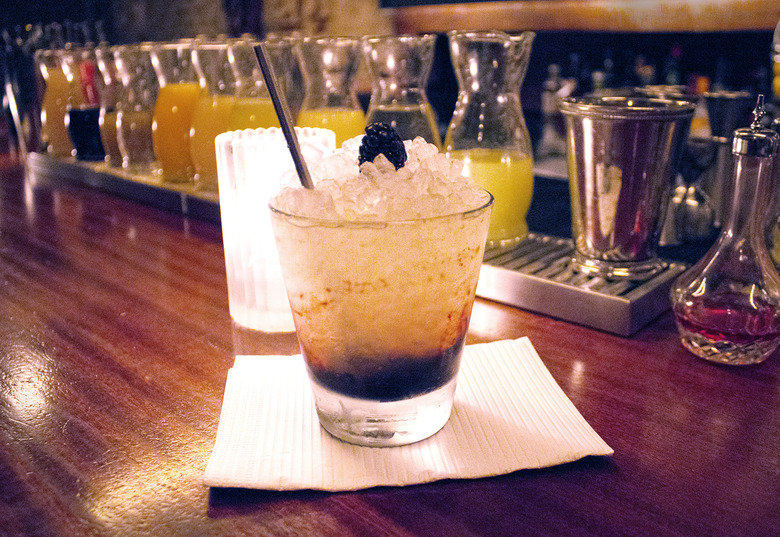 The classic Bramble, originally designed by the late Dick Bradsell, is a welcome respite in winter or as
The art of crafting cocktails has always been built on experimentation and pushing the innovations of previous generations forward. For legendary bartender Dick Bradsell, it was all about perfecting great drinks and keeping up a standard of excellence, which is why his now-classic invention, the Bramble, as well as his later creation, the espresso martini, became so sought after during his tenure in London in the 1980s.
Essentially a simplified, British version of the Singapore Sling,  the Bramble, according to Bradsell, started with a lightly shaken gin, lemon and simple syrup combination and ended with a float of crème de mûre, a reminder of the blackberries he enjoyed eating during his childhood. The Bramble later made its way to New York City and birthed numerous incarnations, including that of another cocktail luminary, Sasha Petraske, who created his take with fresh muddled blackberries at the bottom of the glass, accessible via a metal straw.
The drink never really became quite as popular as it was in its London heyday, and it is seldom seen on drink lists today as bartenders opt for more complex originals to push the craft forward. At Bushwick's Featherweight, where bartenders prepare the drink using Petraske's spec, the bright citrusy profile of Bradsell's straightforward Bramble, along with a healthy dose of Ford's Gin, is a welcome respite in winter or as a summer refresher. With Bradsell's passing last week, his creations will clearly live on, though few will serve them with his panache. Watch Bradsell make his classic Bramble here:
Bramble Cocktail
Servings: 1 cocktail
Ingredients
2 ounces Ford's Gin
3/4 ounce fresh squeezed lemon juice
3/4 ounce 1:1 simple syrup
Blackberries
Directions:
Muddle blackberries in a small shaker tin and dump into a chilled double-rocks glass.
Top blackberries with crushed ice and pour lightly shaken gin, lemon and simple syrup over the top.
Top with more ice and garnish with a blackberry and straw.
Prep Time: 3 minutes
Difficulty: Easy