These Are The London Bartenders To Know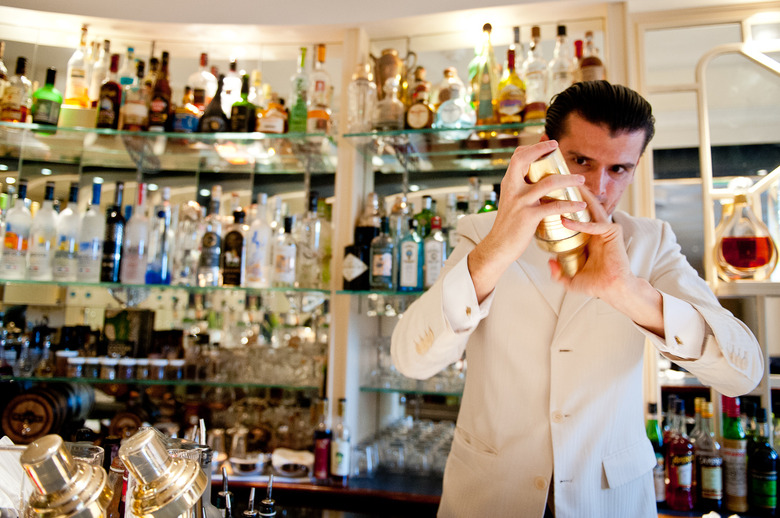 When it comes to cocktails, Simon Ford is the guy to know. After earning a Wine and Spirits Education Certificate in the UK, he went on to work for Seagrams and now holds the heady title of Global Spirits & Cocktail Brand Expert for Pernod Ricard USA. For real, it's on his business card. In Simon's weekly column, Drink Ford Tough, he tells you everything you ever needed to know about the art of the cocktail. And how to drink better.
London is quite possibly the most innovative cocktail city in world. Just as New York had Dale Degroff (author of Craft of the Cocktail and The Essential Cocktail), London had a guy named Dick Bradsell, who to this day is still bartending and still doesn't take himself seriously. He is one of the most loved people in the industry and has inspired so many of the famous London bartenders. They all come from his school, just like a lot of American bartenders come from Sasha Petraske's school.
Bradsell was famous for inventing cocktails like the Bramble, which he created at Fred's Club in the 1980s. It was an instant classic. He was also the inventor of the Espresso Martini, which has since spread across the globe. The Russian Spring Punch was his recipe, as was the Wibble. He's known for creating lots of the English contemporary classics and is the first person that one should ever mention when talking about cocktail bartending in the UK.
While I haven't lived in London for six years now, I go back at least three to four times per year (usually six to seven times) to make sure I'm on top of the scene. Aside from Dick Bradsell, there are many other London bartenders I admire including:
Nick Strangeway: Nick is someone who came from Bradsell's school and is one of my biggest heroes. He took the farm-fresh cocktail concept to a new level. Nick revives old recipes and finds the best ingredients from around the world to use in them. He also works closely with celebrity chef Mark Hix.
Tony Conigliaro: Tony is a pioneer of experimental cocktails and molecular work. He runs what is probably my favorite bar of the moment — Zetter Townhouse.
Jake Burger: Jake is the funniest fellow in the bar business. He was always a cocktail guy, but when it came to opening his own bar, he wanted a pub. Jake opened the Portobello Star, which does great cocktails. He's now created his own brand of gin — Portobello Road Gin — and the pub has a gin museum above it. He does pub quizzes on the weekends and runs the Alternative Bar Awards. Jake Burger puts fun into this industry.
Ago Perrone and Erick Lorincz: Ago and Erick are two of my favorite bartenders because of their sheer elegance. Ago is the guy who heads up the main bar at The Connaught and Erick is now the head bar tender at the American Bar at The Savoy. Both follow the white glove bartending aesthetic that you get from classic Italian upscale bars — the idea that you can pour a martini from the ceiling and not spill a drop. No trip to London is complete for me without seeing those two guys.
Jonathan Downey: Jonathan is a trend setter and bar owner in the industry. He partnered with Dale Degroff, who does training and education for a large group of his bars. Jonathan's a perfectionist when it comes to the places that he opens: Danger of Death, Giant Robot and Milk & Honey to name a few.
Wayne Collins: Finally, a person I'd like to mention is the guy who taught me to bartend: Wayne Collins. Wayne now has a TV show called Something For The Weekend where he makes drinks every Sunday for England's up and ready public. He has a true knowledge of all things cocktail and was one of those guys doing this before it was cool. Prior to bartending in England, Wayne was bartending in the U.S. in a Tom Cruise style. I met him when he was working at a bar that no longer exists called High Holborn. He gave me my first Sazerac there. I had never had a drink quite like it and it really changed my perception of how a drink could be. Wayne ended up teaching me to bartend in exchange for me teaching him how to use his computer.
And finally, here are some places I like to go to in London:
Danger Of Death 202 Brick Lane, Shoreditch, London, E1 6SA 020 7065 6806
Portobello Star 171 Portobello Road, Notting Hill, London, W11 2DY 020 7229 8016
Zetter Townhouse 49 50 St. John Square, London EC1V 4JJ 020 7324 4545
Anchor & Hope 36 The Cut, London SE1 8LP 020 7928 9898
Happiness Forgets 9 Hoxton Square, London N1 6NU 020 7613 0325
Groucho Club 45 Dean Street, London W1D 4QB 020 7439 4685
Quo Vadis 26-29 Dean Street, London W1D 3LL 020 7437 9585
Dinner 66 Knightsbridge, London SW1X 7LA 020 7201 3833
St. John 26 St. John Street, London EC1M 4AY 020 3301 8069
The Connaught Carlos Place Mayfair, London W1K 2AL 020 7499 7070
---
Related: Bramble Cocktail Recipe
You can follow Simon Ford on Twitter: @SimonJFord.