A Look Back At Year One Of Simon Ford's 86 Co.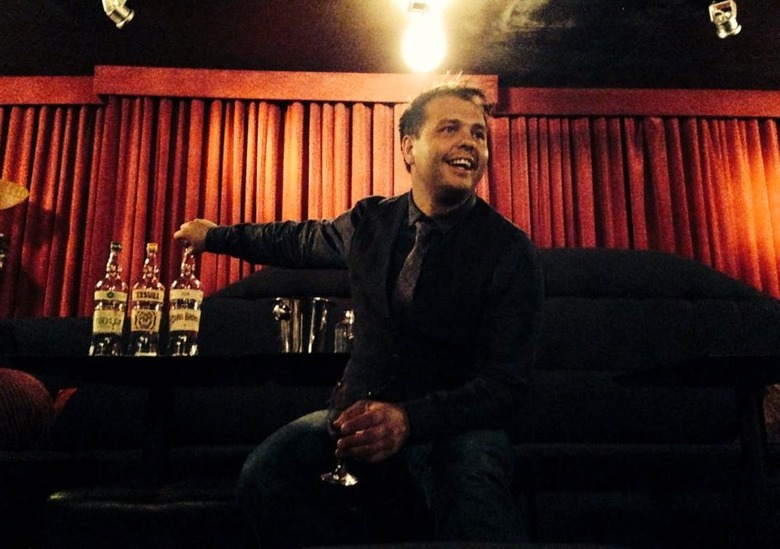 When it comes to cocktails, our own Simon Ford is the guy to know. After earning a Wine and Spirits Education Certificate in the UK, Simon opened Koba in Brighthon, quickly receiving accolades for Best New Bar, Top 10 Cocktail Bars in the UK and Great Cocktail Bars of the World. Simon went on to hold the title of Global Spirits & Cocktail Brand Expert for Pernod Ricard USA, as well as International Ambassador for Plymouth Gin, for which he took home Best Brand Ambassador at Tales of the Cocktail in 2007. Simon has also penned the wildly popular Drink Ford Tough column on Food Republic over the past three years.
You could say that Simon has excelled in just about every aspect of the spirits industry, with the exception of... actually making spirits. It was a back room conversation at a NYC bar in 2007 that ultimately led to Simon's new career path: co-founder of The 86 Co., a collaboration with some of the world's best distillers and distilleries to create lines of gin, rum, tequila and vodka. After careful consultation with bartenders worldwide, Simon and his two partners — industry veterans Jason Kosmas and Dushan Zaric — launched the company in late 2012. Just over a year into his daring venture, Simon checks in with us to discuss his first year of business.
How did The 86 Co. come together?
The idea of The 86 Co. was born over beers in the back room of Employees Only sometime around 2007 with the simple idea to transfer some of the principles and philosophies of bartending to a spirits, liqueurs and bitters company. We wanted to create products with respect to the profession that would be useful. Back then we had no idea where the idea would take us or even if it would become anything at all. In fact it remained nothing but an idea for many moons until a good friend, Malte Barnekow, said, "Enough talk. I am doing this, who's in?"
Why did you want to open The 86 Co.? What were your goals?
The first goal of The 86 Co. was to make spirits through conversations with the bartender community. The professional bartender slings hundreds of drinks a night and often looks at his spirits as tools of the trade. We wanted our spirits to be considered tools of the trade and be useful to bartenders. We received so many great ideas via these conversations, such as adding accurate measurements to our bottles, working on the viscosity levels of our gin so that it makes a silky martini and testing all of our spirits in mixed drinks before we brought them to market. One of the other goals was to share as much useful and honest information as possible. We wanted to share stories about how they are made, the people who are making them, the agriculture and so on. Many people do this already but there are so many that don't and this is information that many of us obsess about, myself included. The most important goal of all was to bring out the best spirits we possibly could.
Are you happy with what you've accomplished in the first year? Has it been more difficult than you imagined? Easier?
People are really enjoying drinking our spirits, which is all one could ask for. However, it has been the toughest challenge of my career and far harder than I had ever imagined. The reception from industry professionals has been overwhelming and seeing our spirits being served at some of the best bars in the country has really inspired me with the confidence to continue this journey. Our spirits have also showed really well at tasting competitions and we have picked up a few trophies. Our most exciting wins were when Fords Gin picked up the Chairman's Trophy at the Ultimate Beverage Challenge last year and was awarded 'Best New Product' at the Spirited Awards. Aylesbury Duck Vodka also won Best in Class at the IWSC Spirits of the Americas. This type of news also makes your day better.
Do you think that any one product has stood out to the public thus far?
Fords Gin has certainly been the star of our portfolio thus far, which I attribute to The 86 Co. having lots of experience in the world of gin prior to this venture. Tequila Cabeza seems to have a small underground following that is steadily building, and I still have high hopes for our rum because it makes a mean daiquiri. White rum is quite often a misunderstood spirit and I hope that Caña Brava can make a positive contribution to changing some of the perceptions about the category.
What has the critical process been like?
For a company without a PR company, we have had some really great press so far. Most of it has focused on how we are bartenders who worked with distillers for mixable spirits and how we created a great ergonomic bottle for bartenders, which is all true, and it's great to see that part of the story resonating. What I hope people read about future articles is the stories of the actual distillers and distilleries we worked with to create each spirit. Their stories are far more interesting than ours. For example, the Master Distiller of Caña Brava rum used to be the Minister of Cuban Rum for 35 years before building a distillery in the heartlands of Panama's sugar cane region. Also, the Vivanco family that produces Tequila Cabeza has been agaveros since 1922. We worked with some of the finest distillers on the planet and their stories are amazing.
What are your goals for the coming year?
Even though it has been just over a year since the launch of The 86 Co., we spent over four years developing our spirits prior to that, and last year most of our time was spent finding partners to distribute them. It's amazing to think it takes over five years to be on the market for one year. Because of last year's efforts, we will be available in 20 states and six countries by July. The trouble we have now is that not many people know of our spirits or where they are available. Therefore, this year I would like to concentrate my time and energy on introducing Fords Gin, Caña Brava Rum, Tequila Cabeza and Aylesbury Duck Vodka to bartenders and cocktail enthusiasts in all these places and to share the stories of how we make our spirits so that hopefully they will find some good homes. This is the perfect situation for me because it is what I love doing the most: meeting great bartenders and tasting and geeking about spirits and cocktails.
What is your day-to-day schedule like?
What's a schedule? Some days you visit 10 bars; some days you are on the phone with shipping companies wondering where your rum is and some days you are working with designers on labels for different countries. Other days you are standing in front of 100 people giving a talk on the production of gin or you may find yourself in a field of sugar cane in Panama having conversations with a master distiller. Then there are the days your lawyer or accountant calls with bad news or the days when you are organizing events to promote your spirits. There is never a dull moment in this business but boy, do you need a lot of energy.
Read more Craft Beer & Spirits Week stories on Food Republic: