Best Places To Eat And Drink In Downtown Nashville During NHL All-Star Weekend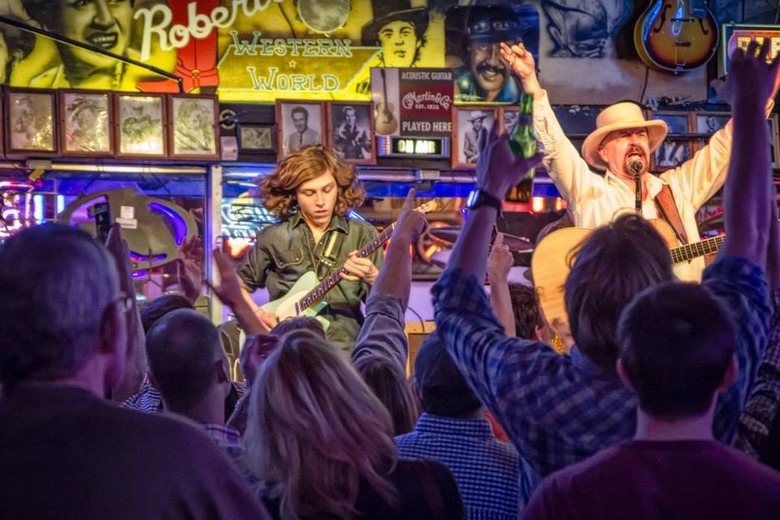 The logo is a guitar pick. Get it? (Photo: Nashville Predat
This week, Nashville has become the center of the hockey universe. No, really. Despite the saying nay of naysayers from old-school hockey markets in the Rust Belt and Canada, Nashville is actually hosting this year's NHL All Star Weekend from January 29-31, and Music City is planning to show those icy curmudgeons exactly what Southern hospitality is all about. In fact, one local wag suggested that for this year only the name be changed to the "Y'all Star Game."
In a bold prediction, Sean Henry, CEO of host team the Nashville Predators, promises no less than the greatest all-star event ever: "We approached it the same way we do every game night and every event we do, every big event we do around town — we really wanted to do it and put on a better show than anyone ever has in the NHL." To accomplish this, the city has converted downtown into a winter wonderland (although Mother Nature had a big hand in the natural decorations last weekend).
In the compact area that covers about 10 square blocks surrounding the Bridgestone Arena, Nashville has constructed a winter park with a public skating rink and beer garden, several stages showcasing free concerts by local music stars such as John Hiatt, Big & Rich and Dierks Bentley. In addition to the free attractiions, the NHL has set up a Fan Fair in the enormous Music City Center across the street from the arena, where for a small admission fee, hockey fanatics will be able to meet former NHL stars, explore an exhibit from the Hall of Fame, get a photo taken with the legendary Stanley Cup and test their hockey skills in several simulators.
But even more important to the fan experience is the area surrounding Bridgestone Arena: Nashville itself, which has become one of the most popular tourist destinations in the country, thanks to block after block of honky-tonks, restaurants and music venues. As exciting as the All Star weekend will doubtlessly be, here are some other suggestions for how to enjoy yourself in Smashville when the puck is not in play.Pregame
You really can't think about Nashville food without considering the city's iconic hot chicken. (Heck, we've gone a little crazy for it ourselves here at Food Republic.) The most famous fiery fowl emporiums, Prince's and Hattie B's, aren't anywhere near downtown, so 400 Degrees Hot Chicken is the clear choice. Don't be put off by the fact that this spot is little more than a stall in an urban food court; proprietor Aqui Hines fries some of the most legit hot chicken in town with heat levels that range from zero degrees to truly infernal 400 degrees. (She'll even whip up a batch of 500 degrees if she knows you and thinks you can handle it.) Or, for a novel take on Nashville Hot, try the pork chop sandwich topped with the same hellfire spice. You'll have to visit 400 Degrees on Saturday before the Skills Competition because the restaurant is closed on Sundays. But that's a good thing since plane travel within 24 hours of hot chicken consumption is not recommended. You'll want to have access to more comfortable facilities. 319 Peabody St., Nashville, TN 37210; 615-244-4467
If you're not feeling froggy enough for Hot Chicken, maybe some authentic Oaxacan cuisine will surprise you. Bajo Sexto is the brainchild of NYC's own Jonathan Waxman and is his second restaurant in Music City, following Adele's. Waxman hired Oaxacan-born chef Kaelin Ulrich Trilling, the son of acclaimed cookbook author, cooking-school founder and Mexican food authority Susana Trilling, to run the kitchen at Bajo Sexto. The young chef has elevated Nashville's taco game in a big way with flavorful varieties such as Tinga de Pollo, Pescado de Baja, and Birra ala Mexicana. As a bonus, Bajo Sexto is located just off the lobby of the Country Music Hall of Fame, another can't-miss attraction within a block of the arena. 216 5th Ave. S., Nashville, TN 37203; 615-577-7717
In-Game
Depending on the price level of your game ticket, you might have access to exclusive branded sections of the arena, like the Lexus Lounge or the Patron Club. If you've got it, flaunt it, and these lounges offer sleek modern decor with upscale food and drink options and plenty of gigantatron televisions so you won't have to miss a play while you sip on that crafty cocktail. But the rest us proletariat hockey fans have to be content grabbing a quick bite from one of the numerous concession stands while there's a short break to scrape the ice.
Fortunately, the choices are numerous and interesting at the 'Stone, where you'll find lots of local color in the form of Goo Goo Cluster chocolate candy, Christie Cookies, Puckett's BBQ, and even a passable hot chicken sandwich. The Chicken Shack that features that sandwich also serves up Southern specialties like mac 'n' cheese, buttermilk biscuits and a mashed potato bowl that put Colonel Sanders to shame. (Not that it's a long trip for the man who gave us this abomination.)
When it comes to drink options, the Predators like to keep it local as well. Fans will find whiskey bars, vodka bars, moonshine bars...you get the picture. But in a special arrangement just for the All Star Weekend, the local organizing committee has contracted with Nashville craft brew stalwart Yazoo Brewing Co. to create a special Winter Park Wheat brew that will be on sale in and around the arena as well as at many downtown bars. Made with citra and lemondrop hops, Winter Park Wheat should be a real crowd-pleaser.
Postgame
The actual All Star game (which is really a three-on-three exhibition tournament) should be over by about 7 p.m. local time on Sunday, leaving plenty of time for the fans to pour onto Lower Broad and avail themselves of the best of Nashville's nightlife. Those seeking upscale entertainment and repast should take a short walk up Rutledge Hill, where local favorites Husk and Pinewood Social await the deposit of their tourism dollars.
The former is Sean Brock's temple of Southern cuisine, where servers may be able to reverently whisper the name of the pig who gave his all for that delicious pork chop and where the rare brown whiskey flows like (really, really expensive) water in the convivial downstairs bar.  At Pinewood Social, the emphasis is on variety with numerous activities available: It boasts one of the city's best cocktail bars and a kitchen pumping out modernized versions of soulful Southern classics, and it has both indoor and outdoor bowling on a bocce court or six vintage lanes in the popular alley. They even offer a bowling concierge who will bring you food, drinks and those hip rental shoes.
But downtown Nashville is known for its honky-tonks, offering exceptional musicians playing for tips, longneck bottled beers and herds of bachelorettes looking for a little trouble. Tootsie's Orchid Lounge gets the most press as the prototypical example of the genre, and Willie Nelson really did sneak across the alley for a quick snort in between sets when he was performing at the Grand Ole Opry next door. 422 Broadway, Nashville, TN 37203
But for our money, Robert's Western World is the honky-tonk that visitors absolutely have to check out during a trip to Music City. Originally a shop for boots and rhinestones, Robert's now makes its name as the premier performing venue on Lower Broad, with the two hottest house bands on the strip. The Don Kelley Band plays most weekends and always manages to feature the hottest young guitar picker in town, many of whom have graduated to their own careers as performers or studio professionals. On most weekend nights, the headliner is Brazilbilly, and not just because the bandleader also happens to own the bar. Their Latin-tinged take on traditional country music is quite unique, their fun stage presence is infectious and their musicianship is unmatched. The only way to improve on the experience is to pair it with a "Recession Special" from Robert's Honky Tonk Grill, where five bucks gets you a PBR, a fried bologna sandwich and a bag of chips. This dish epitomizes exactly the sort of inexpensive, playful, lowbrow attitude that makes Nashville a great place to visit. 416B Broadway, Nashville, TN 37203; 615-244-9552