5 Places To Eat Ridiculously Well In Columbus, Ohio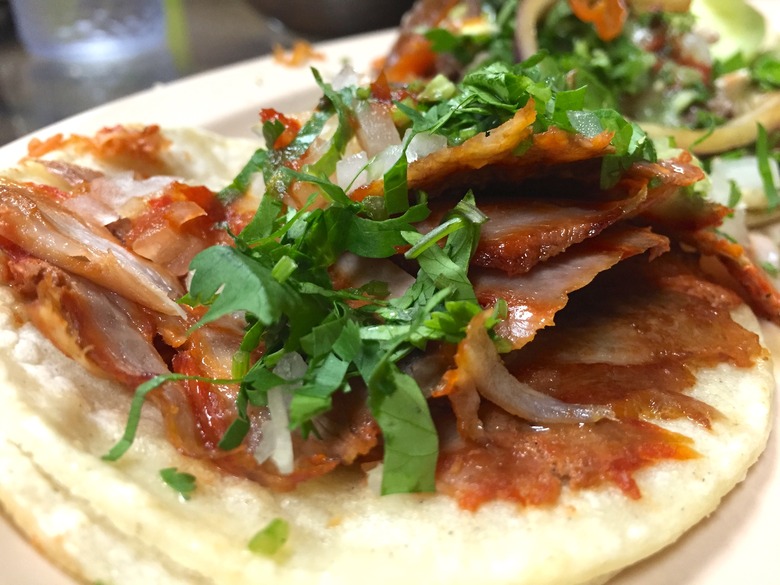 The al pastor tacos at Columbus, Ohio, Mexican spot El Guacho are some of the best you'll eat in the Midwest. (Photos: Jess Kapadi
Columbus, Ohio: home of the Buckeyes, which I quickly learned is a poisonous nut as well as a peanut butter and chocolate dessert and the mascot of the Ohio State University. No, I did not eat a poisonous buckeye. I did eat a ton of top-notch food, though. If you can't find excellent places to eat in a city like this one, you're no food enthusiast. Stop Instagramming. Put away your wok. Tell your friends you're bringing a supermarket rotisserie chicken to the potluck instead of a giant enameled Dutch oven of homemade gumbo.
That all said, Columbus really, truly offers plenty of everything: small-batch/artisanal products (particularly of the churned/frozen and distilled varieties), chef-owner in the kitchen, creative food trucks, rainbows of fresh vegetables, locally raised grass-fed meat and natural poultry from restaurants and friendly and knowledgable butchers alike and super, super, insanely good burgers. I could write a whole separate piece about Columbus's burgers alone, particularly considering the vast selection of superb local craft beer ripe for pairing. Try a pint from the award-winning Columbus Brewing Company as well as limited distribution brews from off-the-grid Wolf's Ridge, Land-Grant Brewing Co. and Seventh Son. But the range of cuisine available for any palate is too good to stick to one genre, which means I'll need to go back to do a burger crawl and eat Jeni's ice cream until I explode scarlet and gray.
See that photo above? That is a Los Guachos al pastor taco of the finest composition and quality. Its contents were sliced off a massive rotating spit of marinated pork topped with a whole pineapple that makes a gyro-go-round look like a meatball. It costs $1.50, as do most of the other tacos on the menu, which means you can order and consume four and have no regrets (other than possibly the fact that you speed-ate four pork and pineapple tacos, and maybe not even then).
The tables are equipped with bottles of homemade salsa and stainless steel bowls of thick lime wedges and fresh Mexican pickles, and the counter is decked out with massive tanks of horchata and agua de jamaica (hibiscus tea) as well as a rainbow of Jarritos bottles.
On Sundays, order the cabeza de res — sweet, melty veal head that makes you imagine a whole roasted noggin behind the counter being lovingly picked apart by hand and placed delicately on warm tortillas. Other instant winners: cubes of tender lengua that are perfect atop a loaded huarache the size of a deflated football, and creamy jalapeño-studded guacamole with a mountain of chips hot out of the fryer for $3.50. Suburbanite? There's an outpost in nearby Gahanna, home of my boyfriend's family (now converts to Los Guachos). 5221 Godown Rd. Columbus, OH; 614-538-0211
Welcome to an unclassifiable elevated dining experience! From the dimly lit tangerine-colored sponge-painted walls hosting oddball paintings for sale at very affordable prices to the disco ball hanging from the skylight, Alana's is full of delicious mysteries. When the chef-owner of a restaurant is truly in charge, like Alana Shock has been for the last 15 years, she answers the phone (and doesn't judge you for forgetting your reservation time), helms the kitchen and makes her rounds among the tables to make sure you're enjoying your food. Her menus are printed daily on regular ol' printer paper with what can only be described as "liberal descriptions" of dishes that change every single day, like "Roasted beets with...who knows what! Yum!" and "piri-piri tofu and cabbage all spicy-like," sides like "lovely veggies" and "fabulous fungus," and always "a surprise" (with no other clarifiers), all served up simply on Fiestaware. If you're one of those people who pretty much likes everything as long as it's made very well and won't overanalyze seemingly random Asian and Middle Eastern twists here and there, this is the place for you.
Our surprise, which arrived at the table with Southern-fried chicken liver poutine, tahini-dressed spinach salad, roasted beets with...whatever (honestly, she's right: roasted beets with anything is totally fine) and crunchy kimchi-infused crab cakes, was a flawless thick Thai yellow curry with huge chunks of lobster and a perfectly seared jumbo scallop. With four ramekins and tiny spoons for proper sharing, of course. Risotto of the day: garam masala, pumpkin and apple...which I'd obviously never had before. The pasta: the labor-intensive and rarely seen handmade trofie. Again, seek out neither rhyme nor reason to any of it and come with a big appetite and a hankering for wine — Alana boasts six full (computer-printed) pages of international hits. 2333 N. High St., Columbus, OH; 614-294-6783
Tucked away in Victorian Village is a small but mighty Italian restaurant by the name of Basi that opera-screams "Bring a date here!" The outdoor seating in the back (following a delightful walk through the spotless and orderly open kitchen) is partitioned off from cold weather in the winter months so you can take advantage if you've been feeling a little cooped up. There, you'll find a full bar with seasonal specialty cocktails and an impressive wine glass and bottle selection.
A weekday $30 prix-fixe that lets you choose from anything on the menu will leave you thoroughly satisfied. The mussels with tarragon-mustard cream and grilled bread surprised with jumbo mollusks lightly steamed in a sauce so good you'll finish with a spoon what the bread doesn't soak up, and the bruschetta is loaded with salmon smoked in house, topped with creamy lemon-dill aioli. For an entrée, choose one of Basi's masterful pasta dishes, particularly the lucky pasta served with their extra-crunchy thick-cut eggplant parm, or their signature rigatoni salumeria, with a rustic combination of sweet sausage, tomato, raisins, fennel and pine nuts. 811 Highland St., Columbus, OH; 614-294-7383
This place in prime Short North (read: near Jeni's) was originally pitched to me as "Mediterranean Chipotle," which does it zero justice. Not only does it emphatically not suck, it is positively awesome — something you can assume when you see a line out the door in the middle of winter. Yes, it's a pick-it-yourself bowl kind of joint, but rarely do you see this oft-dicey concept pulled off so well.
Choose a pita sandwich or a kale and cabbage salad bowl with lentils and rice underneath, then top with the likes of toothsome sorghum-glazed lamb bacon, velvety pulled brisket, spiced chicken, falafel or roasted veggies and top with either hummus or baba ghanoush and a ton of treats, like homemade cucumber quick-pickles, tender marinated roasted eggplant, spicy carrots, crunchy fried onions, fiery zhoug and special sauce (a feta-enhanced tzatziki). The pita is freshly fired in a huge 600-degree oven right behind the works, organic ketchup is offered for their superbly crispy spiced fries and the environment of exposed brick, cool art, blaring jazz and solid wooden trays for your biodegradable bowl hits the spot. Now admittedly, this is a lot of fiber to pack away in one go, so they offer to-go lids for your leftovers. A note: The signs on the restrooms are designated "Bro-ssica" and "Bra-ssica." I somehow did not get the pun at first, and walked into the wrong one. 680 N. High St., Columbus, OH; 614-867-5885
If this is your first visit to Food Republic, two things: Welcome, and we LOVE hot chicken! The difference between standard Southern-style fried chicken and the extra-spicy Nashville variety that inspired Hot Chicken Takeover's transformation of North Market's entire top floor annex is that the latter has a coating of cayenne, black pepper and garlic powder paste. You'll also be able to distinguish it by the pickle chips speared on top with toothpicks. Green and red have never looked so beautiful together, with all apologies to Christmas. Big tanks of sweet tea, maple syrup and made-from-scratch ranch are provided in big tanks free of charge, and though the line may stretch from damn near one of end of the hall to the register, things move along pleasantly quickly.
What sets Hot Chicken Takeover apart from the rest of the joints popping up all over the United States (see a full map here), besides its use of exclusively all-natural Ohio chicken, is the employment mission, denoted by the asterisk featured prominently on its menu: their "highly motivated and ambitious team" is made up of folks who need a second chance — largely, formerly incarcerated people. Cooking and serving flavor-packed comfort food to massive crowds happy to wait in long lines is a kind of therapy in itself. Each order is called out by name and brought over with a smile, kids are provided with crayons and chicken-themed coloring materials (I also colored happily) and long communal tables mean you have plenty of like-minded folks with whom to share your "mmm's" and "Oh my God, this is so spicy" gestures and accompanying noises. It's lunch-only, so take another portion home for dinner. Hot chicken reheats nicely, pun intended. 59 Spruce St., North Market, 2nd floor, Columbus, OH; 614-800-4538
Honorable mentions:Katzinger's Delicatessen
Dozens of authentic Jewish deli-style sandwiches, sides and baked goods, with a specialty meat, cheese, bread and wine shop attached.
Arguably the best gastropub with craft beer happy hour specials I've ever encountered. Frighteningly awesome.
Cozy Prohibition-style cocktail bar attached to a tiny three-booth, highly inventive wood-fired pizza spot that offers a crispy, chewy, slightly charred gluten-free crust option that will make you wonder what exactly is missing. The answer: nothing. Or perhaps, another prescription-strength cocktail.