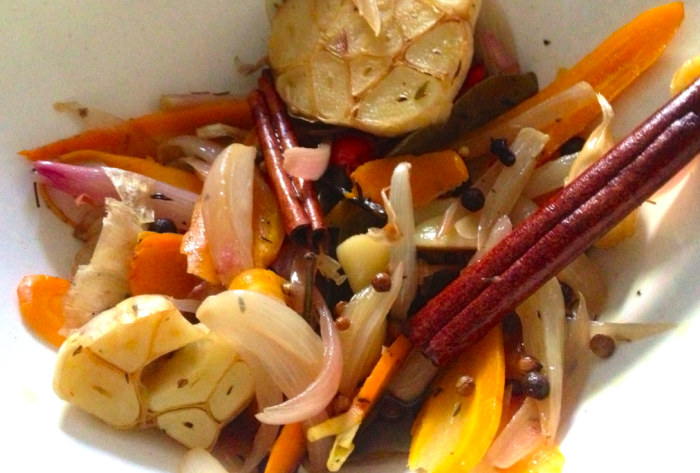 The plethora of beautiful produce available in the summer can be overwhelming, and I'll admit it, I will pickle anything I can get my hands on. I've tried everything from pickled pumpkin (delicious) to tomatoes (not the biggest fan, but worth a try).
I had a version of these pickles in Mexico a few years ago, and the flavor was so unique that I had to develop my own recipe. These mixed vegetable pickles are acidic and crunchy, and pair well with anything strong enough to stand up to the potent cinnamon and allspice. I recommend a sandwich with a hefty serving of pig.
Ingredients
Pickle base
olive oil, enough to generously coat the bottom of the pot

1

head

garlic, split in half horizontally

6

allspice berries

1

tablespoon

coriander seeds

2

teaspoons

black peppercorns

2

fresh chile peppers

1

bay leaf

2

sticks

cinnamon

red wine or apple cider vinegar
Pickles
shallots, cipollini or any small version from the allium family, peeled and sliced in half

carrots, sliced into strips or batons

small potatoes (boiled until slightly tender)

cauliflower, beets or whatever catches your eye at the market
Directions
Combine all the ingredients for the pickle base in a pot large enough to hold all of your pickles and place over medium low heat.
Add the shallots and potatoes and cook for 5 minutes, shaking the pan occasionally.
Add the carrots and whichever other vegetable you choose to pickle and simmer until the carrots are cooked through but still crisp.
Turn off the heat and add enough vinegar to coat the vegetables. Resist eating them for a few hours and at least three days for optimum flavor. They will keep for two weeks stored in an airtight container in the fridge.
Try out these vegetarian recipes on Food Republic: