I first met José Ruiz during a trip last year to Bordeaux, where he showed me around the city's exciting restaurant and wine bar scene. The affable French-born son of Spanish immigrants is a journalist who has become one of the biggest advocates for southwestern French cuisine; he's also the founder of AFAMÉS, a community of chefs he invites to participate in events and contribute to cookbooks. The organization has just published its third one, L'Inventoire Gourmand du Sud-Ouest, which, as the name suggests, is a sort of gustatory inventory of the famed French region's bounty of ingredients. To cook the book, you'll need to read French fluently (at least until he finds an English publisher), but Ruiz emailed with me in English to tell us more about the book and his mission to bring French chefs together — to help us all cook and eat better. Here's an edited version of our chat.
The previous AFAMÉS cookbooks focused on specific ingredients popular in L'Aquitaine, foie gras and oysters. Why did you do a more broad book this time?
We were approached by the Agence Aquitaine de Promotion Agroalimentaire about publishing a book of recipes focusing on the products from our area. In 2016, France will have her "regions" changed, and la Région Aquitaine will join the Limousin, Poitou-Charentes regions to make one big region. The idea for this book was to have chefs from all over this vast new region contribute, from Basque country to Poitou and Limousin. So we got in touch with some chefs that we were familiar with in Pyrénées Atlantiques (that includes Pays-Basque and Béarn), Landes, Lot et Garonne, Dordogne, Charente et Charente Maritime, along with the departements of the  Poitou and Limousin regions.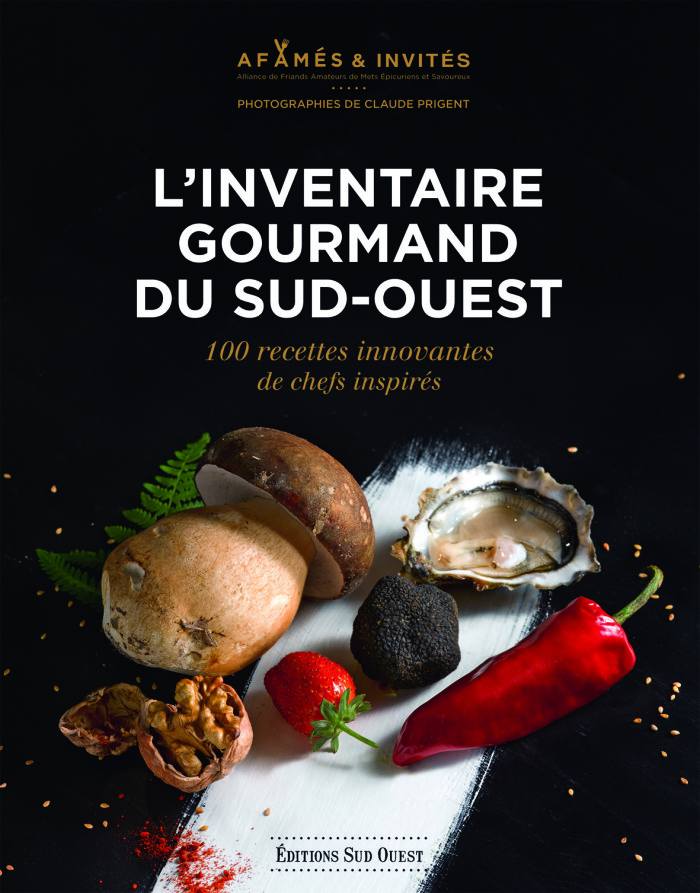 For the American audience, can you explain what AFAMÉS is and what kind of chefs you seek to join?
Les AFAMÉS is like a bunch of friends more than anything. The first condition for a new chef to join is to get along with the others. All the chefs don't take themselves too seriously, but do their job very seriously, and share the same taste for local and fresh food, cooked at the moment of being served, along with a contemporary vision of the cuisine. To become an AFAMÉ, a chef has to be chosen by all of the others. We vote when there is a discussion, and one "no" is enough not to welcome a new chef. This has happened several times already.
This book also features many invited chefs in addition to the AFAMÉS members. How did you choose invitees?
The invitees were chefs that were known to chefs among the AFAMÉS, and they were asked if they were interested in the project. All of them were very enthusiastic about it.
What are some southwestern ingredients and dishes that set the region apart and give it its own cuisine?
There are so many! The location of Sud Ouest — near the ocean, with a great climate and fertile soils — makes it a natural for all kinds of vegetables to grow here, and not just grapes. Lots of dishes are connected to our region, from escargots to crayfish to steak "à la bordelaise." The southwest is one of the richest French regions in terms of products. We're known for our Bazadaise beef, Basque pork, Pyrénées lamb, milk-fed veal, foie gras and many fish types of fish. And of course for seafood: caviar d'Aquitaine, mussels, oysters from le Cap Ferret. Plus vegetables like asparagus, beans from Tarbes, mushrooms (the famous cèpe de Bordeaux). Many of these products  have designations like Label Rouge, IGP, AOC.
What are some of the recipes in the new book that you were excited to include?
I can't choose just one! Chefs like Christophe Girardot, Frédéric Lafon, Franck Descas, Pierrick Célibert and Jean- Luc Beaufils come up with amazing recipees like Lamproie au Sauternes or Oeuf imaginaire au caviar d'Aquitaine or Poulet fermier du Périgord farci sous la peau.
Bordeaux struck me as a dynamic young restaurant scene. How do you feel about it as we head into 2016?
These past months, there was a new and interesting restaurant opening somewhere in town every week. Unbelievable! And the fact that Joël Robuchon (La Grande Maison), Gordon Ramsay (Le Pressoir d'Argent) and Philippe Etchebest (le Quatrième Mur, and a celebrity chef in France) opened their own restaurants in a three-month period in Bordeaux indicates that the city attracts some major names. And there are more coming up, with rumors of Alain Ducasse looking for a place to buy. Beside those big names, many young chefs have put their names on the city map these last months, including Younesse Bouakkhaoui, Sébastien Sévellec, Giovanni Pirredu, Paul Gouzien, Rudy Ballin, Tanguy Laviale, Nicolas Nguyen Van Hay and others.
Last question: Any plans to release an English edition of L'Inventaire Gourmand du Sud-Ouest?
We would be more than happy to do so, and we would consider any option.
For more on the book and the organization, you can follow AFAMÉS on Facebook.