Why A Cotton Candy Old-Fashioned Is Actually A Good Idea, This Time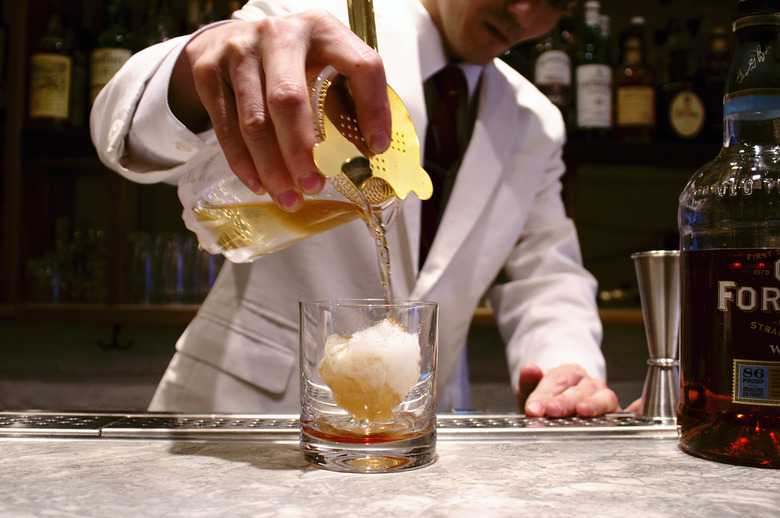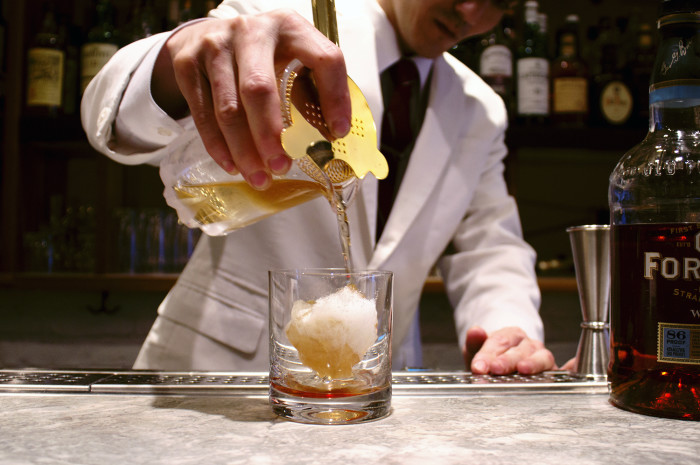 It's rare that a juxtaposition like this comes together to amount to more than a gimmick. Cotton candy vodka makes for an inventive gag gift at best. However, when encountering a "Cotton Candy Old-Fashioned" on the menu, especially one forged by a very serious Japanese barman at a Michelin-starred restaurant, it seemed this one was worth a shot.
Shinya Yamao, head bartender at NYC's Piora, wanted to pay homage to the history of Halloween through one of the oldest drinks, the old-fashioned, and America's first bottled bourbon, Old Forester. A ball of frozen cotton candy is placed in the rocks glass, taking the place of the typical sugar cube, and adds a bit of performance to the drink's creation as the sugar melts once in contact with liquid. Cointreau and three sets of bitters balance out the bourbon's oak and also make a citrus garnish unnecessary.
The result is a straightforward, but elegant old-fashioned with just the right amount of spirit, citrus and sweetness — far from a novelty attraction. Though not the fastest way to incorporate sugar into a cocktail, it speaks to a level of precision and showmanship that has become the hallmark of Japanese-style bartending, not to mention what serious restaurants can achieve with a good cocktail program. Given how hard bartenders work already, I'll still take a traditional old-fashioned any day, but if they feel it's a better drink with cotton candy, I might not be as opposed to the idea after experiencing this one. Enjoy.
Traditional Old-Fashioned
Serving: 1 cocktail
Ingredients:
2 ounces Elijah Craig Bourbon
1 cube sugar
3 dashes Angostura bitters
Directions:
1) In a chilled rocks glass, muddle 1 sugar cube, bitters, a splash of soda to help emulsify.
2) Add bourbon and a solid cube of ice, then stir lightly for 5 to 10 seconds.
3) Garnish with a lemon and orange twist.
Cotton Candy Old-Fashioned
Serving: 1 cocktail
Ingredients:
2 ounces Old Forester Classic 86 Proof Straight Bourbon
1/2 ounce Cointreau
3 drops Angostura bitters
3 drops Peychaud's bitters
3 drops Fee's Orange bitters
Cotton candy ball
Directions:
1) Add all bitters to a chilled rocks glass. Place one ball of cotton candy into the glass.
2) Stir bourbon and Cointreau in a mixing glass with ice, and gently pour on top of cotton candy.
3) Cotton candy will dissolve instantly. No garnish.
Prep Time: 5 minutes, not including cotton candy
Difficulty: Moderate