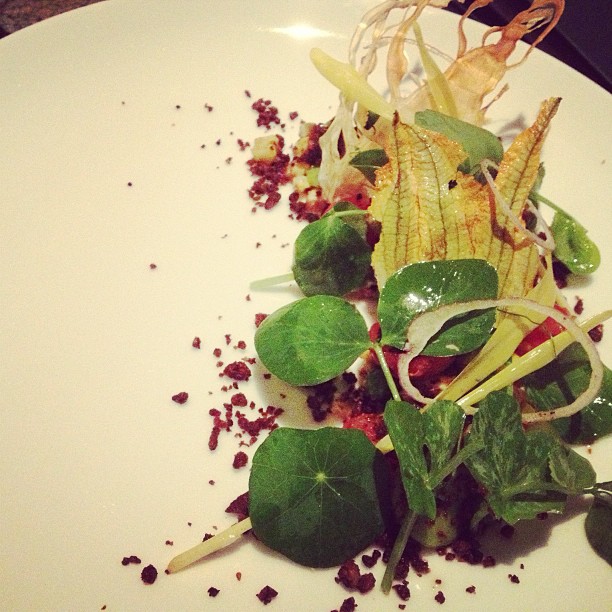 Despite the fact that his elite cooking was being showcased in a former hotel bar space, redesigned all slap-dash like a basic cable home makeover show and jammed in the back of a boutique hotel located on an anonymous stretch of East 46th Street, Chris Cipollone flourished.
In his May 2011 review for the New York Times, then-critic Sam Sifton wrote about the drab environs at Cipollone's restaurant — Tenpenny — but mainly focused on the chef's intricately flavored dishes that placed an "emphasis on beauty." He also called the man a "vegetable shaman," which I fully endorsed when I wrote about a seasonal vegetables tour de force in Time Out's Top 100 Dishes Of 2011 feature. I pressed hard to include this wonderful plate of vegetables, and the editor yielded.
Chef Chris Cipollone's seasonal vegetable plate looks like an edible diorama, its various seasonal components prepared differently and arranged in a gorgeous edible tableau. A summery iteration featured toothsome roasted carrots, pickled ramps, poached favas and dehydrated fennel—a delicious and textural collage, almost too pretty to eat, dusted with freeze-dried ranch powder. An autumnal version with root vegetables debuts soon.
In the closing lines of his review, Sifton hinted what we all knew — that an unattractive room and terrible location would ultimately doom the venture. That buzz alone doesn't put enough butts in the seats needed to support the chef's ambitions. If only…
If [Tenpenny] were in Brooklyn or on Avenue A, you might have already heard about it from your coolest friend, and you would probably have to wait in a long line to get in and pay for your meal in cash.
On Tuesday night, nearly two years after Cipollone served his last edible diorama, I walked out of an early dinner at the chef's week-old restaurant and found the line Sifton predicted. Piora is not found on Avenue A or Smith Street, but a quiet stretch of Hudson Street near the Printing House lofts on Manhattan's west side. Not too shabby. Piora means "blossom" in Korean and tips to Cipollone's partner Simon Kim, a Korean-American hotel veteran who last worked a The Mark By Jean-Georges, as well as in Las Vegas.
And while the menu does hint at the partners' recent trip to Korea — a two-week culinary deep dig that Kim described as "going to places where people don't go" — the focus is wisely placed in Cipollone's home run zone. Italian, adventurous, delicious.
Seared scallops are served with corn puree and sweet kernels brought to the next level with chicken fat and skin. Bucatini, ashened by black garlic, is dressed with creamy, briny mix of Dungeness crab, chili and maitake mushrooms. More on the Korean side, a fiery barbecued octopus (jjukkumi gui) is marinated with gochujang, fired (perfectly tender) and served with basil and pine nuts candied with red pepper flakes (gochugaru).
But, to be honest, all I wanted to try was Cipollone's market vegetable plate, which he has reprised here. Just like at Tenpenny, the dish is a play on colors, textures and preparations. Assembled on half the plate (hello negative space): Corn, peas, thumb carrots, favas, tomato, pea leaves, nasturtium, corn shoots, squash blossom, red onion, fennel, sunflower shoots, sunchoke — all dusted in powdered Thousand Island dressing. It was worth the visit alone, and a two-year wait.
Piora
430 Hudson Street
New York, NY 10014
212-960-3801
pioranyc.com