11 Game-Ready Beers For Your Next Tailgate
We may receive a commission on purchases made from links.
'Tis the season for tailgating and with it, that supreme challenge of finding the right beer to drink: one that is not too thin and forgettable, yet not too rich and strong. You're going for distance with tailgate beers, after all, not speed.
To help you navigate this conundrum, we have picked 11 beers that are both flavorful and negotiable — that is, each clocks in at no more than 6 percent alcohol by volume and still packs a lot of taste. These are not necessarily session beers, though some bear the characteristics of that deliberately lower-alcohol type (though what those characteristics are now may seem a little in flux).
They are, instead, simply beer: no exotic ingredients, no boatloads of hops for lip-chapping bitterness, no alcoholic kicks that will make you feel like you've been kicked in the head the next morning. With these brews, you will not only coast comfortably through the big game — you'll remember it, too.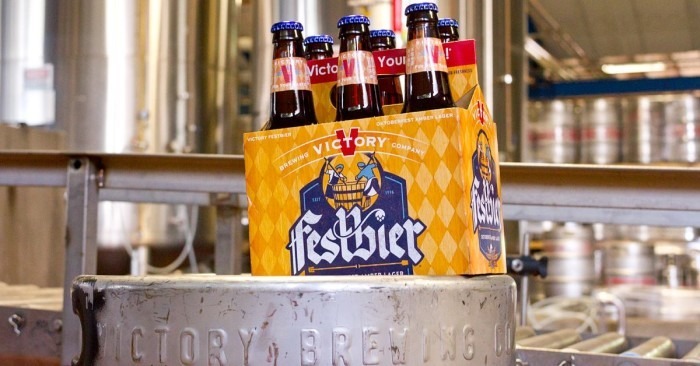 According to the stat sheet, Victory Festbier is a manageable 5.6 percent alcohol by volume. (Photo courtesy of Victory Brewing Co.)
Victory Festbier
Victory Brewing Co., Downingtown, Pennsylvania
This is a seriously sessionable Octoberfest, not too thick and yet malty-sweet, with a touch of bitterness. Best part? Victory's autumn seasonal is a manageable 5.6 percent ABV.
Brekle's Brown
Anchor Brewing Co., San Francisco
This malty, single-hop wonderland from America's oldest craft brewery is sweet and drinkable, with a little touch of bitterness on the end. At 6 percent ABV, it's one of the two strongest of the lot. Plus, everyone needs more brown ale in their life, right?
Samuel Adams Boston Lager
Boston Beer Co., Boston
Settle down. Sure, it's everywhere. And to some craft beer aficionados, it's practically Budweiser with bitterness. But the flagship of America's biggest craft brewery is one relatable brew: Full-tasting yet smooth, it's the beer for anyone at the tailgate who's not into beer. It's just under 5 percent ABV.
Fat Tire Amber Ale
New Belgium Brewing Co., Fort Collins, Colorado
A toasty gem from one of the country's biggest craft concerns. It's all caramel and biscuit, but the malt doesn't overwhelm — nor does the alcohol, at 5.2 percent ABV.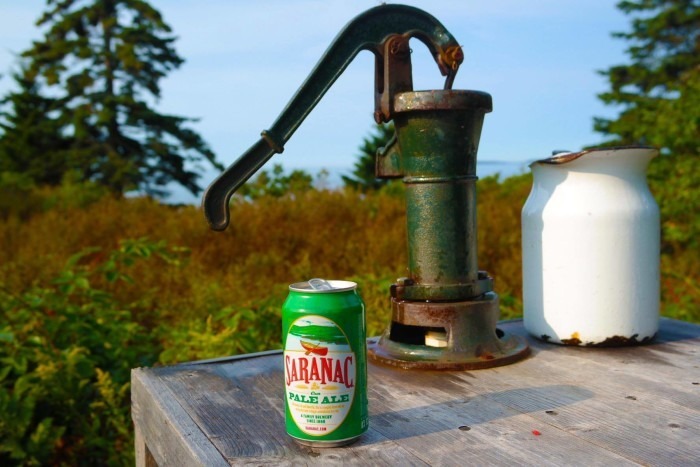 This standout shows great balance: Saranac Pale Ale. (Photo courtesy of Saranac.)
Saranac Pale Ale
F.X. Matt Brewing Co., Utica, New York
God, we love this one. It's a go-to for the early-evening fades of fall, eminently balanced with crispy bitterness and plenty of malty sweetness. It's 5.5 percent ABV. Drink. Repeat.
420 Extra Pale Ale
SweetWater Brewing Co., Atlanta
Straightforwardly crisp and slightly bitter, SweetWater's most popular brew is also light on the palate and the stomach, with an ABV percentage of 5.4.
Geary's IPA
D.L. Geary Brewing Co., Portland, Maine
We're big fans of the milder, more nuanced IPAs — some call them New England or East Coast IPAs. Whatever the nomenclature, Geary's IPA, from the oldest craft brewery east of the Mississippi, represents the quintessence of the style interpretation. The hops are clearly there, from the citrusy aroma on, but they're not too assertive. A nice, balanced IPA at 6 percent ABV.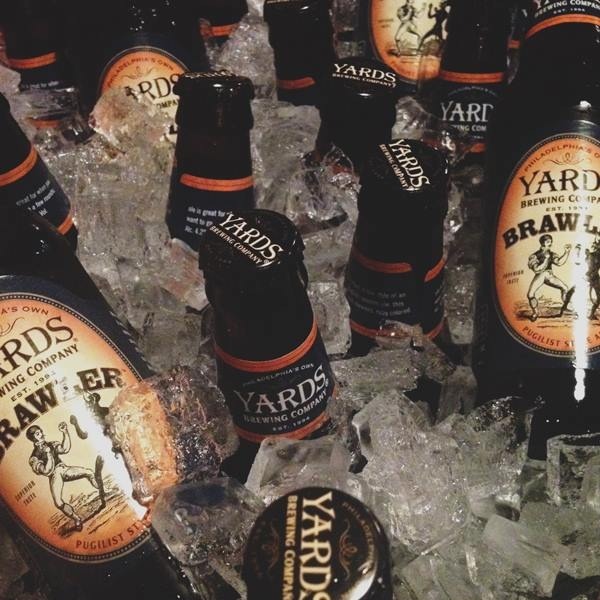 At 4.2 ABV, this Brawler isn't too boozy. (Photo courtesy of Yards Brewing Co.)
Yards Brewing Co. Brawler
Yards Brewing Co., Philadelphia
Clocking in at just 4.2 percent ABV, this mild bitter in the finest English tradition is fantastically repeatable (i.e., it will not fill you up too fast, nor leave you slurry after two or four). It has a bready, sweet taste and barely any bitterness.
Stone Go To IPA
Stone Brewing Co., Escondido, California
Well, look at that: One of the pioneers of the ultra-hoppy West Coast version of the IPA has a less-bitter, lower-alcohol spin on the style. Stone's Go To IPA is still plenty bitter, but the 4.5 percent ABV makes it much easier to take in volume than some of the brewery's beefier offerings.
Southern Pale Ale
Natty Greene's Brewing Co., Greensboro, North Carolina
Suppose there's someone at the tailgate who wants to get a little adventurous with his or her beer choice — but too adventurous. Offer him or her a Southern Pale Ale from this vastly underrated Tar Heel operation. Barely 5 percent ABV, it's light on the mouth and stomach and still refreshingly hoppy.
Original Pub Style
Gritty McDuff's Brewing Co., Portland, Maine
A straightforward, no-nonsense version of a mild English bitter. It's beer without any bells or whistles — or much bite: just 4.5 percent ABV. Happy tailgating.
Tom Acitelli is the author of  The Audacity of Hops: The History of America's Craft Beer Revolution and the new fine wine history American Wine: A Coming-of-Age Story. Get at him on Twitter: @tomacitelli.