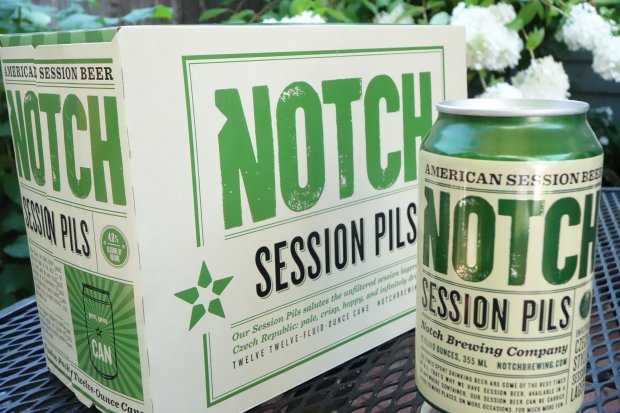 In late April, Shmaltz Brewing Co., the Clifton Park, New York-based concern known for its He'Brew beers, announced it was releasing what it called Wishbone Session Double IPA.Some people had a problem with that. Never mind that Shmaltz, originally conceived by founder Jeremy Cowan as a contract-brewing operation in the San Francisco Bay Area in the late 1990s and re-established in New York City the following decade, had a reputation for stylistic envelope-pushing — its He'Brew Jewbelation Reborn (17) in 2013 was made with 17 types of hops and 17 kinds of grains. And never mind that this experimentation often accompanied some of the busiest, most original packaging in the business (its Talmudic tagline is "the Chosen Beer").
All that mattered was that Shmaltz had mixed two things that should never be mixed. The beer rules were clear: Session beers were lower-alcohol brews of no more than 5 percent alcohol by volume (some insisted on lower than 4.5). To that end, they were to be generally less complicated ingredients-wise and more straightforward in their tastes. Double India pale ales were by definition remorselessly bitterer incarnations of IPAs, crafted to be big and bold. As a result, they usually clocked in at 7 percent or more.
Here came Shmaltz's Wishbone Session Double IPA — even the name flouted convention — with its strong hops presence and, worse, its 8 percent ABV. Eight percent! What did it even mean, then, to call it a session ale? Yet this particular IPA may represent a palatal pivot in the now-decade-plus saga of session beers in the U.S., the sort of thing that so cavalierly disregards the rules of the game as to make it OK for others to do so afterward. It's the session-beer equivalent of Bob Dylan turning electric. What was there before will still be there, but what comes afterward needn't be the same.
Ironically, of course, this could mean that session beers may now follow the very trajectory that IPAs did beginning 20 years ago precisely because of double IPAs. Vinnie Cilurzo, currently the brewing force behind the Russian River Brewing Co. in Santa Rosa, near San Francisco, is generally credited with creating the first double IPA in May 1994 for a now-defunct brewpub in Southern California. It would be years before the style, and the term, caught on as many dismissed it as mere marketing or a freak sideshow, much as critics have dismissed Shmaltz's newest offering.
Then, in 2003, the organizers of the Greater American Beer Festival added an "Imperial or Double India Pale Ale" judging category to what had become the world's premier beer-tasting festival. Events, if not entire breweries, dedicated solely to double (and triple) IPAs started popping up around the same time. After this, it was off to the races: bigger, bolder, heavier. Indeed, session beers emerged in part as a reaction against these stronger arrivistes.
Give it a few years and Shmaltz's Wishbone will seem commonplace as double and triple sessions catch on. Can't wait that long? Try these seven American-made session beers already changing the genre.
Go To IPA
Stone Brewing Co., Escondido, California
The San Diego County operation is the biggest craft brewer in the Southwest. It made its bones beginning in the late 1990s unabashedly producing some of the bitterest ales nationwide, including double and triple IPAs. Stone's Go To IPA is in that hoppier mold — a bold, citrusy wonderland that clocks in at around 4.5 percent ABV.
Lagunitas DayTime
Lagunitas Brewing Co., Petaluma, California
From the brewery that all but invented the so-called West Coast style of hoppier IPAs comes this ultra-hoppy "fractional IPA," as the brewery describes it. Lagunitas DayTime smells, tastes and feels like one of its stronger, bitterer offerings (and it offers plenty of those), even though the ABV is barely 4.6 percent.
Notch Session Pils
Notch Brewing Co., Ipswich, Massachusetts
Launched in 2010, the New England-based Notch Brewing Co. was the first U.S. brewer to focus entirely on session beers. Everything it offers is pretty much fantastic, including a session IPA. But the pilsner stands out as a particularly full and hearty version of the classic Czech style — better than many regular-strength versions out there. It clocks in at only 4 percent ABV.
Two Roads Lil' Heaven
Two Roads Brewing Co., Stratford, Connecticut
The cool thing about what Two Roads calls this "crushable India pale ale" (probably because it's canned) is the hops: Azacca, Calypso, Mosaic and Equinox. You don't see them often in American beer, especially the first two. Together they give the 4.8 percent IPA a fruity taste — not just citrusy, but a kind of rounded tropical finish. We were reminded of Jolly Ranchers candies, of all things.
Down to Earth Session IPA
21st Amendment Brewery, San Francisco, California
This offering in early 2015 replaced 21st Amendment's Bitter American, an extra pale ale introduced as a session beer way back in 2007. Down to Earth is similar to its predecessor in appearance and drinkability, but it is also much bitterer. Not too bitter, mind you, but the hops are felt up front and on the finish with this one. Also, we imagine the "IPA" in the name — with Bitter American, the letters were nowhere to be found — was no accident given the direction session beers are going. It's 4.4 percent ABV.
Boat Beer
Carton Brewing Co., Atlantic Highlands, New Jersey
This is the session ale for hopheads usually devoted to American pale ales and IPAs. Citrus flavors and aromas dominate Carton's Boat Beer. It also finishes clean and crisp — bone-dry even — due perhaps to the Kolsch yeast. (Kolsch is essentially the German equivalent of the English pale ale style.) It's only 4.2 percent ABV, though you wouldn't sense that from the taste.
Wishbone Session Double IPA
Shmaltz Brewing Co., Clifton Park, New York
Yes, nothing like the session beers you may have had before: hoppier, heavier, stronger, yet light enough on the mouth and in the stomach to imagine drinking more than one or two at a time — the true hallmark of a session beer. It's almost like it needs an extra adjective to describe it. Almost.
Tom Acitelli is the author of  The Audacity of Hops: The History of America's Craft Beer Revolution. His new book, American Wine: A Coming-of-Age Story, is available for preorder.
Read more about craft beer on Food Republic: