Fall Preview 2015: The 10 Most Exciting Restaurant Openings In New York City
Every autumn brings a fresh roster of enticing new restaurants to New York City. The anticipation alone is a great appetizer, especially since many restaurateurs have no clear idea when their snazzy new locations will actually open. It could be fall. Heck, it could be spring. That's just life in the big city. This season's crop of newcomers includes everything from a conservative Southern fast-food chain, Chick-fil-A, which had previously seemed shut out of this fiercely progressive metropolis, to the latest glamorous dining room in the ever-expanding empire of a firmly entrenched Manhattan chef, Michael White. But of all the openings on the docket, the restaurants below (including a few that, for the time being anyway, shall remain nameless — seriously, these places still have no name) are the ones we are most excited about: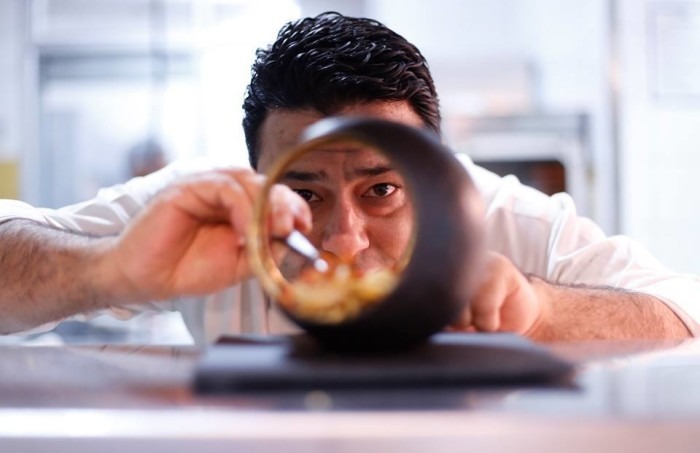 Chef Manish Mehrotra at work at acclaimed New Delhi restaurant Indian Accent; the New York outpost is expected to open this fall.
Indian Accent
Forget what you thought you knew about Indian cuisine. Proprietors of this inventive New Delhi restaurant — which the esteemed arbiters at San Pellegrino have deemed Best Restaurant In India and also one of the best in the world — are bringing their unique take on traditional Indian flavors blended with worldly ingredients and modern techniques — think soft-shell crabs with madras gunpowder — to Le Parker Meridien in midtown Manhattan. Chef Manish Mehrotra says the New York menu will be slightly different from the original, but not because he thinks the American palate can't handle the same spice ("Most dishes at Indian Accent are not spicy hot," he says). It's simply a matter of sourcing. "In New York, we will have an access to ingredients that we struggle to get here in Delhi — great quality in meats, different kinds of fresh seafood, like sea urchin, razor clams, fresh oysters and a variety of microgreens," says Mehrotra. "We shall showcase the unique amalgamation of the freshest local produce, combining home-style nostalgic tastes with unusual ingredients, not just from the U.S. or India, but from across the world." 123 W. 56th St., New York, NY 10019
Salvation Burger
You can thank April Bloomfield for a couple of the city's best — and most inventive — burgers. There's the lamb burger she serves with feta and cumin mayo at NoMad gastropub the Breslin and the famous chargrilled beef, Roquefort-topped rendition she dishes out alongside shoestring fries at the West Village's iconic Spotted Pig. This October, she and longtime restaurateur partner Ken Friedman will open a casual burger spot, Salvation Burger, at the Pod 51 Hotel in Midtown East. The chef promises to create an all-new menu of variations on the American classic, using meat ground by an in-house butcher, cooked on wood-fired grills and served on house-made potato buns. Seasonal salads will complement the meat-heavy options, and there will be a wide selection of market-driven pies for dessert. In addition to a full bar, keep an eye out for boozy milkshakes. 230 E. 51st St., New York, NY 10022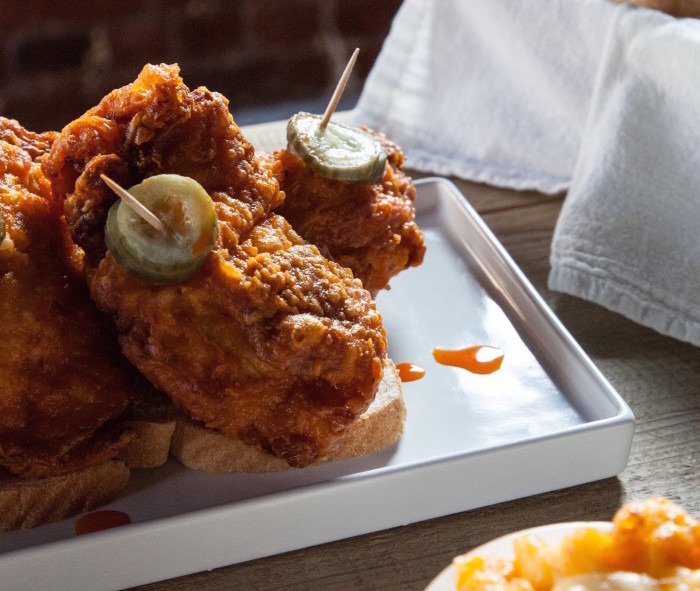 Carla Hall will try to turn New Yorkers on to Nashville hot chicken at her first restaurant.
Carla Hall's Southern Kitchen
Can a big-name television chef make Nashville hot chicken a thing in New York City? Carla Hall is certainly going to try, and if her Kickstarter campaign is any indication — she raised over $260,000 toward operation costs — she certainly has a good chance. In addition to traditional hot chicken and Southern comfort food, Hall will feature vegetable-centric sides, along with her signature cookies and Nashville's own Crema coffee. The space, which fits approximately 30 seats — in addition to counter service, a to-go window and a provisions section — formerly housed Andy Ricker's Whiskey Soda Lounge. Hall playfully refers to the neighborhood as "Cobble Hook" and tells Food Republic that when she's in the area, she "gets that sense of Nashville community and feeling of a true neighborhood." She plans to open more outposts if her first-ever restaurant succeeds when it opens its doors in late November. 115 Columbia St., Brooklyn, NY 11201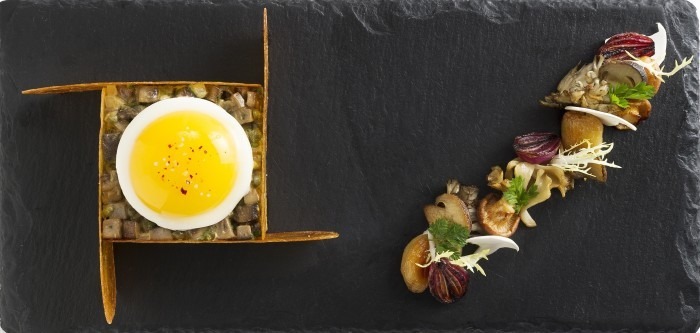 Mushroom tartare at the original NYC location of Rouge Tomate
Rouge Tomate Chelsea
The former Michelin-starred restaurant on Manhattan's Upper East Side is reopening inside a cozy, reclaimed 19th century carriage house in Chelsea. The menu will carry on with much of the same seasonal, health-conscious and vegetable-focused themes as the original location, but chef Andy Bennett aims to make it all a little more accessible for the masses this time around. The space is also smaller than the prior incarnation, with an open kitchen, which should create a more intimate atmosphere. "One of the big advantages of shrinking the footprint of the restaurant is that it's going to bring everyone closer together," says Bennett. Beverage director Pascaline Lepeltier also returns, with her laser focus on high-quality biodynamic and organic wines, which helped to make the first place such a hit with oenophiles. 126-128 W. 18th St., New York, NY 10011
Momosan Ramen & Sake
Acclaimed Japanese chef Masaharu Morimoto has firmly established himself as one of the world's most recognized culinary names, currently operating restaurants in New York City, Philadelphia, Boca Raton, Napa Valley, Waikiki, Tokyo, Mumbai and New Delhi. He'll soon join New York's growing ramen craze with the late October Murray Hill opening of Momosan Ramen & Sake (named after the chef's nickname), his first-ever noodle restaurant — which is not to say that he does not have experience with the dish. "I've been serving a ramen dish at my Morimoto restaurants for years.... I want to create my own ramen restaurant in my own personal style," he tells Food Republic. The Iron Chef will offer authentic-style tonkotsu and chicken ramen, as well as creative side dishes and a sake list designed specifically to pair with the menu. 342 Lexington Ave., New York, NY 10016
Unnamed Dan Kluger restaurant
Details are scant about former ABC Kitchen chef Dan Kluger's first solo project. We know the address — it's in the heart of Manhattan's Greenwich Village — and we know the basic concept, the same sort of simple and seasonal cooking that Kluger is famous for, which is enough to generate excitement in itself. One important thing that we don't know is the name. Kluger says coming up with a good moniker is one of the hardest things about opening a new restaurant. For a chef, it can be even tougher than developing a compelling menu. "There is a lot in the name," says Kluger. "It's difficult to find something that's not already taken, weird, cheesy, et cetera. So much hinges on the name, branding and logo — it affects the way people envision your restaurant. The menu requires a ton of thought and fine-tuning, but there is very little reinventing the wheel — I just need to make consistent, flavorful food." 21-23 W. 8th St., New York, NY 10011
Unnamed Charlie Bird team restaurant
Charlie Bird has remained one of the city's hottest tables since opening just over two years ago in SoHo. Chef Ryan Hardy is teaming up with San Francisco vet Tim Caspare to open a new restaurant on the corner of Kenmare and Mulberry in Little Italy, featuring not one but two wood-burning ovens designed by Neapolitan pizza maestro Stefano Ferrara. Pizza — resembling Neapolitan-style pies — will, of course, be on the menu, but it won't be the sole focus of the space, which will be slightly smaller than the team's first project. Porchetta, game birds and côte de boeuf for two are just a few of the items that will come out of Ferrara's specialty ovens. Charlie Bird sommelier Grant Reynolds has put together an extensive list with an emphasis on wines from France and Italy. 86 Kenmare St., New York, NY 10012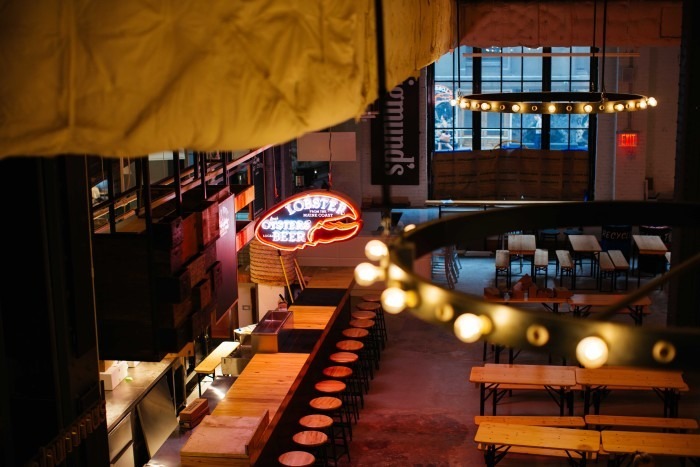 UrbanSpace's permanent market opening in midtown features 20 chef-driven concepts in a large, stunning space.
UrbanSpace Vanderbilt
You've enjoyed spring and summer lunches at both Mad. Sq. Eats and Broadway Bites. So what's different about UrbanSpace's latest market, opening on September 17 in midtown? It's permanent! The creative team's first year-round venture in New York will bring more than 20 chef-driven concepts to a stunning 12,000-square foot-space on the ground floor of 230 Park Avenue, the grand Beaux Arts tower that cuts through Park Avenue at 45th Street. "We are bringing an entirely new food experience to midtown," says UrbanSpace president Eldon Scott. Vendors will comprise a mix of pop-up market veterans and up-and-coming chefs, including Takumi Taco, Bangkok B.A.R., Amali Mou, Hong Kong Street Cart, No. 7 Veggie, Toby's Estate Coffee, Sigmund's, Bar Suzette, Red Hook Lobster Pound and Dough, plus Sips & Bites, whose Molly Quirk has contributed some of FR's most tantalizing recipes (like harissa honey chicken wings). "It's a bottom-up approach, starting with the chefs and entrepreneurs — it's not a top-down thing," explains Scott. "And that's one of the reasons it's so unusual to find this sort of business in midtown, where the rents and construction costs are usually prohibitive for smaller, creative operators." Lunch in midtown just got that much more exciting. 230 Park Ave., New York, NY 10169
Lilia
Former A Voce chef Missy Robbins has teamed up with Matt Kliegman (the Smile, Black Seed) to open this seasonal Italian restaurant in a former Williamsburg auto-body shop that the chef lauds for its high ceilings, big windows and vintage details. The centerpiece of the restaurant is a large, custom-built wood-burning grill, which will serve as a focal point for diners and cooks alike. "It's the rawest form of cooking," says Robbins, who was inspired by the blazing hearths at Tertulia in New York and Spiaggia in Chicago. Flame-kissed meats and fish are a given, but Robbins isn't giving up on her first love: pasta. The 75-seat restaurant will also feature an adjacent café and outdoor seating for another 46. 567 Union Ave., Brooklyn, NY 11211
La Sirena
It's been nearly a decade since restaurateurs Mario Batali and Joe Bastianich opened a new restaurant in New York City. Sure, they've put up a ginormous Italian marketplace both here and elsewhere since then, but not a traditional restaurant. The last one was the fabulous four-star Del Posto with its famously luscious 100-layer lasagna, which is a big reason why this latest project is so tantalizing. The new trattoria will occupy the plaza level of the stylish Maritime Hotel. Outfitted with custom-made Italian furnishings and a 40-foot-long marble bar, La Sirena is described as a sort of hybrid Batali-Bastianich concept, blending the casual Roman-style menu of Lupa with the elevated vibe at Babbo. All good things. 88 Ninth Ave., New York, NY 10011