Harissa Honey Chicken Wings Recipe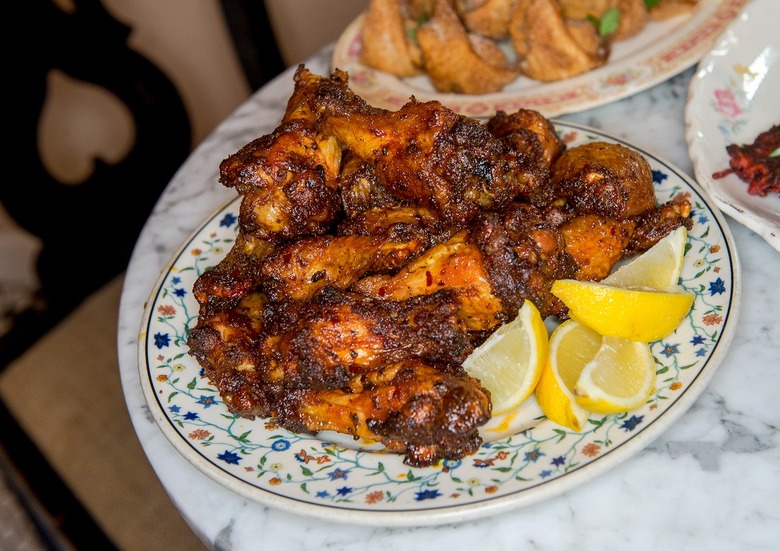 Photo: Gabi Porter
Molly Quirk is chef/owner of Sips & Bites in Williamsburg, Brooklyn. If you haven't had a thoughtfully handcrafted sandwich in a while, there's no better place to get your fix. She's generously donating a few of her party food recipes to our cause: feeding people at parties. 
Hot wings are probably the ultimate party food. They are a venerable crowd pleaser, whatever the occasion. For this version we cover the wings in a dry rub and use our tried and true baking technique to get them crunchy before tossing them in a butter-based sauce. You can use this technique with any flavor combination you like; experiment with different dry spices or hot sauces like we did here with the North African condiment harissa. Try to source handmade small batch sauces; you'll be glad you did.
For the wings pictured here we used a special bottle of harissa from L'as Du Falafel that I brought back from Paris this past summer. Liquid gold. You'll be amazed at how many specialty hot sauces there are out there! Take advantage of that and whip up a batch of unique hot wings to wow your friends.
Harissa Honey Chicken Wings Recipe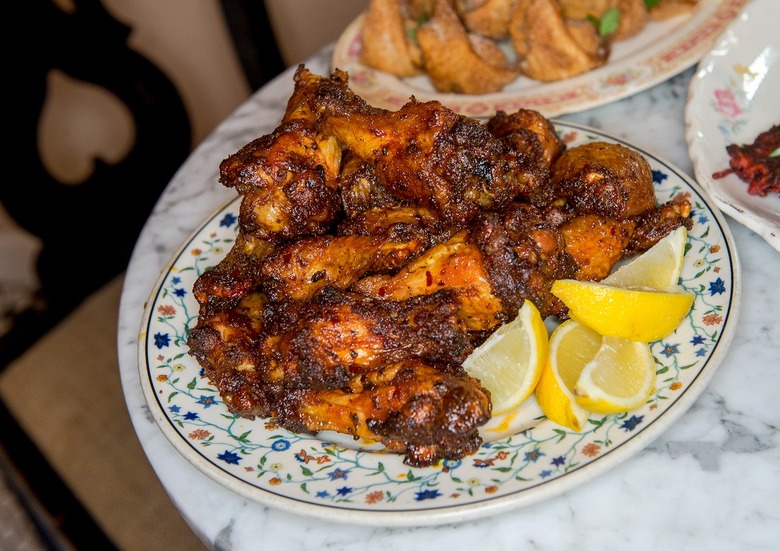 Ingredients
20 whole chicken wings
2 tablespoons ground cumin
2 tablespoons ground coriander
1 tablespoon granulated garlic
1/2 teaspoon cayenne pepper
2 teaspoons kosher salt
black pepper to taste
6 tablespoons salted butter
6 tablespoons Harissa
1/4 teaspoon cayenne pepper
1/4 cup honey
Directions
Rub the spice mixture into the wing pieces until there is no powder left in the bottom of your bowl. Cover and refrigerate for 1 hour, up to overnight.
Preheat your oven to 400 degrees and spray 2 sheet pans with baking spray.
Line your wings skin side down on the trays, leaving space between them so they don't steam.
Cook in the middle of the oven for 25 minutes or until the bottoms are crispy and the fat begins to render in the pan.
Flip them over, turn the oven up to 425 degrees and continue to cook for another 20-25 minutes until thoroughly cooked and crispy all over. Watch them closely (every 5 minutes) as there will be a lot of fat in the pan and it can burn.
Bring sauce ingredients slowly to a simmer in a small sauce pan on the stovetop while your wings are baking. When the butter is almost melted, turn off the heat and swirl the pan to finish melting it. Removing the sauce from the heat will help create a thicker, clingier sauce.
When your wings are finished cooking, immediately put them into a big bowl, drizzle the sauce over them and toss to ensure a thin, even coating and serve immediately.
Bhut Jolokia Wings Recipe
Honey Baked Pistachio Wings Recipe
Singaporean Chicken Rice Wings Recipe