Here's How Much It Will Cost To Attend Guy Fieri's First Flavortown Fest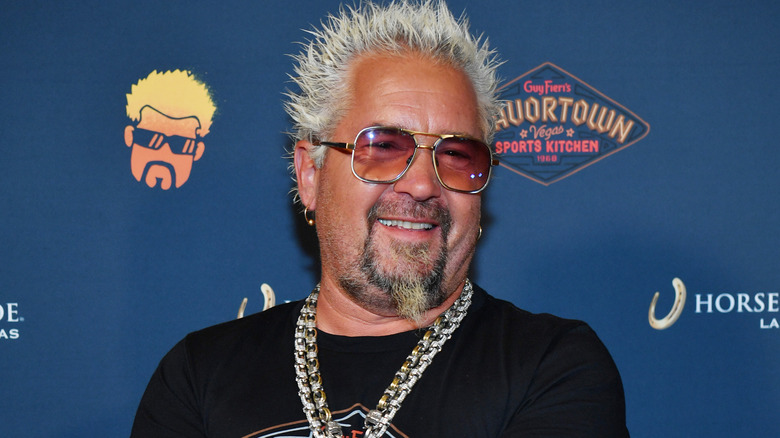 Denise Truscello/Getty Images
Guy Fieri, the energetic, spiky-haired host on The Food Network, often talks about heading to "Flavortown" in his shows, a term he uses to describe an outstanding restaurant, dish, or culinary experience. Well, fans of Fieri can now literally visit this mythical destination at his upcoming, inaugural Flavortown Fest. Scheduled for June 1-2, 2024, the "Drive-Ins, Diners, and Dives" host will preside over this weekend-long event filled with food, adventure, and fun — though it comes with a price.
The upside is that each ticket grants access to both days of the festival and all its offerings. Knowing Fieri's style, expect the food to be as big as his jewelry, the music as loud as his outfits, and the events as entertaining as his personality. General admission tickets are priced at $155 plus fees, covering festival entry, all food demonstrations, music performances, and other yet-to-be-announced activities. For $215, the general admission plus option includes all the aforementioned benefits, plus entry to a private lounge featuring its own food, drinks, and restrooms. Additionally, two VIP ticket options will be available, though their prices are not yet released.
Your ticket to Flavortown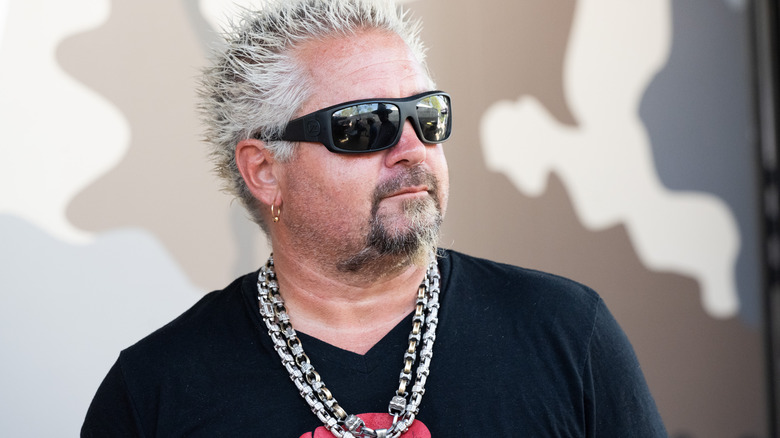 Scott Dudelson/Getty Images
Flavortown Fest, in collaboration with the Guy Fieri Foundation, will donate a portion of its ticket sales to support charitable organizations in the Columbus area. So, while the ticket prices may seem high, your expenditure will contribute to a good cause. The currently available tickets are "Early Bird" specials, and each purchase made before December 9, 2023 offers a chance to win two VIP upgrade tickets.
This event is particularly special for Guy Fieri, as it takes place in his birth city, Columbus, Ohio. The festival itself will be held at the Lawn at CAS — an event and concert venue that has welcomed stars like Pitbull, Demi Lovato, and Duran Duran. Spanning two days, guests can look forward to chef demonstrations, cookoffs, and eating competitions, along with diverse food, music, and entertainment. Open to all ages, the event warmly invites families to join in what promises to be an unforgettable experience in June 2024.