The Best Bottles To Use For Mulled Wine, According To An Expert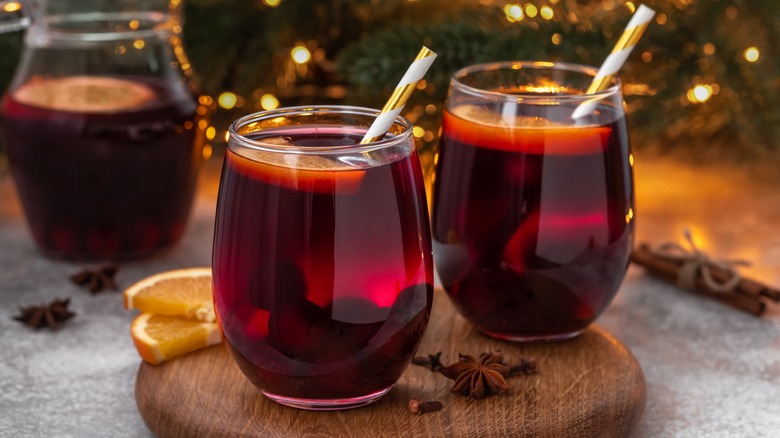 Dementieva Iryna/Shutterstock
Just as our cooking preferences change according to the season, so does what we drink. While summer is all about rosés and crisp whites, the cooler months call for bolder reds that complement cozier dishes like beef stew. Whether you're trying to dress up a subpar bottle of red or need something warm to take the chill out of the air, 'tis the season for winter's version of sangria: mulled wine.
Food Republic reached out to wine expert Catherine Fallis, master sommelier at Bright Cellars, to discover the best bottles to use for mulled wine. Also known as Gluhwein, glögg, or spiced wine, it's traditionally made with a red variety. Fallis recommends "a medium to full-bodied, fruity red from California or Washington state, such as Malbec, red blends, Syrah, and Zinfandel." Since you're adding intense spices, fruit, and often cider or port, you don't need to splurge on an expensive bottle that you won't fully appreciate. That being said, it's ideal to taste your pick first to make sure you like it because, no matter how much cinnamon you add, it won't cover up an undesirable flavor.
If you prefer white wine, you can make a lighter version. Fallis suggests, "Grenache Blanc or a not-too-buttery Chardonnay." She also recommends adjusting the spices since a traditional recipe may be too overpowering for a white mulled wine. 
How to make mulled wine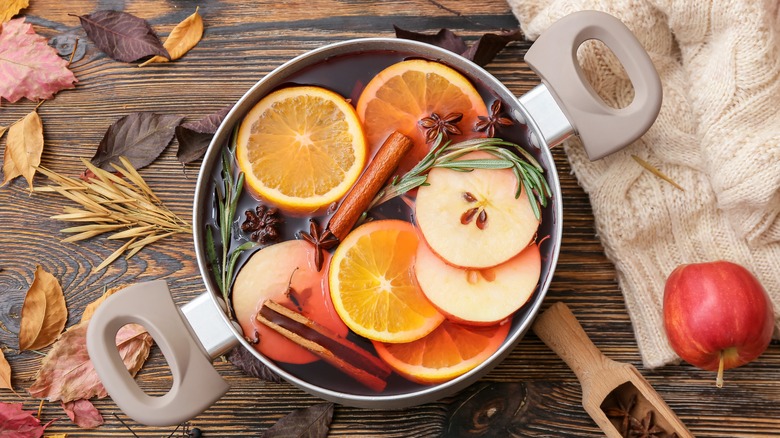 Pixel-Shot/Shutterstock
Popular in Europe during the holidays, mulled wine can easily be made at home. Gourmet stores and most supermarkets sell a mulling spice mix this time of year, but you can use cinnamon sticks, whole cloves, whole allspice berries, ginger, and star anise. Or substitute another spice like a vanilla bean or cardamom if you prefer.
As in our mulled wine recipe, freshly squeezed juice (whether cranberry, orange, or apple), which is more flavorful than shelf-stable options, is suggested if you can find it — or make it yourself. Try mulled wine with fresh apple cider, which screams of fall, and garnish with thinly sliced Pixie Crunch apples – a small, low-acid variety that will fit nicely in your glass and add complementary sweetness. Further sweeten the wine with maple syrup or brown sugar, adding warm caramel notes. For a non-alcoholic version, omit the wine and mull the cider with spices, so kids can participate.
Simmer the ingredients low and slow, and be careful not to boil the mixture, which would burn off the alcohol. Mulled wine can be made a few hours in advance and gently reheated before serving. Or, keep it warm in a crockpot and let guests serve themselves. Either way, your house will smell like the holidays. When ready to serve, pour the hot wine into mugs and garnish with a cinnamon stick and sliced fruit. If you're feeling extra, a little port or brandy wouldn't be a bad addition, too.