Mulled Wine Recipe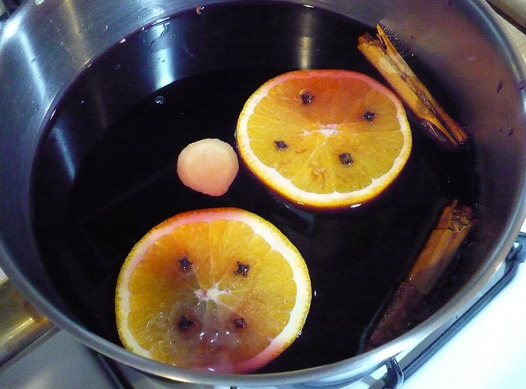 Mulled wine is a popular holiday drink all over Europe. The Hot Toddy's cousin is a red wine and whole spice combination, served warm on cold winter nights. On a trip to Venice, I developed an addiction to the Italian version, vin brulé (an expression borrowed from the French) and proceeded to spent the entire week in wine-toxicated bliss.
Upon my return to Miami, I introduced my neighbor to the concoction, and he quickly jumped aboard what I like to call the "hot wine addiction boat." I have fond memories of the two of us sitting in my apartment in mid-April when it was 85 degrees outside, blasting the AC to enjoy our hot wine without developing heat stroke. Food Republic's Jess Kapadia recently got back from Germany, where she discovered glühwein and fell in love — welcome aboard!
Mulling spices are available during the holiday season at Williams-Sonoma and can be used in place of the spices and oils listed below. Just about the only thing that gets me excited about winter is a cup (or 10) of hot wine, and if I feel like mixing it up, some boozy hot cocoa.
Mulled Wine Recipe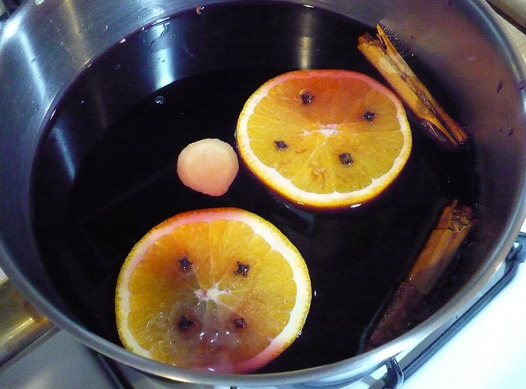 Ingredients
1 bottle dry red wine
1/3 cup no pulp orange juice
1/3 cup cranberry juice
1/4 cup brown sugar
4 cinnamon sticks
6 whole cloves
6 whole allspice berries
2 star anise
1/2 orange peeled for rind
1 Orange
1 drops cinnamon oil
1 drops orange oil
Directions
Combine the wine, sugar, orange juice, cranberry juice, spices, oils, and orange rind in a large saucepan.
Bring to a boil and simmer over low heat for 10 minutes.
Remove from heat and strain.
Pour into mugs and garnish with orange peel and cinnamon sticks.