Hidden Valley Is Dropping A 2-Headed Bottle Of Ranch
The marketing of the country's most famous salad dressing has taken a turn for the surreal. Hidden Valley Ranch has just announced an exciting partnership with itself to create the very first Double Ranch bottle, a two-headed spigot bottle that forms the shape of an uncanny "X." With an idea that feels like it came straight from the interdimensional cable episodes of "Rick and Morty," the company claims it could only work with its own brand in order to make a dressing worthy of its flavors. The result is either a hilarious conversation piece or a dairy-filled nightmare, depending on your viewpoint. Incidentally, this is not Hidden Valley Ranch's first nutty publicity stunt.
This tongue-in-cheek "collaboration" with itself is a reference to the many food brand crossover events happening lately, or as the press release calls it: "drop culture." CC Ciafone, Marketing Director at Hidden Valley Ranch said, "There's nothing ranchier than the double herbs, double spices, and the double ranch of this limited-edition release!" In a nutshell, the recipe, flavor, and ingredients haven't changed — the bottle just got weirder. 
A meta-collaboration with itself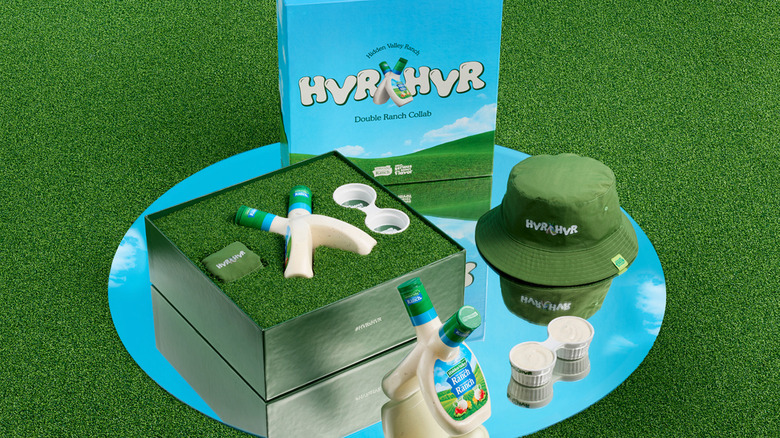 Hidden Valley Ranch
Hidden Valley Ranch plans to unveil the x-shaped ranch bottle at ComplexCon, which takes place November 18 and 19, 2023 in Longbeach, California. ComplexCon is devoted to the future of pop culture, so it's only natural that this futuristic dressing makes its debut at the forward-looking festival. Keeping with the hip "drop culture" theme, the limited edition bottle and accompanying swag will be available to buy through a Snapchat filter. On November 18 at 2 p.m. Eastern time, whenever a user comes across an "X" using the specific filter, they'll be directed toward a purchasing link for the Double Ranch bottle.
Or, for the many who abstain from Snapchat, the Double Ranch bottle and swag box will also be available at hiddenvalleyranch.com for a cool $44. Sure, you could make your own homemade ranch, but then you would be missing the opportunity to have the world's most gonzo salad dressing bottle displayed on your coffee table. The first 222 customers will also receive an HVRxHVR collab box, complete with a Double Ranch bottle, double sauce ramekin, and the always fashionable reversible bucket hat. It practically sells itself.