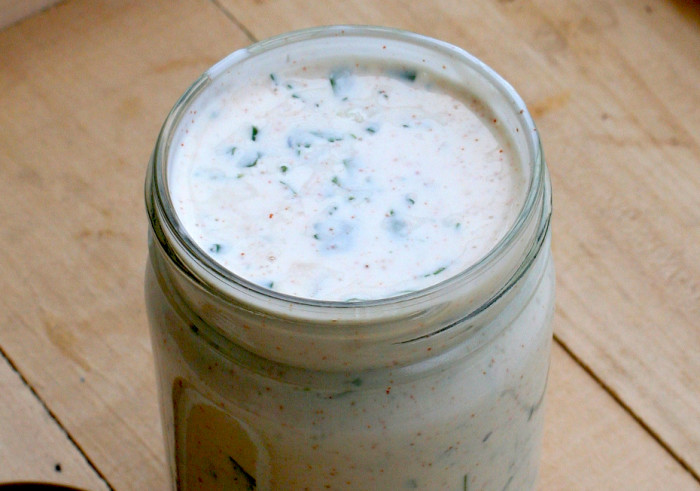 When it comes to dip recipes for your party fare, be they Spinach Artichoke Balls, Crunchy Coconut Shrimp or anything from our wing lineup, blue cheese is but a peon in the court of the ranch dressing king. Dramatic, but true (oh, and it's also good on salad). Not chipotle ranch. Not "zesty ranch," whatever that is (we find the straight-up kind to be plenty zesty). And definitely not reduced-fat ranch, although this recipe cuts the mayo with buttermilk and Greek yogurt to keep things thick and tangy.
While four or so cups of dressing may seem like a lot, the fresh, unbottled taste of homemade ranch will attract more trigger-happy food dippers than you may have anticipated. If there's some leftover, it'll keep in the fridge in a jar or bowl tightly covered with plastic wrap for up to a week.
Ingredients
1

cup

2% Greek yogurt

1

cup

mayonnaise, preferably homemade

1

cup

cultured buttermilk

1/3

cup

sour cream

1

teaspoon

garlic powder

1

teaspoon

onion powder

1

heaping tablespoon

freshly ground black pepper

1

teaspoon

kosher salt

1

tablespoon

white vinegar

1

tablespoon

lemon juice

3

tablespoons

fresh parsley, finely chopped
Directions
Mix the yogurt, mayonnaise, buttermilk and sour cream together in a large bowl.
Stir in the garlic and onion powders and pepper, then add the salt, vinegar, lemon juice and parsley and stir until just combined.
Cover and refrigerate until needed, up to a week.