Taco Bell's New Grilled Cheese Nacho Fries Are The Mash Up We Didn't Know We Needed
Many Taco Bell enthusiasts likely thought that nothing could be done to improve upon the fast food chain's immensely popular Nacho Fries. The dish — which is composed of crispy french fries seasoned with Mexican spices, and served with nacho cheese dip — has been a hit since its debut in 2018. However, Taco Bell is now introducing a new variation of fan-favorite, called the Grilled Cheese Nacho Fries. Starting November 16, the chain will combine crispy fries with melted mozzarella, Monterey pepper jack, and cheddar cheeses, topped with sliced grilled steak. These fries will come with both nacho cheese and chipotle sauces, and there's an option to add jalapeños on top.
Continuing a long-standing tradition with Taco Bell food, the new dish is not exactly authentic Mexican cuisine — however, this hasn't deterred the restaurant's fans from eagerly sampling the chain's new creations. Priced at $4.99, these fries, like their predecessor, the original Nacho Fries, will be available for a limited time only. However, those familiar with Taco Bell know that the original Nacho Fries have made regular comebacks, each time to great acclaim. The Nacho Fries have been so popular that the company has also launched the new Nacho Fries Lover's Pass.
Fast pass to Nacho Fries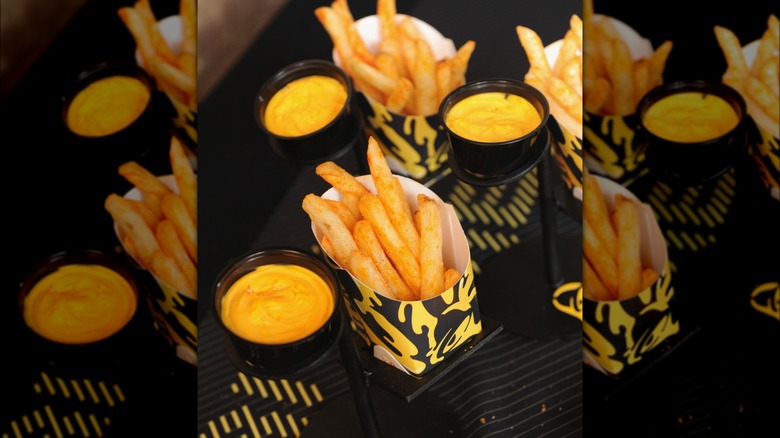 Craig Barritt/Getty Images
In 2022, Taco Bell introduced the Taco Lover's Pass, a limited-time offer priced at $10, which allowed members to receive one taco per day (of any kind) for 30 consecutive days. Due to its success, the chain reintroduced the pass a year later. Expanding on this idea, Taco Bell is now offering $10 Nacho Fries Lover's Passes exclusively through its app, allowing fry fans to enjoy an order of its beloved Nacho Fries each day for 30 consecutive days.
There is one caveat: The Grilled Cheese Nacho Fries are sold separately, and not included in the Fries Lover's Pass promotion. However, fans of the chain are well aware that Taco Bell offers toasted breakfast tacos, single tacos, burritos, and other handheld favorites at relatively budget-friendly prices. Therefore, Nacho Fry enthusiasts are unlikely to be dissuaded from purchasing one of these limited-time passes, as well as trying the new version of the dish.