Taco Bell Announces New Toasted Breakfast Tacos And The Return Of Taco Lover's Pass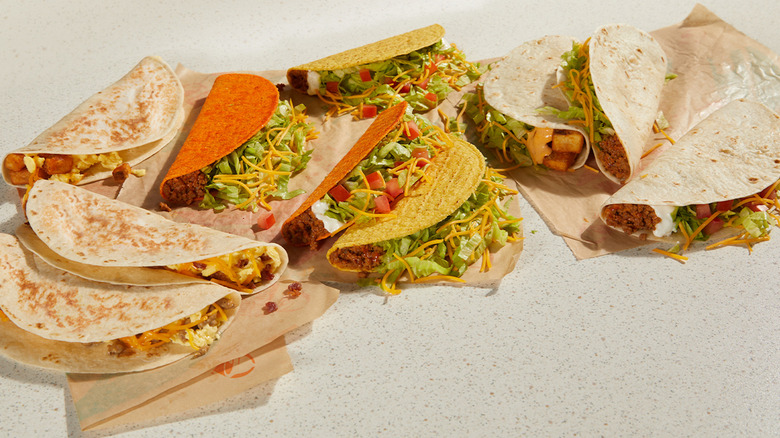 Taco Bell
Taco Tuesday is about to get a lot more exciting. If you were thrilled about Taco Bell's nacho fries coming back, look out, because this is right up your alley. National Taco Day falls annually on October 4 and Taco Bell has found a way to celebrate not only for one day but all month long.
Via a press release sent to Food Republic, Taco Bell has officially announced the return of the Taco Lover's Pass taco subscription service. This is available exclusively to reward members through the Taco Bell app. In addition, the chain also shared the news of a game-changing new morning menu item, Toasted Breakfast Tacos, which will be available as of October 12 for a limited time.
Taco fans everywhere will be thrilled that this month-long promotion is back and better than ever. Not only will they be able to choose from seven different tacos throughout the month, but on October 12, they can try the new Toasted Breakfast Tacos as well.
Taco Bell's Taco Lover's Pass is back but you need to hurry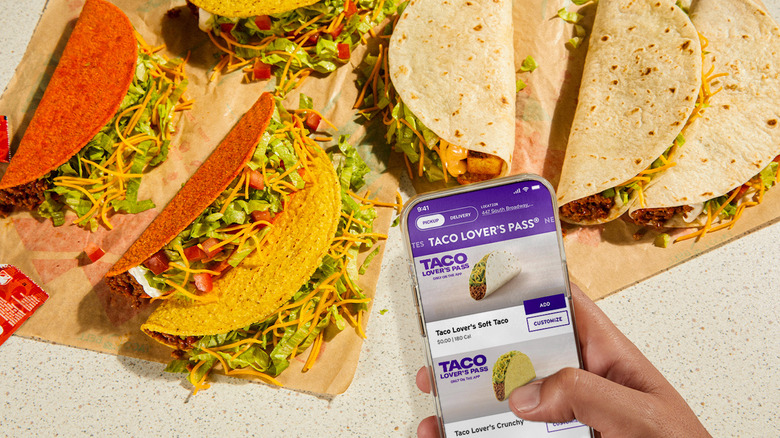 Taco Bell
The Taco Lover's Pass first debuted in January 2022, and it was such a hit that it returned for National Taco Day in October of last year. Once again, the promotion is back to celebrate this delicious food holiday in 2023.
The way the digital taco pass works is entirely through the Taco Bell app. It can be purchased in the app for $10, but only for a very short window. Time is of the essence — fans must buy the pass on October 3 and 4 only. Once enrolled, diners can then use the service to redeem one taco a day for 30 consecutive days. This makes the Taco Lover's Pass not only a great value, but it is also a lot of fun. Fans can use the month of October to enjoy their favorite tacos or branch out to sample new menu items they have never tried before from one of the included selections.
To make it even more exciting, Taco Bell is actually giving away 100 free passes to rewards members when the Taco Lover's Pass debuts via the Tuesday Drops landing page on the app. The possibility of free tacos is just another compelling reason to grab your phone this taco Tuesday.
New toasted breakfast tacos are coming to the menu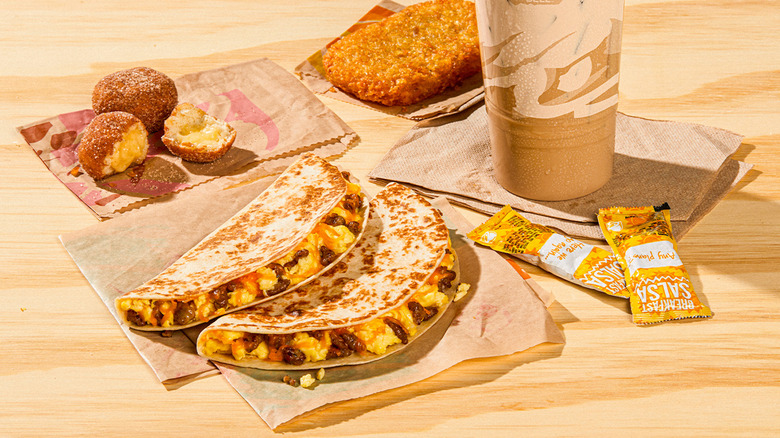 Taco Bell
Believe it or not, Taco Bell doesn't actually serve any tacos on the morning breakfast menu as of right now. Sure, there are breakfast burritos, quesadillas, and even Crunchwraps, but no actual tacos. That's all about to change on October 12 with the debut of toasted breakfast tacos. 
The new toasted breakfast tacos will be the breakfast champion that Taco Bell aficionados have been waiting for. Once mid-October hits, taco lovers across the country can get scrambled eggs, cheese, and their choice of bacon, sausage, or vegetarian potato filled in a tortilla and then expertly grilled to perfection, offering a toasted taco that can hold its shape bite after bite. The toasted breakfast taco will be available a la carte for $1.49 starting on October 12 for a limited time. It can also be redeemed with the Taco Lover's Pass until November 2 and comes as a new focus on breakfast, with a mysterious Taco Bell partner to be announced on October 17.