Red Lobster Is Offering Free Shrimp & Chips In Honor Of Veterans Day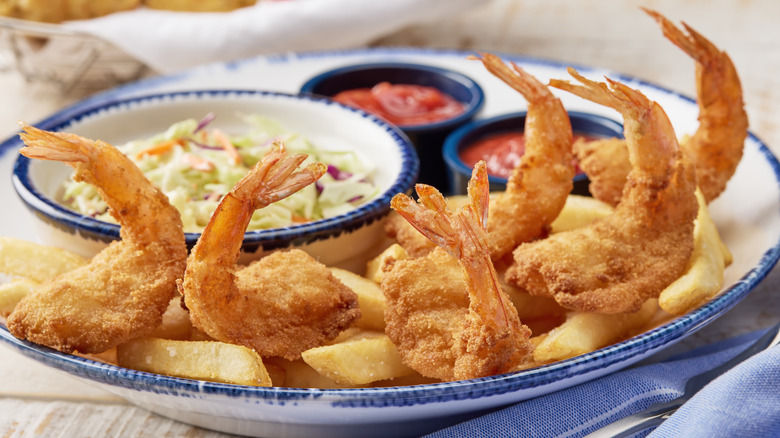 Red Lobster
While there are plenty of great deals available this holiday weekend for our troops to take advantage of, for the seafood-loving service members out there, Red Lobster is a great option. You can get a free meal at Golden Corral's buffet and a free stack of red, white, and blue pancakes at IHOP, but if only fried shrimp will do, head over to Red Lobster. The seafood chain is rolling out a complimentary meal voucher exclusively for active-duty military, veterans, and reservists. The dish in question? The tried-and-true fried shrimp and chips, the same as Red Lobster's Veterans Day promo meal last year.
Alongside the Texas de Brazil Veterans Day deal, which offers a 25% discount on a veteran's entire meal (family and friends included), this voucher scores pretty high on the best bang for your buck meter. The printed vouchers can be acquired at participating U.S. and Canadian stores on November 11 from 11 a.m. to 4 p.m. and can be redeemed from Monday, November 13 to Sunday, December 10. This means that the vouchers handed out on Veterans Day cannot be used for your Veterans Day dinner itself but instead apply to a later visit. All the diner needs to do to receive a voucher is flash their military ID or proof of service. There is an in-person catch though: Both the vouchers and the meals have to be redeemed directly in the restaurant and are ineligible to use through online ordering apps like Grubhub or Uber Eats.
A tasty way to thank the military
Bloomberg/Getty Images
So, what can you expect from the free shrimp and chips meal? The voucher covers a meal of 6 Walt's Shrimp plus a side of French fries and coleslaw. Butterflied, covered in bread crumbs, fried to golden perfection, and served with cocktail sauce, Walt's Favorite Shrimp is a mainstay of Red Lobster's menu. While the rustic French fries and tangy coleslaw aren't as famed as the restaurant's classic cheddar bay biscuits, both sides have their own share of fans. Plus, you can always try making Bacon-Cheddar Drop Biscuits at home if you're really jonesing for something similar.
All told, the voucher could be saving you as much as $18, though the typical price of the Walt's Favorite Shrimp meal varies by region and usually only comes with one complimentary side, while you're getting two with the voucher. In comparing this promo to the typical 10% discount offered every Monday to active and retired military, you can see that it's a pretty good get.  Your drink, tip, and overall meal tax are not included in the voucher. Anything else you might want to order on the menu will also be outside of the offer's purview, and you can only use one voucher per customer.