Bacon-Cheddar Drop Biscuit Recipe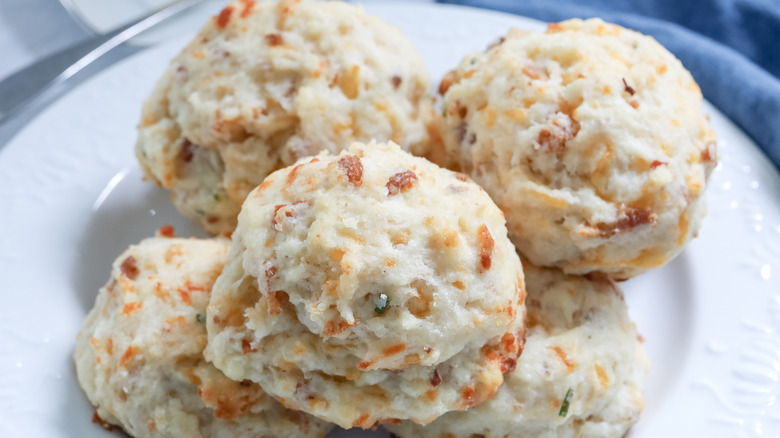 Jessica Morone/Food Republic
While home-baked biscuits are delightful and not too time-consuming, we are partial to the drop kind for being particularly easy to make. Developer Jessica Morone agrees, saying, "Drop biscuits are great because you don't have to roll out and cut the biscuits — you can just drop them onto the baking sheet and bake them." This recipe calls for no rolling, folding, or layering of the dough, but you'll still find the tender flakiness you love about biscuits because of the pockets of butter dispersed throughout.
While you can knead just about anything into biscuit dough to make it taste good, Morone says the bacon and cheddar in this recipe make for "a really savory, delectable flavor combination." In addition to crumbled bacon and shredded cheddar, Morone likes to flavor these drop biscuits with chopped chives. These "tend to have a more mild flavor than green onions," Morone says, so while you can use the latter as a substitute, just keep that slight flavor difference in mind.
Collect the ingredients for these bacon-cheddar drop biscuits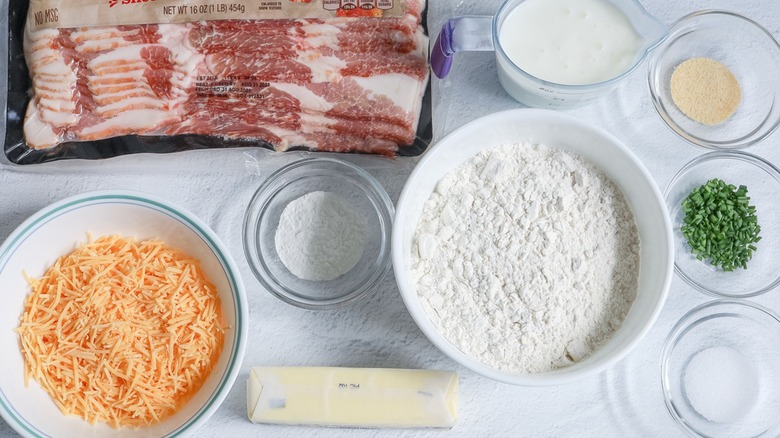 Jessica Morone/Food Republic
The biscuits in this recipe are made from a pretty standard array of baking ingredients, including flour, baking powder, salt, and butter. While Morone uses buttermilk, something that may not be found in every refrigerator, you can easily make buttermilk with regular milk by adding some lemon juice or vinegar. The biscuits are also flavored with a little bit of garlic powder, as well as the terrific trio of bacon, cheddar, and chives.
Cook the bacon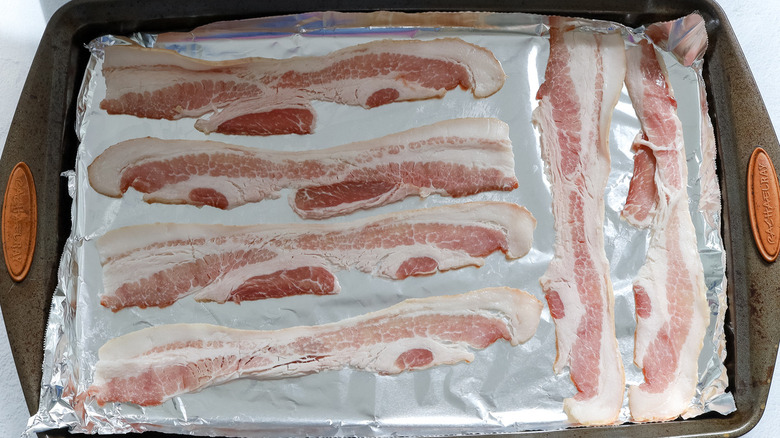 Jessica Morone/Food Republic
Although you could pan-fry, microwave, or employ any of your other preferred bacon cooking methods, Morone likes to crisp hers up in the oven. You'll need to turn on the appliance to bake the biscuits anyway, so even if you've never tried baking bacon before, now might be the perfect time.
Start by preheating the oven to 400 F, then cook the bacon for 15-20 minutes on a foil- or parchment-lined sheet pan for easier cleanup. Once the bacon is crispy, take it out and turn the oven heat up to 425 F for the biscuits. Drain the bacon on a paper towel-lined plate, then chop or crumble it into small bits once cool enough to touch.
Make the biscuit dough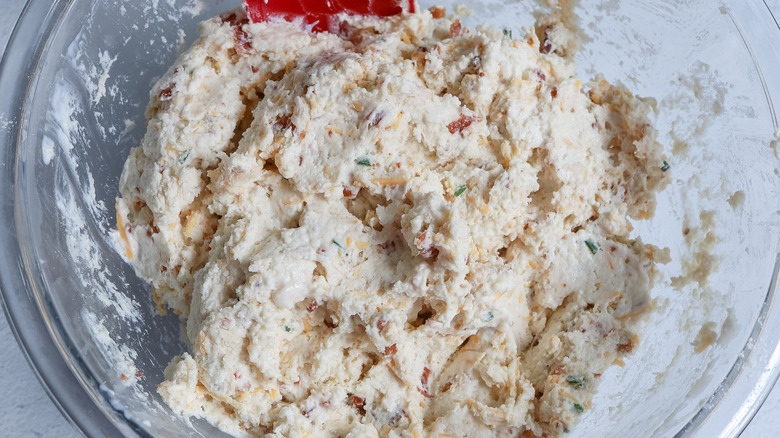 Jessica Morone/Food Republic
To make the biscuit dough, combine the flour with the baking powder and salt, then mix in the butter until you have crumbs that look somewhat like coarse sand. Morone says she likes to use a food processor for this "because it's the quickest, easiest way, but if you don't have a food processor, you can cut in the butter with a pastry blender or fork."
With the butter well incorporated, you can transfer the dough to a bowl and stir in the garlic powder, cheddar cheese, chives, and bacon, followed by the buttermilk. "If you find the dough is still a little dry after adding the buttermilk, you can add a bit more until the dough is moist and sticky," Morone says.
Bake the biscuits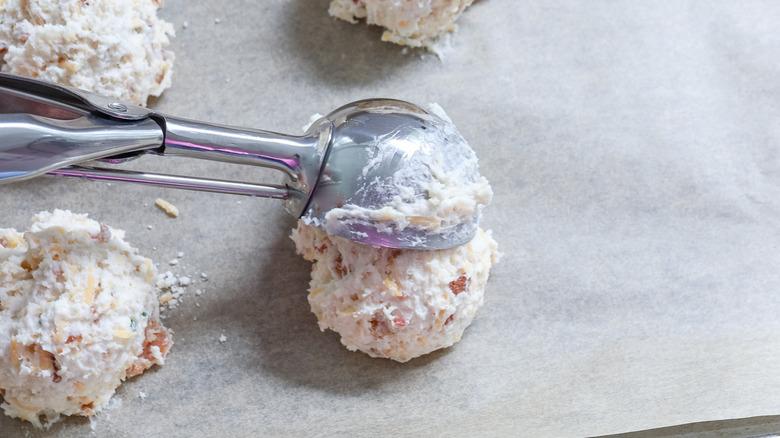 Jessica Morone/Food Republic
Line another baking sheet with parchment paper, then use a 2-ounce cookie scoop or ¼ cup measuring cup to portion out the biscuits directly onto the pan. You should get 15 in all. Bake the biscuits for 15-18 minutes. By then, the outsides will look golden brown, and the insides should be fluffy and cooked through when split open. 
Leftover biscuits should be good in an airtight container or resealable bag for up to 3 days, and they can be reheated in a 300 F oven for 10 minutes. You can also freeze the biscuits if you want to store them for a longer period of time — Morone just advises that "you will want to thaw them before heating them up" and serving them with your favorite breakfast recipes.
Bacon-Cheddar Drop Biscuit Recipe
Homemade biscuits are even more approachable if you make the drop kind, which require no rolling or cutting and are delicious with any mix-ins.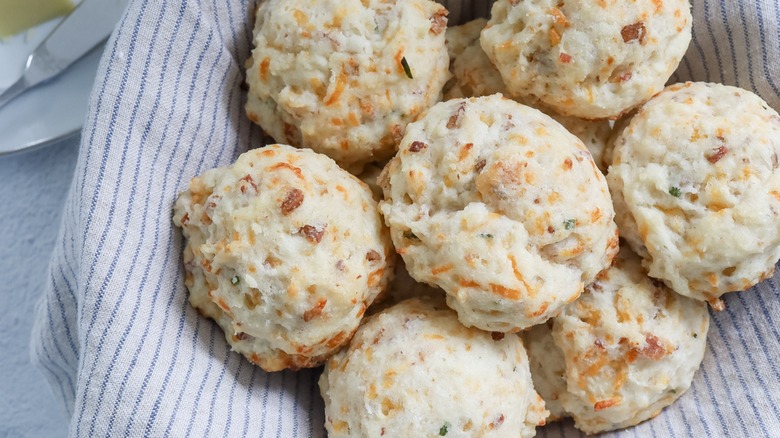 Ingredients
6 slices bacon
2 cups all-purpose flour
1 tablespoon baking powder
½ teaspoon salt
½ cup (1 stick) cold unsalted butter, cut into cubes
1 teaspoon garlic powder
1 cup shredded cheddar
1 tablespoons chives
1 ¼ cup buttermilk
Directions
Preheat the oven to 400 F.
Cook the bacon in the oven on a foil-lined baking sheet for 15-20 minutes until crispy. Let drain and cool on a paper towel-lined plate before chopping into small pieces and setting aside.
Increase the oven temperature to 425 F.
In a food processor, mix the flour, baking powder, and salt, then cut in the butter until the mixture resembles coarse sand.
Transfer the mixture to a large bowl and stir in the garlic powder, cheddar cheese, chives, and crumbled bacon.
Add the buttermilk to the bowl, stirring until just combined and a dough is formed.
Use a 2-ounce cookie scoop or ¼ cup measuring cup to drop mounds of biscuit dough onto a parchment-lined baking sheet. Bake for 15-18 minutes until golden brown and cooked through.
Nutrition
| | |
| --- | --- |
| Calories per Serving | 200 |
| Total Fat | 13.3 g |
| Saturated Fat | 6.9 g |
| Trans Fat | 0.0 g |
| Cholesterol | 32.2 mg |
| | |
| --- | --- |
| Total Carbohydrates | 14.3 g |
| Dietary Fiber | 0.5 g |
| Total Sugars | 1.2 g |
| Sodium | 240.4 mg |
| Protein | 5.8 g |