Stale Bread Is Your Unusual Secret Weapon For Rich Brownies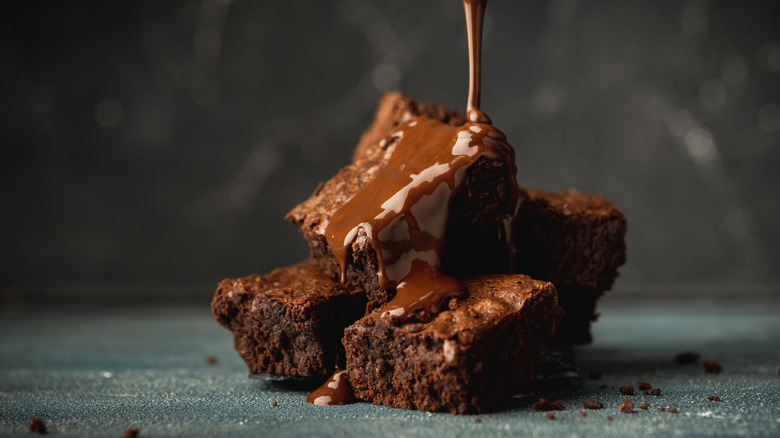 Oleksandr Sytnyk/Getty Images
Although few things are better than freshly baked bread, homemade loaves often begin to dry out quickly — sometimes even by the next day. Some might toss a less-than-perfect loaf as soon as it shows signs of staleness, but savvy home cooks have known for centuries that old bread shouldn't necessarily be discarded.
While techniques exist to revive dried-out bread by hydrating or toasting it, out of necessity, rural Italian peasants developed cucina povera, which translates to "the kitchen of the poor." This culinary philosophy advocates making something new from leftover scraps, eliminating waste, and fully appreciating the ingredients used. It has given rise to some of our most beloved modern recipes, such as panzanella, ribollita, and bread pudding. Now, a TikTok video posted by @chef_tristan_welch has shown that stale bread can also be transformed into rich, decadent brownies.
In the video, @chef_tristan_welch blends chunks of stale bread with cacao powder, baking powder, sugar, milk, one egg, and vanilla extract to create his brownies, which he finishes with a glaze of melted chocolate and a garnish of fresh berries.
What type of bread to use?
According to Earth.org, over 240 million slices of bread are thrown away every year. Embracing the creation of stale bread brownies is a sweet way to help mitigate this waste. If you're not ready to bake right away, however, you can store leftover bread slices in the freezer until you're prepared to use them.
While there's no strict rule mandating the use of a specific type of bread, choosing something other than a white loaf will influence the flavor of the brownies, which isn't necessarily a bad thing. Bakers have been experimenting with various flours in their cookie recipes, for instance, substituting all-purpose flour with rye flour. A bread with a nuttier grain could make an excellent addition to brownies.
Rye, being slightly more bitter than all-purpose flour, can balance the sweetness of the chocolate brownie, especially when it is glazed, resulting in a more sophisticated flavor profile. The recipe can also be adapted for gluten-free bread, though cooking times may need adjustment, so it's wise to check the brownies early to avoid overbaking. Additionally, the batter can be prepared with any type of milk, including non-dairy alternatives, to accommodate vegan or gluten-free dietary needs.
Another variation using stale bread and chocolate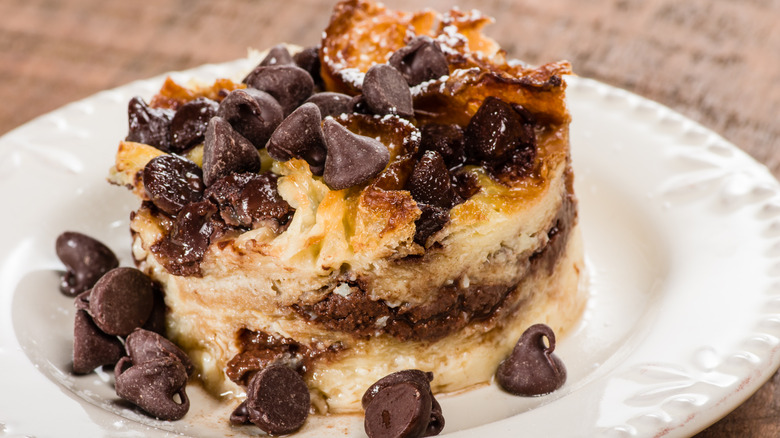 Jatrax/Getty Images
Chocolatey desserts can be created with scraps of any stale or unused baked goods, not just bread. Bakers can save the trimmed domes from leveling layered cakes, dried-out scones, or even the last brownie that no one has chosen. Store these in a resealable, freezer-safe bag until you've gathered approximately three cups, which should be enough for most recipes. When using sweetened baked goods, remember to adjust the sugar content in the recipe accordingly.
If you lack a blender or prefer not to use one, you can revert to the basics and create a bread pudding using cubes of stale bread. Pieces from French loaves, croissants, or a variety of end and heel scraps can be compiled to make a delicious dessert. The secret to revitalizing these bread cubes is the custard, which imparts the creamy texture that characterizes bread pudding. Ingredients such as chocolate chips, peanut butter, Nutella, or berries can be mixed in a casserole dish with the bread and custard, producing a delightful baked dessert in about 30 minutes.
These stale bread desserts can be prepared family-style, served straight from a casserole dish or cake tin, or portioned into individual servings for a personalized touch. Regardless of your choice, don't forget to top it off with some fresh whipped cream or a scoop of vanilla ice cream.