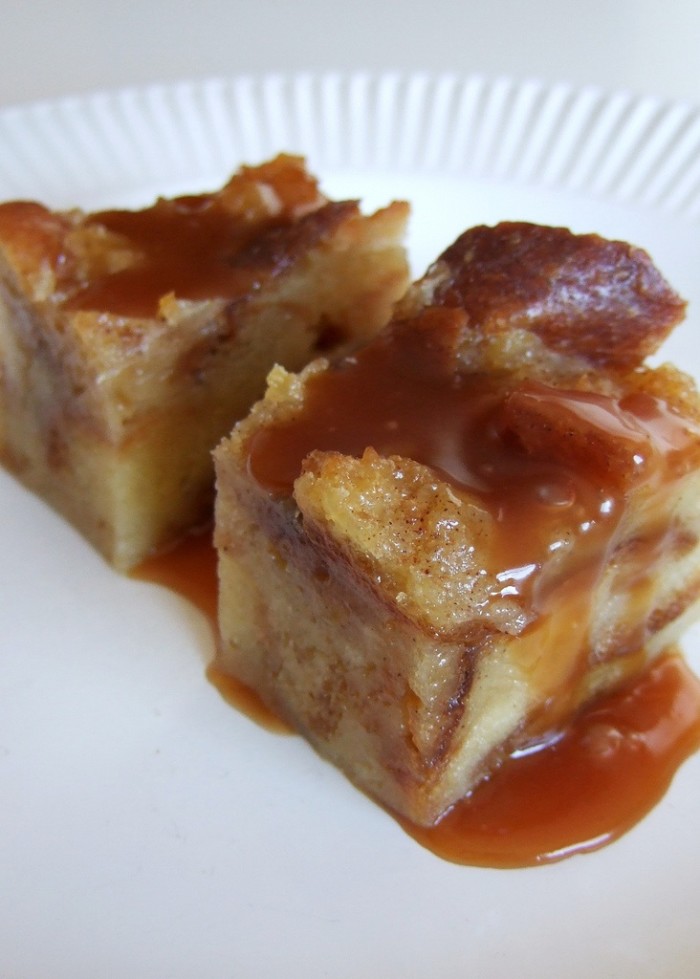 Let's face it: Bread pudding is not the most exciting dessert in the world. It often looks like a gloppy mess, and its main ingredient is stale bread. In fact, bread pudding is essentially a conduit for leftover bread; in thrifty (or poor) households throughout the world, and in mindful restaurants, it's a way to use bread whose crust has hardened but whose dough still has a bit of sponginess left, instead of merely throwing it out.
That doesn't mean bread pudding has to suck.
Here, we present a recipe for bread pudding that actually rivals chocolate cake, apple pie, and flan, mainly thanks to the ingredient we use to liven up that stale bread: Good ol' Kentucky bourbon. Mix it up with caramel and cream, and you've got one hell of a sauce. Plus, the bread is treated so that it's almost French toast-like, making for a dessert made from leftovers that might even re-surface as breakfast—though you'll probably polish this off first.
Ingredients
Bread Pudding
3

cups

stale bread, cut into 1- inch cubes

1/2

cup

raisins

1/4

cup

butter, melted

2

cups

milk, warm (or you may use half and half)

5

eggs

beaten

1/2

cup

sugar

1

teaspoon

cinnamon

1

teaspoon

vanilla extract

1

pinch

salt
Caramel Sauce
1

cup

sugar

1/4

cup

water

2

teaspoons

corn syrup

1/2

cup

heavy cream

1/4

cup

Kentucky bourbon

1

tablespoon

unsalted butter

1

small pinch

fleur de sel, optional
Directions
Bread Pudding:
Preheat oven to 375 degrees F.
In a large bowl combine the beaten eggs, cinnamon and cubed bread. Pour this into an 8- inch baking dish (or 2 quart baking dish).
Combine the sugar, vanilla, milk, and salt and pour into the baking dish over the bread cubes.
Bake for 25 to 30 minutes, or until a knife inserted into the center comes out clean.
Caramel Sauce:
In a small saucepan, bring the sugar, water and corn syrup to a boil. Cook until the sugar is dissolved. Use a pastry brush and water to wipe down the intertior sides of the pot where the sugar may be sticking. This will prevent that part from burning.
Continue cooking, without stirring, until the sugar turns amber in color. Remove from the heat and carefully stir in the cream. Let cool for 1 minute, then stir in the bourbon.
Place the pot back on the heat and bring the mixture to a boil over and cook, stirring, for 1 minute.
Remove from the heat, add the butter and let the caramel sauce cool slightly. Pour over the bread pudding and serve.