The Morbid Origins Of Funeral Sandwiches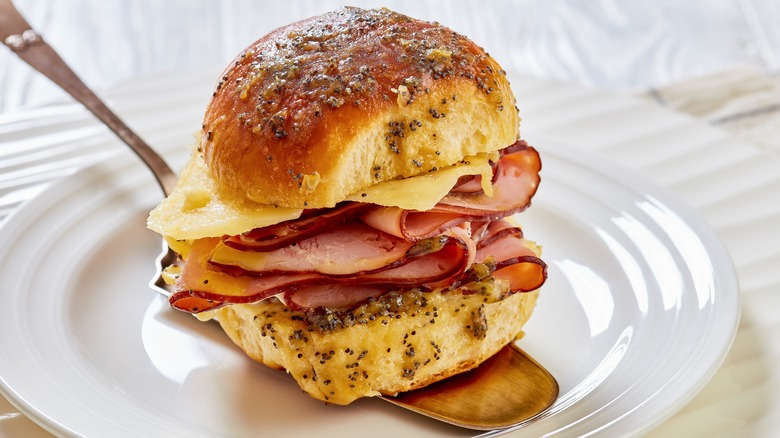 from my point of view/Shutterstock
Funeral sandwiches are a Southern tradition, part of a larger custom of guests bringing food potluck-style to share with grieving families and other attendees at funeral services. While they aren't only served at funerals, the somber occasions are where they get their morbid name, as is the case with other dishes commonly served to mourners — including funeral potatoes and Texas funeral cake. Depending on the region, they are sometimes called church sandwiches, party sandwiches, or ham sliders (but only when made with ham).
While they are known by different names and can be made with a variety of ingredients, the common themes are that they are easy to make in quantity in order to serve a crowd, are portable, and are served warm. They are essentially a tasty and simple food that can be eaten by hand and without much fuss by people together at a social event, like church homecomings, wedding showers, and football tailgating. Whether for memorial services or happy occasions, funeral sandwiches exist to be crowd pleasers.
Fast and easy meals for family and friends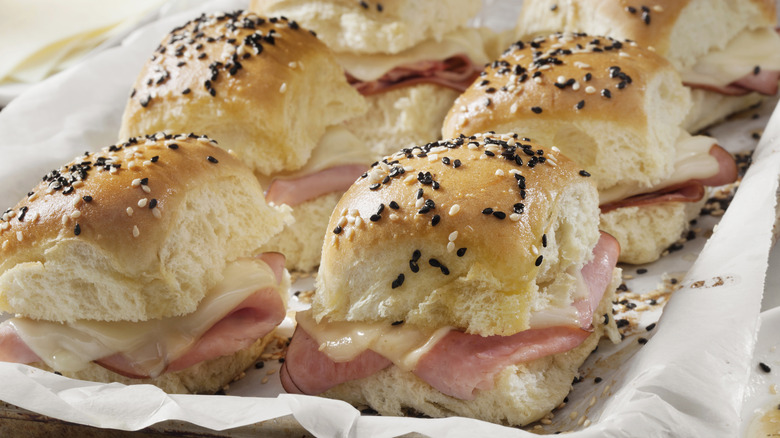 Lauripatterson/Getty Images
Traditions vary, but funeral sandwiches will always have a few things in common. The bread will be small, like the kind used for sliders. These could be dinner rolls or biscuits, but the usual favorite is Hawaiian sweet rolls. The bread can be spread with condiments like mayo and mustard, but sometimes it is glazed or soaked in a sauce overnight. A typical funeral sandwich glaze is made from butter, Worcestershire sauce, Dijon mustard, brown sugar, and onion powder. The filling will consist of meat and cheese, most often sliced ham and Swiss. The little sandwiches are then baked in batches on a sheet pan until the cheese is melted — and then they are served hot.
These are uncomplicated to make and comfort food that helps to feed the bereaved without distracting from the reason for their gathering. It's also expected that the leftover food from a repast will be taken home by the deceased's family, so they won't have to worry or think about cooking — funeral sandwiches travel well and make great leftovers, hot or cold. 
In an odd twist on funerary food customs, there's an alleged law in the state of Massachusetts that prohibits mourners at funerals from eating more than three sandwiches. While this law is claimed to still be in effect, proof of it actually being passed into law has yet to be found, nor have we uncovered any instances of it ever being enforced.
Funeral foods to honor the dead and comfort the living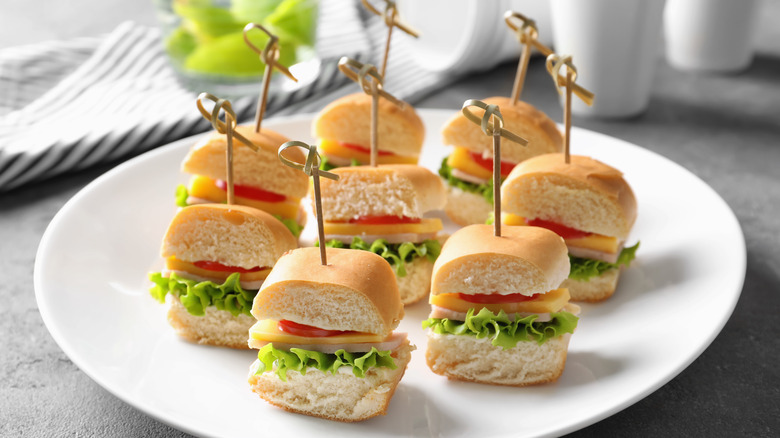 Africa Studio/Shutterstock
Funeral practices around the globe often involve food. In Mexican cultures, families eat tamales for Día de los Muertos to honor loved ones. At Greek Orthodox funerals, a boiled wheat berry dish called kollyva is served, inspired by a biblical verse where wheat is symbolic of everlasting life. Similarly, for the Jewish mourning ritual of sitting Shiva, breads such as challah or bagels are eaten with hard-boiled eggs, with the round foods symbolizing the cycle of life. 
In the United States, Amish funeral pie is customary at wakes in Pennsylvania, made with sweet raisins and either a custard filling or meringue topping. Fudgy Texas funeral cake is basically a large chocolate sheet cake topped with frosting and nuts, which is customary at Lone Star state funerals, along with fried chicken and ambrosia.
Another vigil dish known across the Southern and Western parts of the USA is funeral potatoes, often served as an accompaniment to funeral sandwiches. The dish's exact origins are unknown but associated with the Mormon church and are ubiquitous at Latter-day Saints' funerals in the state of Utah. The baked casserole-style dish is made with grated potatoes, creamy soup (like cream of chicken or mushrooms), sour cream, butter, and lots of cheese. The top gets a crunchy topping like cornflakes or breadcrumbs. It's not hard to imagine this meal being particularly comforting for anyone, both during times of loss and full circle to celebration.