Why It's Common To Eat Tamales On Día De Los Muertos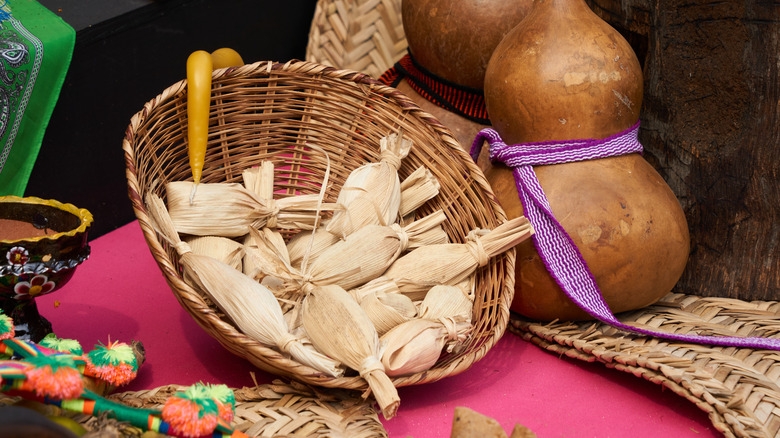 Alejandro Morales Lozano/Getty Images
Each year, from November 1 through November 2, celebrations of Día de los Muertos (or Day of the Dead) can be found all throughout Mexico and the global Mexican communities. The first day of the holiday celebrates the lives of children who have passed while the second day pays homage to the lives of deceased adults. While there are gatherings, parades, and parties in towns across the country, there are also home-based observances of the holiday as well.
One of the primary traditions associated with the holiday is to create an ofrenda, a collection of offerings to the dead, many of which are symbolic. The elements of nature are represented in myriad ways, with candles for fire, drinks (from water and soda to tea or tequila) for water, and a papel picado (traditional Mexican folk art created with cut tissue paper) that symbolizes air. Finally, the food on the ofrenda is intended to be representative of the earth, and while it's commonplace to include food that deceased family or friends enjoyed during their lives, tamales have their own special symbolism and history.
Tamales are important in Mexican culture as a representation of unity, particularly of family. But they are also a quintessential part of Día de los Muertos in part because of symbolism. In certain parts of the country, the husk symbolizes the coffin, the masa is likened to the body, and the filling represents the body's fluids, allowing the tamale to be a vehicle of sorts for relatives who have passed.
The history of tamales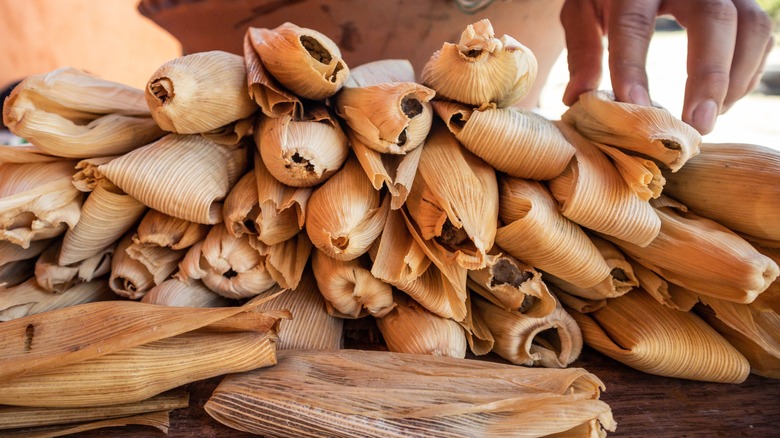 Rick MG/Shutterstock
Tamales have always been a special part of culture in Mexico, and they may have initially been an offering to the gods as early as 8000 B.C. However, they also became a convenient food thanks to their portability. At that time, they were also made from teocintle, which is the slightly more nutritious ancestor of modern corn.
Over time, tamales became associated with special meals for holidays like Christmas. Because of the length of time that it takes to make them, families often have tamaladas, events at which family members join together to build tamales in a sort of assembly-line style. However, they are still popular in restaurants, too, and towns and cities throughout South and Central America have regional favorites with fillings that range from vegetables and meats to fruits and seeds.
Tamales have become popular in many locations outside of Mexico as well, spreading throughout the United States and around the globe. It makes sense, then, that tamales are often found on ofrendas as offerings to family. Beyond the symbolism associated with tamales and the dead, ofrendas are meant to host a loved one's favorite food to encourage them to visit — and tamales are an easy favorite for many of us.
Tips for making the best tamales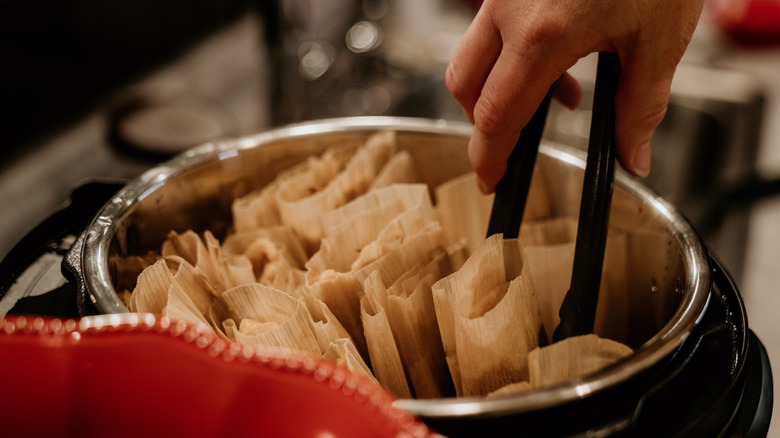 Amanda Stclair/Getty Images
Whether you're celebrating Día de los Muertos, or you just want to try your hand at making tamales, there are a few simple tips that will help make your tamales top-notch. First, avoid purchasing the dough and instead prepare it yourself, combining lard and corn flour (maybe salt and a few spices, depending on your recipe and family tradition). And don't be tempted to make your dough ahead of time — it needs to be fresh and moist for your tamales to turn out right.
While you should always wash and soak your husks (or banana leaves) prior to wrapping, boiling them can also make the process of wrapping go more smoothly. Then, when wrapping the tamales with the corn husks, be sure to fold the husks so that they completely envelop the dough and filling, but also allow a bit of space for the dough to rise slightly.
Finally, test tamales for doneness by seeing if they peel away easily from the husk wrapping. If so, the tamales are finished cooking. If not, they need to continue cooking until easily removed from the husk. No matter the recipe you use, tamales are best enjoyed (and made!) with your dearest loved ones surrounding you.