The Bizarre Story Behind The Invention Of Worcestershire Sauce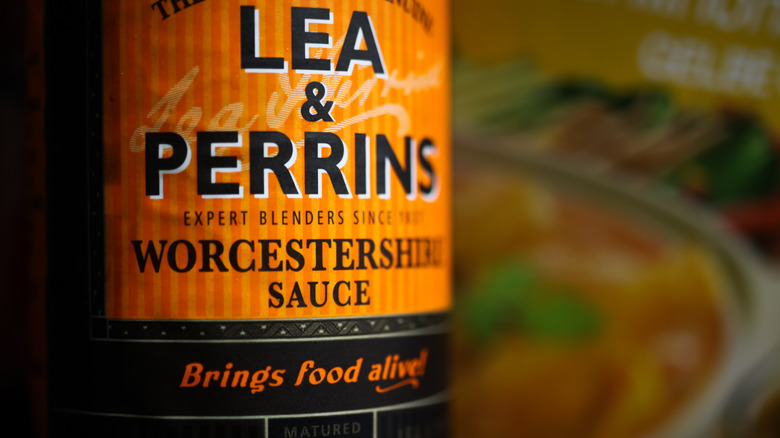 Ralf Liebhold/Shutterstock
Worcestershire sauce is as enigmatic as it is versatile, featuring a uniquely tangy taste derived from a culmination of many salty, sweet, and sour ingredients. That flavor palette makes it a key component in a variety of dishes and even drinks, whether it's used to strengthen meat-centric meals or add zest to cocktails. It's become such a staple of grocery store and kitchen shelves that it's easy to look past its mysterious origins as a strange byproduct of British experimentation with colonial imports.
The year 2023 marks the 200th anniversary of the opening of the pharmacy that first created the modern iteration of Worcestershire sauce, run by none other than John Wheeley Lea and William Henry Perrins. Located on 68 Broad Street in Worcester, England, the drug store sat on the River Severn, a trade destination midway between the busy ports of Bristol and Birmingham. The shop, in a manner that resembles the pharmacies of today, sold food and household products besides just medicine and was thus a strategic place to market products from all around the world. Using ingredients from this global pool, Lea and Perrins concocted what would be Worcestershire sauce in the mid 1830s, and have remained the most trusted source for the umami-heavy condiment to this day. Though how it originally came about is a bizarre and mysterious story. 
Who really inspired the creation of this unique condiment?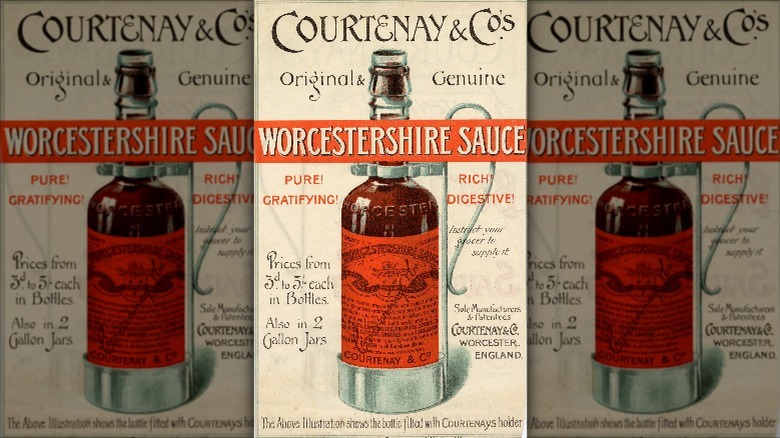 Heritage Images/Getty Images
Worcestershire's flavor profile resembles garum, a condiment from ancient Greece, Rome, and Byzantium that was created from salted and fermented fish remains. Of course, fish sauces have also been a staple of East Asian cooking for centuries, so it's unclear if the duo was actively trying to copy any sort of variation. 
Shortly after putting their new condiment on the market, they ran an aid claiming, "The Worcestershire Sauce is prepared by us from the favourite recipe of a nobleman of acknowledged gout [good taste]," likely referring to a Lord Marcus Sandys who grew accustomed to a fish sauce he tasted while governing abroad in Bengal. An 1884 edition of The New York Times alternatively claimed that Sandys' wife wanted Lea and Perrins to recreate a curry powder, which the pair then converted into sauce form. 
However, according to a memo written by Lea and Perrins accountant and archivist Brian Keough in 1997, Lord Sandys never governed Bengal or ever even traveled to India. So it remains a mystery who actually commissioned the first Worcestershire sauce and why. 
Worcestershire sauce as we know it was the result of a happy accident
Billy F Blume Jr/Shutterstock
While the inspiration for Worcestershire may remain a mystery, Lea and Perrins' first crack at their fishy sauce in 1835 was a genuine misstep. The original batch "was completely unpalatable," according to the company's website, and the duo left the barrels of their failed culinary experiment brewing in the pharmacy's basement. But 18 months later, some brave soul apparently gave it another taste test and found it to be just perfect. Before long, Lea and Perrins were running ads and promoting their product as "applicable to almost every dish."
The ingredients of the original Lea and Perrins Worcestershire sauce remained a closely guarded secret for decades. The 1823 pharmacy catalog lists tamarind and anchovies to be at least two parts of the concoction, but it wasn't until 2009 that the world got a closer look inside the mystery. The same archivist who busted the Lord Sandys myth uncovered notes dating back to the mid-19th century listing water, cloves, salt, sugar, soy, fish, vinegar, tamarind, pickles, acetic acid, peppers, and essence of lemons as the original ingredients. 
Today, variations on the classic sauce are aplenty. The American version contains white vinegar as opposed to British malt vinegar, plus onions, garlic, molasses, and chili pepper extract. Homemade recipes can include dark beer, orange juice, ginger, and mustard powder. Thus, what actually makes Worcestershire sauce what it is remains as murky as its origin and its dark brown hue.