The Bang Shack: Here's What Happened After Shark Tank
Lots of people have a favorite recipe or signature dish they like to make for family gatherings, dinner parties, or social events. For some, the dish is so good that it becomes a fixture and is requested for every future get-together. When Jason Hadley started making his 'chicken bang dip' back in 2002, that's exactly what happened.
With similar ingredients to a recipe for buffalo chicken dip, Hadley cooked his chicken bang dip, which he made with chicken, cheese, spinach, and a host of other ingredients, low and slow in a Crock-Pot. In January 2017, with help from his wife, he launched The Bang Shack, selling his tasty dip at a local farmers' market in Florida.
The dip would regularly sell out, and the couple branched out with a vegetarian version, made with zucchini rather than chicken, and a plant-based version using a homemade recipe for vegan cheese made from cashew nuts. In 2019, with dreams of building a commercial kitchen and selling his products on a much bigger scale, Hadley headed to "Shark Tank," hoping the potential investors would take a bite.
What happened to The Bang Shack on Shark Tank?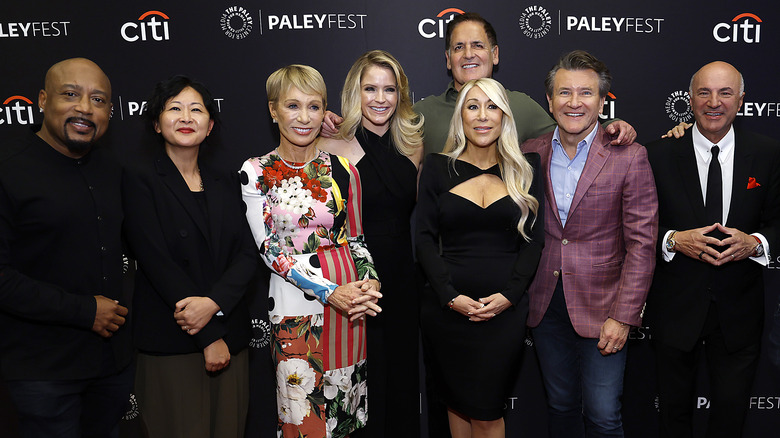 John Lamparski/Getty Images
Jason Hadley appeared on Shark Tank season 10 episode 21 in 2019, looking for an $80,000 investment in return for 20% of his business, The Bang Shack. By the time of his appearance, he had already personally invested $38,000 of his own money in the business and was hoping to expand it commercially.
Hadley said he had made $53,000 in sales during the 2017 calendar year from just one market in Florida, only selling there two days a week. And he believed he was on track to do over $100,000 the following year. The Sharks enjoyed the enthusiastic and heartfelt pitch, and they loved the taste and quality of the dips, which Hadley believed were versatile enough to pair with anything from rice and pasta to vegetables, burritos, and even omelets.
But the Sharks were less impressed that the product was not yet available to buy online at the time, and felt the business was too early to invest in. In the end, The Bang Shack left the Tank without securing a deal.
The Bang Shack after Shark Tank
As with many food and drink brands, The Bang Shack saw an influx of interest after its appearance on "Shark Tank" despite not securing an investment from the Sharks. Founder Jason Hadley even told the South Florida Sun-Sentinel that he was stronger following the rejection.
With lockdowns having shut down the stall at the local Yellow Green Farmers Market and no reopening in sight, The Bang Shack went on to open a small new brick-and-mortar location in downtown Hollywood, Florida, in 2021, with help from the Hollywood Community Redevelopment Agency.
Accommodating customers for walk-in, takeaway, and delivery, The Bang Shack's new store offered a brand new food menu featuring 'Bang bowls' with rice (or cauliflower rice) plus toppings and the famous dip, as well as burritos, nachos, hot dogs, and more. The offered drinks included all-natural juices and sodas as well as alcoholic beverages, such as beer, and wine. The venue, clearly proud of the association, also displayed framed pictures from its "Shark Tank" TV appearance on the walls.
Is The Bang Shack still in business?
With a brick-and-mortar premises, as well as delivery options, The Bang Shack looked to be in a more stable position following the pandemic. The venue began to host live entertainment and also offered regular promotions to attract new and existing customers, such as free beer, which it pushed via its social media channels. The Bang Shack also partnered with community events, such as the Artwalk in downtown Hollywood, helping to promote local artists, and promising a party atmosphere for visitors.
However, the last  Facebook post from the business was in June 2023 — while the last Instagram post was in July 2023. The company's website is no longer operational. 
In August 2023, The Bang Shack confirmed via a TikTok video that it would be closing, and founder Jason Hadley thanked all the loyal customers and fans, inviting them to come and join the Florida business for one last evening before it closed its doors for good.
What's next for The Bang Shack's owners?
In a video shared on TikTok, The Bang Shack's founder Jason Hadley said that he was preparing for "the next chapter" for the brand, following the closure of the Florida diner in August 2023. But as of yet, he has not revealed any further details about his plans for the future. And while he does not have a LinkedIn profile, his wife's profile has been silent for years.
The Bang Shack's Florida diner received mostly positive feedback on TripAdvisor, with an average rating of 4.5 from five reviews. And given The Bang Shack's party spirit and regular engagement with local people and businesses, it is a possibility that the company may wish to open an alternative site in the future. Or perhaps Hadley would prefer to concentrate on the dip that started it all and hope to secure a deal with major retailers. 
But this is all merely speculation since Hadley has so far kept quiet about his next steps. Whatever the next venture may be, however, you can be sure he'll be hoping to launch it with a bang.