Guy Fieri's Tip For Hosting A Stress-Free Thanksgiving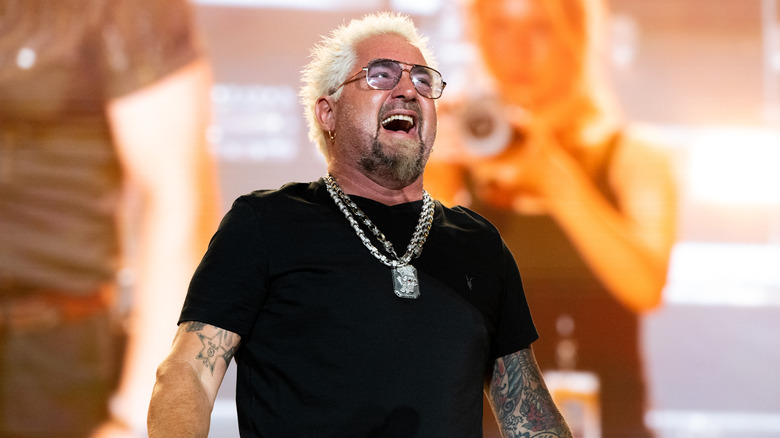 Scott Dudelson/Getty Images
Hosting Thanksgiving requires simultaneously juggling what's going on in the kitchen while also putting in the effort to keep the vibes positive. Even if you can't stop your brother from getting into a political argument with your uncle (again), there are aspects of the day within your control, and one of those is the cooking.
Even the best-laid plans can fall to the wayside once things get moving, but Guy Fieri has some advice for reducing Turkey Day stress. He tells EatingWell, "One of the things that happens with people is that they get overwhelmed, and cooking is timing. So, I think one of the best things to do is to experiment or cook a couple of the recipes."
You can and should write down the step-by-step of everything you need to do, but gathering that information from recipes is different from knowing what to do from first-hand experience. Practicing your Thanksgiving dishes is especially important when you want to try new recipes, but it's also beneficial even for items you have cooked before. Not only can you better understand all the pieces of the puzzle to make sure everything comes out on time, but you can also get a sense of the intricacies of your kitchen. How long does your oven actually take to bake a casserole until it is bubbly? Which burners on your stove run the hottest? Does that roasted root vegetable salad need to be hot, or is it still delicious at room temperature?
Practice your Thanksgiving dishes ahead of time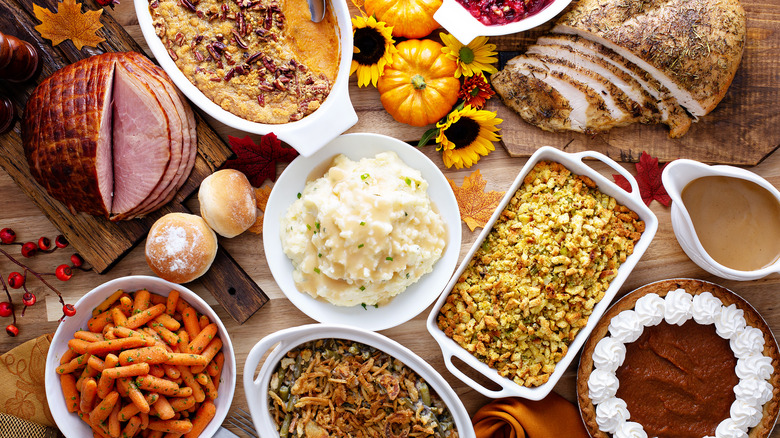 Veselovaelena/Getty Images
One of the saddest parts of Thanksgiving is that you get full to the brim before you know it, and then the leftovers are always gone too soon. By practicing some of your dishes early, you not only gain confidence for the big day, you get to enjoy Thanksgiving foods for way longer. You also have time to troubleshoot your Thanksgiving turkey without the day-of stress.
Guy Fieri does not recommend doing the entire spread at once, though — that is just too much work. Instead, stagger preparing different dishes in the weeks leading up to Thanksgiving. Take notes on the recipe method and any modifications that you made. Pay special attention to how long it actually takes you to prepare the ingredients and cook the recipe.
Then, get creative with the leftovers. Fieri loves leftover turkey for sandwiches, soups, and salads, and says that stuffing is the perfect comfort food for chilly fall weather. He also likes combining turkey and stuffing into crab-cake-like patties and pan-frying them until crispy. Even if you don't feel like going the extra mile with your Thanksgiving practice round, there is absolutely nothing wrong with taking a fork to a Monday night pan of green bean casserole.