Thanksgiving Practice Round: All Things Turkey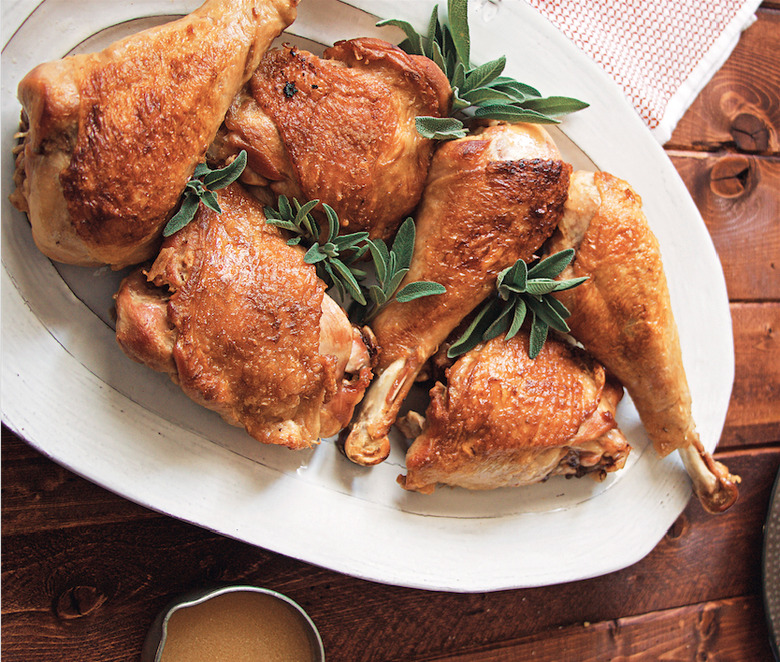 Here they are, everyone, your Thanksgiving All-Stars! Take your pick from our biggest, fanciest, juiciest turkeys: Brined, roasted whole, butchered and stuffed — you name it, we've got it. Baste away, reduce those sauces, tent with foil and rest before carving — it's time for the main event. No matter which one ends up on the table, you'll be a hero for delivering it yourself.
Recipe: White Wine Braised Turkey Legs
Everyone fights over the turkey legs, so I never fail with this foolproof recipe. These fall-off-the-bone tender turkey legs are incredibly simple to make and just require an overnight dry brine (optional but amazing), a quick sear and a few hours in the oven. With delicate flavors of pink peppercorn, coriander and orange zest, this recipe is irresistible.
Experts have confirmed that the bird was probably devoured at the first Thanksgiving. (Photo: Gabi Porter.)[/caption]
Recipe: Pomegranate-Brined Roast Turkey
Steer clear of previously frozen turkeys — fresh makes all the difference, and it's as easy as preordering it from your butcher or specialty market.
Dale Talde's Thanksgiving ramen recipe packs all your favorite traditional flavors into one hearty bowl of holiday noodles.[/caption]
Recipe: Dale Talde's Thanksgiving Ramen
This recipe calls for a play on tare, a thick Japanese soy dressing and dipping sauce. If you can't find it at your Asian grocery, you can substitute good-quality soy sauce.
Recipe: Turkey Leg Roulade
Instead of a whole turkey, I like to serve this leg-and-thigh roulade. The meat is more moist, and everybody gets to enjoy the dark meat, not just those two lucky people who snag the drumsticks. The gravy and roulade are both made ahead of time, which is a big help on the day.
This stuffed turkey tenderloin recipe is a faster way to a more succulent bird.[/caption]
Recipe: Slow-Cooked Stuffed Turkey Tenderloins
These turkey tenderloins, stuffed with butternut squash, cranberries, and pears, are like a mini Thanksgiving feast — from your slow cooker! They're perfect any time of year when you're craving a taste of the holidays. They're also great for smaller Turkey Day gatherings, when a whole bird is too much. You and your guests will, um, gobble them up!
Recipe: Coconut Milk & Pomegranate Turkey
Start this the day before by brining the turkey in a saltwater mixture. Then on the day of, transfer the turkey to a flavorful marinade that will seal moisture in. With 2 1/2 hours of roasting, you'll have plenty of time left to get your other dishes done in time.
All the best parts of Thanksgiving rolled into one neat package. (Photo: Quentin Bacon.)[/caption]
Recipe: Mario Batali's Italianish Stuffed Turkey With Apples And Walnuts
Renowned chef Mario Batali's new cookbook, America — Farm to Table, is a celebration of local farmers around the country. Travel from coast to coast with one of the nation's most beloved culinary faces and see how the master uses local fare to everyone's advantage. Looking for an easier way to serve up moist, delicious turkey this Thanksgiving? Look no further than simple, seasonal stuffed turkey breast.
---
Riesling simply is the most versatile, complex and food-friendly of all the noble grapes. If you enjoy discovering new wines and inspiring your palate, then Riesling is your ideal wine. Riesling's crisp, vibrant characteristics are a fresh alternative to heavier, oak-laden white wines. No other varietal can be crafted to express so many different and wondrous characteristics — from bone dry with floral aromas to dessert sweet with spicy aromas. And Washington's Columbia Valley — home of Pacific Rim — provides the ideal soils and climate for growing Riesling. There's no end to Riesling's versatility.