Baking Bread In A Coffee Mug Is Easier Than You'd Think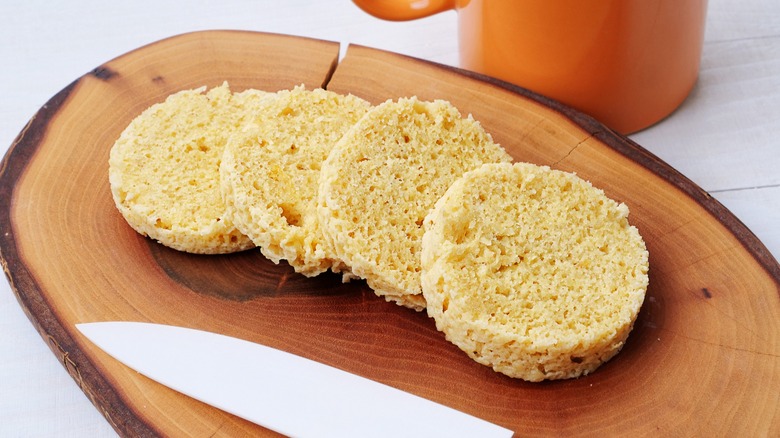 Whiteaster/Shutterstock
There are various vessels in which you can bake bread. Beyond the conventional bread pan, you can use a Dutch oven, a cookie sheet, or even a Bundt pan. As it turns out, a standard coffee mug also serves as a suitable baking vessel. What's ingenious about coffee mug bread is that it's cooked in the microwave, so it's ready in just minutes. Of course, this method will yield only a single serving, but it's ideal if you want a personal portion of freshly baked goodness.
To bake bread in a mug, you typically grease the sides and bottom of the mug with butter or oil, and then mix the bread ingredients directly inside. After a short stint in the microwave, the bread emerges as a cylindrical loaf. However, it is also well-baked, warm, and ready to be sliced for your use. So, if you've always wanted to bake your own bread, but were intimidated by the process — or simply couldn't find the time — this coffee mug hack is here to help.
Bread baked in a mug is endlessly customizable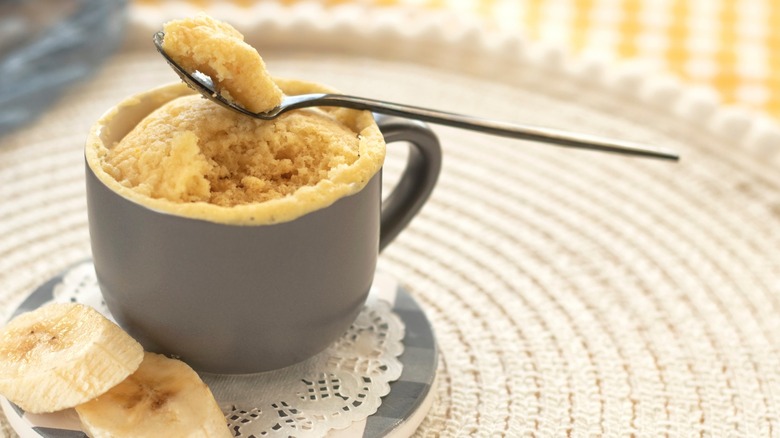 Nataliia Suietska/Shutterstock
Recipes vary on how to successfully "bake" bread in a mug in the microwave, and bake time depends on your microwave's wattage. However, you'll generally only need around four ingredients — such as your preferred flour, salt, baking powder, and some type of milk — and one to two minutes for your dough to rise and cook. However, you can add various ingredients and spices to customize the flavors and nutritional make-up of your loaf. For example, keto bread — which is low in carbohydrates and has a texture similar to that of regular bread — can be made in the microwave.
You're not limited to just plain bread when using a mug, either. Create garlic bread by adding minced garlic or garlic powder along with some grated Parmesan cheese, and then use your slices to make a grilled salami and cheese sandwich, served with a side of marinara sauce. If you're in the mood for something sweet, add some cinnamon and sugar, or create a mini loaf of banana bread. You could even use it to make banana French toast for breakfast. On nights when you're preparing chili for dinner, mini cornbread loaves are the perfect complement.
You're not just limited to bread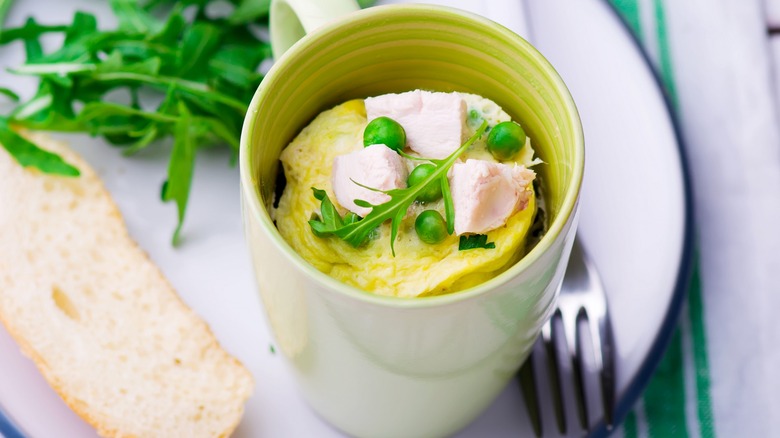 zoryanchik/Shutterstock
Baking in a mug is not a new concept. Making individual desserts in mugs has been a long-standing trend, with various flavored cakes, lava cakes, and brownies being popular options. Even Alton Brown uses a microwave to make indulgent desserts, such as fudge. But you can also prepare full-on meals by microwaving ingredients in a mug. Microwaves excel at cooking egg scrambles and omelets. Simply mix all your ingredients in your favorite coffee mug and let the appliance do the work, sparing you the need to dirty any frying pans or spatulas.
Microwave cooking and baking are ideal for anyone who is cooking for one and doesn't want to spend a lot of time in the kitchen. While this method doesn't lend itself well to leftovers, you'll still be making homemade food, and you'll never have to worry about your bread going stale again.