How To Eat Popcorn Without Getting Your Hands Greasy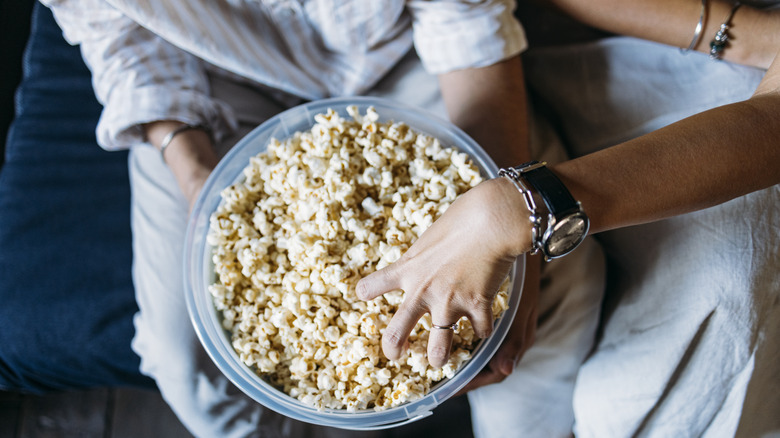 Freshsplash/Getty Images
We may receive a commission on purchases made from links.
Popcorn is a popular snack, and for good reason. It's easy to make and can be enjoyed in a variety of different ways, from sweet caramel and savory cheddar to gourmet flavors like dark chocolate sea salt and even popcorn flavored like cocktails. But, despite all of its yummy goodness, all of the butter, sauces, and seasonings that go into making it means it sure can get messy. Fortunately, there's a simple way to eat greasy popcorn without getting your hands dirty, and it involves using a cup to pour the popped kernels directly into your mouth. 
Now, if you make popcorn at home, you're probably used to dumping the kernels into a large bowl to be enjoyed, or maybe you eat them straight out of the bag — we don't judge. Either way, ditching the bowl or bag in favor of a cup is a much easier way to indulge in this classic treat. It's simple, effective, and mess-free, just the way we like it. Not to mention, it'll help minimize the spread of germs if you're eating popcorn with others because no one will have to dig into the bowl with their bare hands.
Ditch the popcorn bowl for a cup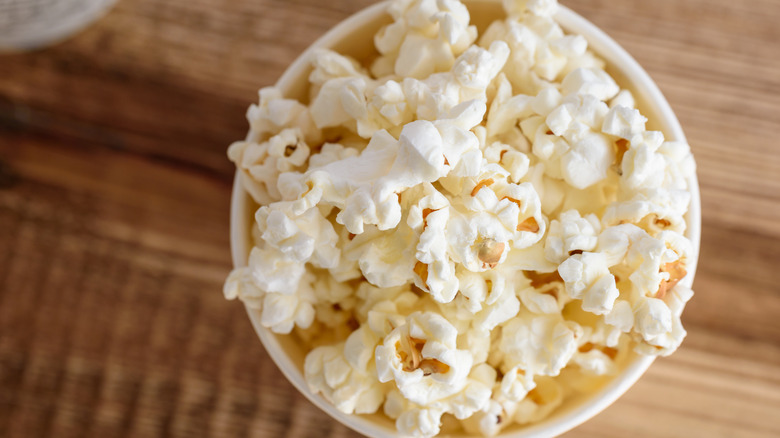 Dremari Graphics/Shutterstock
Say goodbye to greasy fingers. Eating popcorn just got easier, thanks to this popcorn-eating trick. When movie night rolls around, all you need is a cup to scoop small amounts of the popped kernels into. Then, simply pour the popcorn from the cup into your mouth, and your hands never have to get dirty. Of course, this method is easy to do at home, but you can also do it at a movie theater, too. Just ask the concessions stand worker for a separate, small cup when you order your bucket of buttery popcorn, or bring one along with you if the theater permits.
Keep in mind that it's best to use a spoon to scoop the popcorn from the bag or bowl into your cup, especially if you're sharing the popcorn with others. This way, you won't pass along any germs from the cup to the larger container of popcorn if the cup happens to touch your mouth. If, for example, you're at a theater where a large spoon isn't readily available, just be sure not to let the cup touch your lips so you can use it to scoop the popcorn out of the bucket — so long as your hands are clean.
Other clever ways to eat popcorn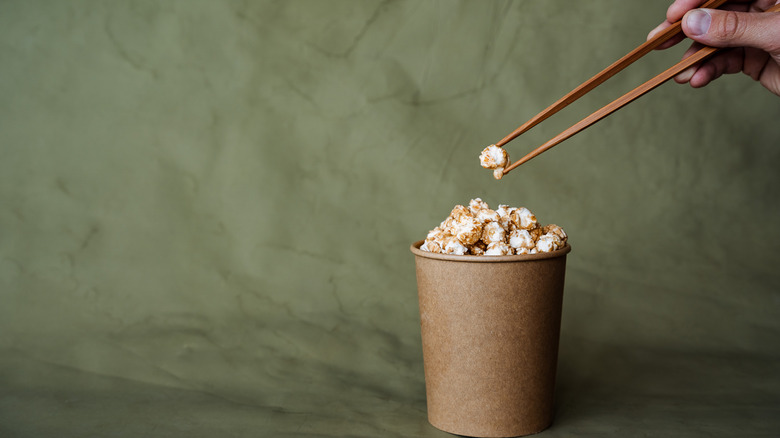 Aleksey Matrenin/Shutterstock
In addition to using a cup, you could opt for something fancier. Take your snacking up a notch by investing in gadgets like a handy single-serve popcorn maker, such as the one sold by Joseph Joseph. The silicone cup is able to pop up to one ounce of kernels, and you can use it to pour the popcorn directly into your mouth, too. You could also snag the "Shark Tank" gadget, Snactiv, an ergonomic snacking tool that makes picking up messy snacks a breeze.
There are a variety of other hands-free things you can use to eat popcorn, many of which you probably already have lying around your house. You can avoid grimy fingers by using chopsticks or tongs. The former method is especially popular on TikTok, where videos showing TikTokers using the utensils to snack on popcorn have amassed nearly 8 million views. 
Of course, using chopsticks does require a bit of skill, so you could also just keep things simple by opting for a spoon to scoop the salt- and butter-drenched pieces into your mouth – no greasy hands required.