Giada De Laurentiis Adds Carrots To Whip Up A More Vibrant Hummus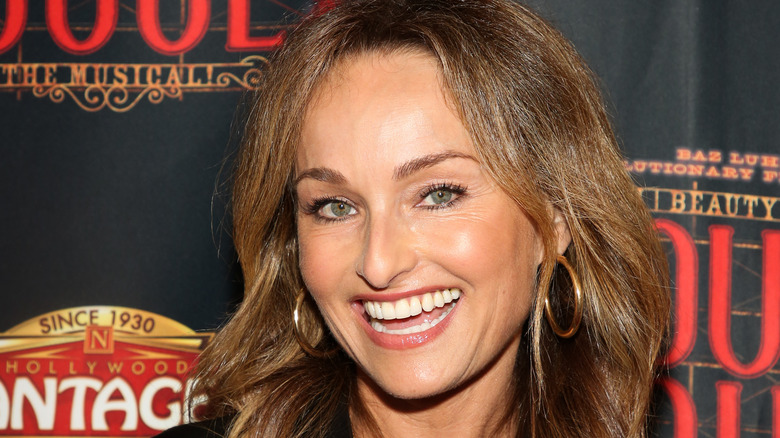 Paul Archuleta/Getty Images
There are all sorts of ways to jazz up hummus, from creating a slightly spicy version with garlic and jalapeño to making an autumnal version with the remains of your Halloween pumpkin. Giada De Laurentiis, however, is a fan of blending in carrots to add a sweet flavor.
While sweet hummus (think chocolate flavor) can be controversial, De Laurentiis' recipe for roasted carrot hummus isn't so sweet that it would be mistaken for dessert. The carrots are roasted with olive oil and garlic to soften them and covering the carrots during cooking helps them absorb the aroma of the garlic. Once blended with the chickpeas, olive oil, garlic, and lemon juice, the carrots impart earthiness. And, to add subtle spiciness, De Laurentiis shakes in a bit of cayenne.
De Laurentiis also suggests that if you'd like to add other flavors, you can sprinkle in some sumac or paprika. And while her recipe doesn't call for it, you can incorporate tahini, like in a traditional hummus recipe. You can also put your own spin on it with a spice — like cumin for a more savory flavor — or an herb like cilantro for a bright contrast.
Why add carrots to hummus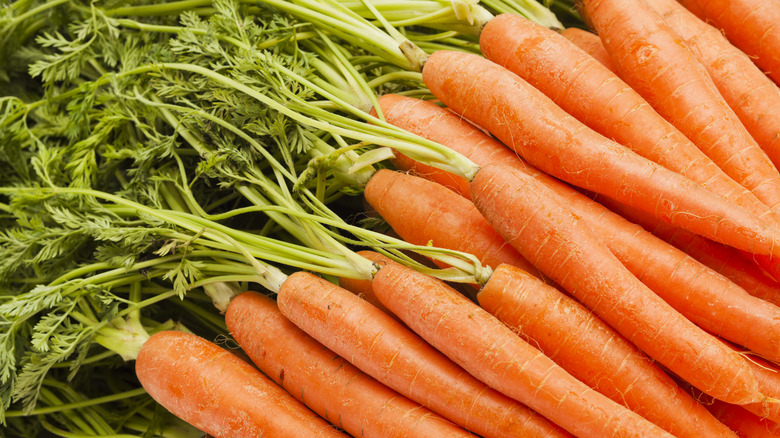 Aluxum/Getty Images
Besides the added flavor and richness that the carrots bring to the table, there are other advantages to adding them to hummus. The first is the color. The addition of the bright root vegetable to the chickpea blend transforms the hummus into a vibrant orange hue that makes for a pretty presentation at any party. When served alongside root veggie chips, as De Laurentiis suggests, the simple dish becomes a colorful appetizer.
In addition, carrots add more nutrients, upping the health benefits of eating hummus. Hummus is already full of healthy fats and fiber, and, as Healthline states, research has indicated a link between improved blood sugar, better digestive health, and lower cholesterol. Meanwhile, carrots are rich in vitamin A and antioxidants and are linked to lessening the risk of multiple types of cancer and helping to lower cholesterol as well (per WebMD). Combining carrots with hummus can make the dip a delicious, nutritional powerhouse.
What to serve with carrot hummus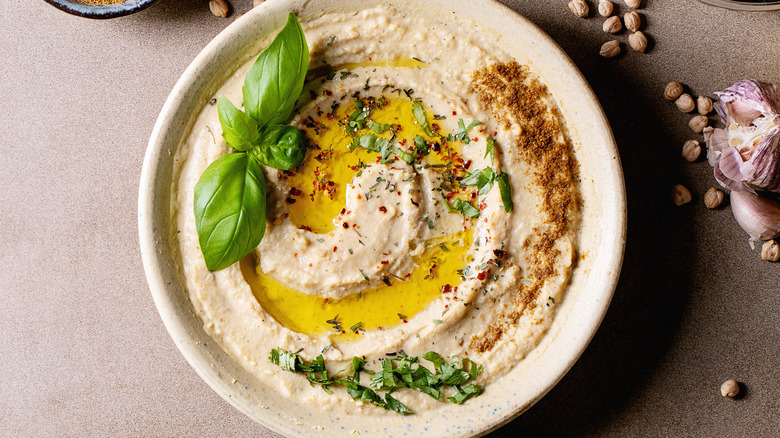 Roman Debree/Shutterstock
In addition to things like veggie chips, you can also serve hummus with crunchy raw vegetables like carrots, cucumbers, bell peppers, and broccoli. Starches like crackers, pita bread or pita chips, and pretzels make great dippers, too.
De Laurentiis also suggests serving the dip as a main instead of a side, placing a protein, like chicken, over the top. Other meats — such as seasoned ground lamb or beef — will also work, or you can top it with seafood, like fish or shrimp. Or skip the meat and fish and add veggies like sauteed mushrooms or a blend of eggplant and onions.
You can also swap mayo out in favor of hummus in nearly any dish, like deviled eggs, tuna, or chicken salad, and as a spread for sandwiches. It's also a great substitute for sour cream. And hummus doesn't have to be limited to the afternoon; you can use it as a spread on your morning bagel or add it to your scrambled eggs for terrific texture, too, making it possible to add this healthy spread to any meal of the day.