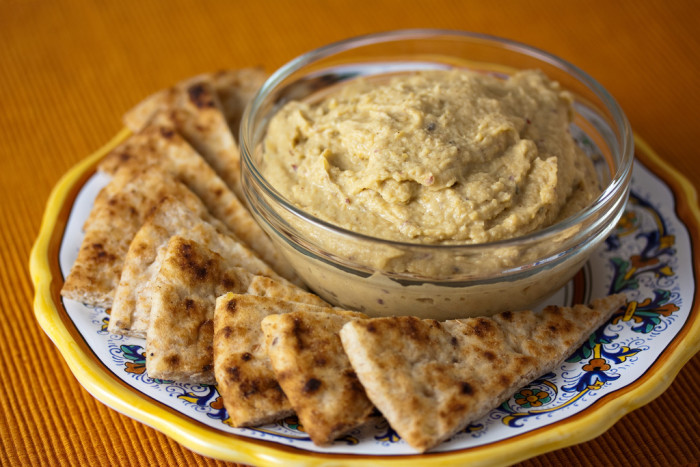 This creamy garlic and jalapeño hummus is not for date night. The intensity of the garlic insists that this dip or spread be used only in very familiar company. The freshness of parsley and the warmth of green chilies amp up the flavor here, making grilled vegetables, meats, or even just plain pita bread taste better. In other words, it's a serious step up from your basic hummus recipe.
The 7/20: If you have these items in your arsenal, recipes categorized by 7/20 can be made with 7 or fewer additional ingredients in only 20 minutes of active cooking time.
Ingredients
1/2

cup

olive oil

3

cloves

garlic, chopped

1

clove

garlic, whole

1

jalapeno, seeds and ribs removed, roughly chopped

2

teaspoons

tahini

1

(15.5 ounce) can

chickpeas, canned, drained and rinsed

1

lemon, juiced

1

teaspoon

salt

2

tablespoons

parsley, roughly chopped
Directions
Heat the olive oil in a medium-sized saute pan over medium heat. Add the chopped garlic, jalapeño, and tahini and saute until the garlic is golden brown, about 4 minutes.
Transfer the mixture to a blender or food processor. Add the remaining garlic clove, chickpeas, lemon juice, and salt. Puree the mixture until smooth, then use a spoon to fold in the parsley. Use a rubber spatula to transfer the hummus to a serving bowl, and serve immediately.
This hummus can be stored, covered, and chilled for up to 1 week.