Chick-Fil-A's Free Online Cookbook Is Here To Stop Fast Food Waste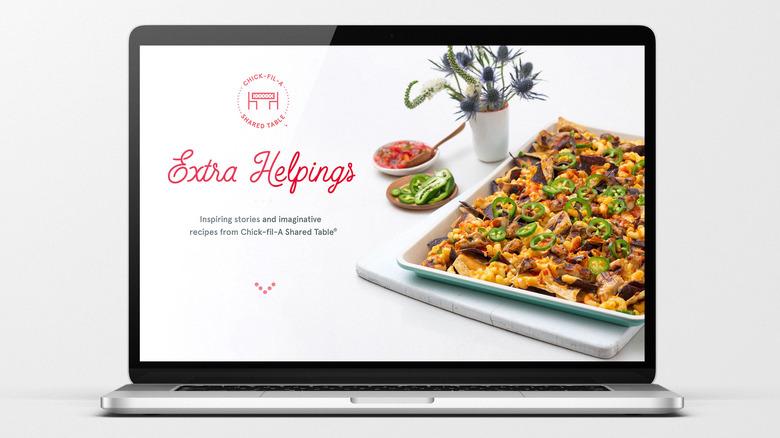 Chick-fil-A
According to ReFED, 80 million tons of food was wasted in the U.S. in 2021, and the food service sector was responsible for 12.8 million of those tons; 16% of the total. To combat this problem, Chick-fil-A has created a free online cookbook that features recipes that repurpose leftovers. The cookbook sprouted out of Chick-fil-A's Shared Table program, which pairs Chick-fil-A restaurants with shelters, nonprofits, and soup kitchens where the chain can donate its food surplus. The program is estimated to have served 23 million meals to those in need over the past decade and close to 2,000 Chick-fil-A franchises have participated.
Titled, "Extra Helpings: Inspiring Stories and Imaginative Recipes from Chick-fil-A's Shared Table," the cookbook has been released in tandem with several large-scale donation announcements from Chick-fil-A, which will contribute a total of one million dollars to food insecurity charities like Feeding America, Canada's Second Harvest, and other Shared Table partners.
Repurpose your Chick-fil-A leftovers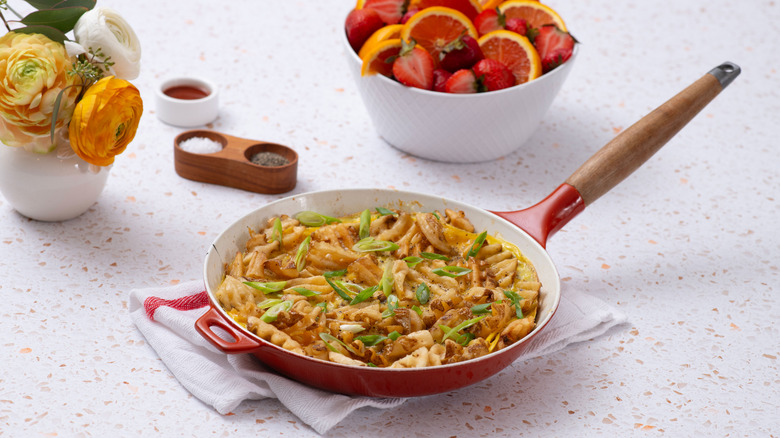 Chick-fil-A
The "Extra Helpings" cookbook is available online for free and offers 26 recipes designed to combat food waste, like the Waffle Fry Frittata, Chicken and Egg Casserole, and an Ice Cream Sandwich with strawberries on biscuits. Common Chick-fil-A menu items have been incorporated to encourage customers to hold onto what they don't finish and find creative avenues to repurpose their leftovers into tonight's side dish or tomorrow's lunch. Rounding out the leftovers in these recipes are common kitchen staples, with the recipes designed to be accessible to the greatest percentage of the population. You can sort by meal category (entrées, breakfast, side dish, or even dessert).
Also included in the new Chick-fil-A cookbook are first-person accounts from Chick-fil-A Shared Table nonprofit partners, who will share stories of their philanthropic work in conjunction with the organization. Chick-fil-A super fans will be delighted to find additional recipes for fan-favorite menu items that are no longer on the menu, such as the infamous Coleslaw and Chicken Salad.
While combating food waste is an aspirational endeavor, Chick-fil-A's charitable efforts are also a way for the chain to get a little good press after a long history of controversy in the media. After years of boycotts from the LGBTQ+ community, Chick-fil-A came under fire earlier this year from the conservative media over its DEI initiatives, so joining the food waste fight is a solid PR move.